What is Gilding Wax – A Comprehensive Guide
Hey y'all – it's Rebecca back with another comprehensive guide. In this session we will be exploring the lush, shimmery world of Gilding Wax. Gilding wax provides an exquisite metallic sheen to your Mixed Media craft projects. It's not just Gold Wax either as you will find out below, although it can be. Have you ever been confused by the sheer number of gilding wax colors and brands? As an artist/educator, I especially enjoy learning and teaching others about the features and benefits of our 'tools of the trade.' Today I am writing about this fun product that makes any surface sparkle and shine. It certainly has helped me embellish and add a little luxury to my books, art, and DIY projects.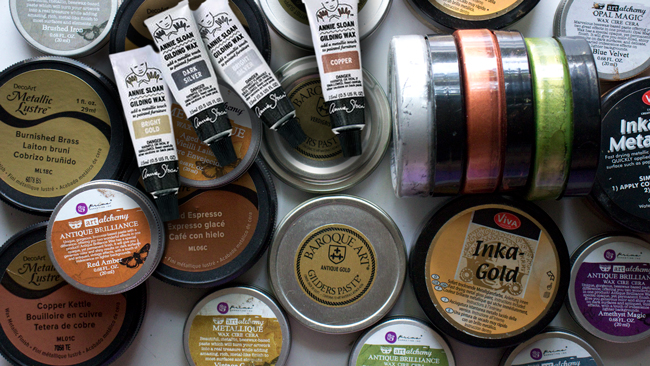 Historically Speaking
Below we are deconstructing gilding waxes and discussing their many uses. The word gilding traditionally refers to any technique used for the application of a very thin coating of gold to a solid surface like metal or wood. Gold, gold leaf, and other gold colored substances are used to create a bright and beautiful appearance. We know that ancient Egyptians were the first gilders because numerous gilded artifacts have been unearthed by archaeologists. (Below are accent pieces given a Champagne Shimmer Gilding Effect. See the tutorial HERE!)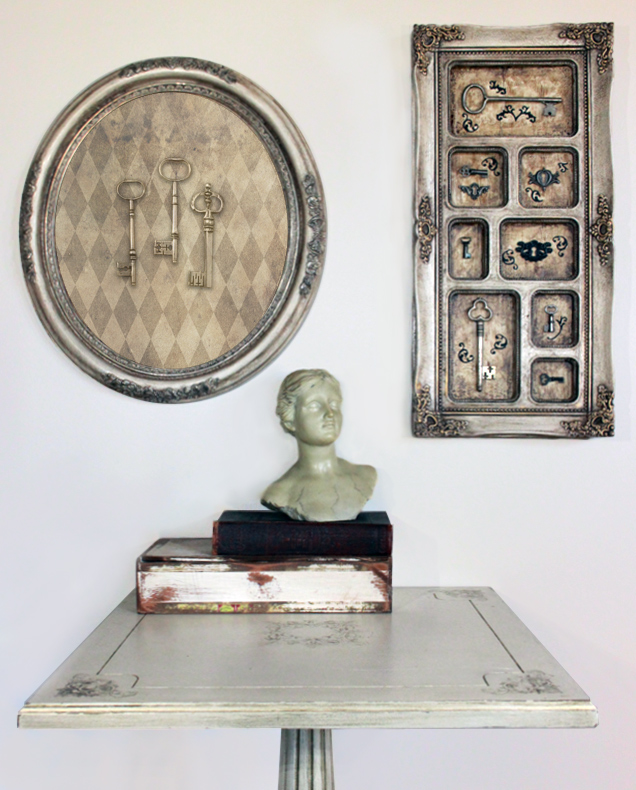 Today, the term gilding is used for waxes and wax pastes that provide the same basic function of earlier types that were strictly gold in color. Thankfully today they are available in a wide variety of beautiful and fun colors. Gilding waxes therefore are considered metallic wax based mediums composed of beeswax mixed in with elements such as red ochre, verdigris, alum, vitriol, copper scales and borax. (Below is a Gold Gilded Wax and Hot Glue Decorated Votive from the What is Hot Glue – A Comprehensive Guide HERE!)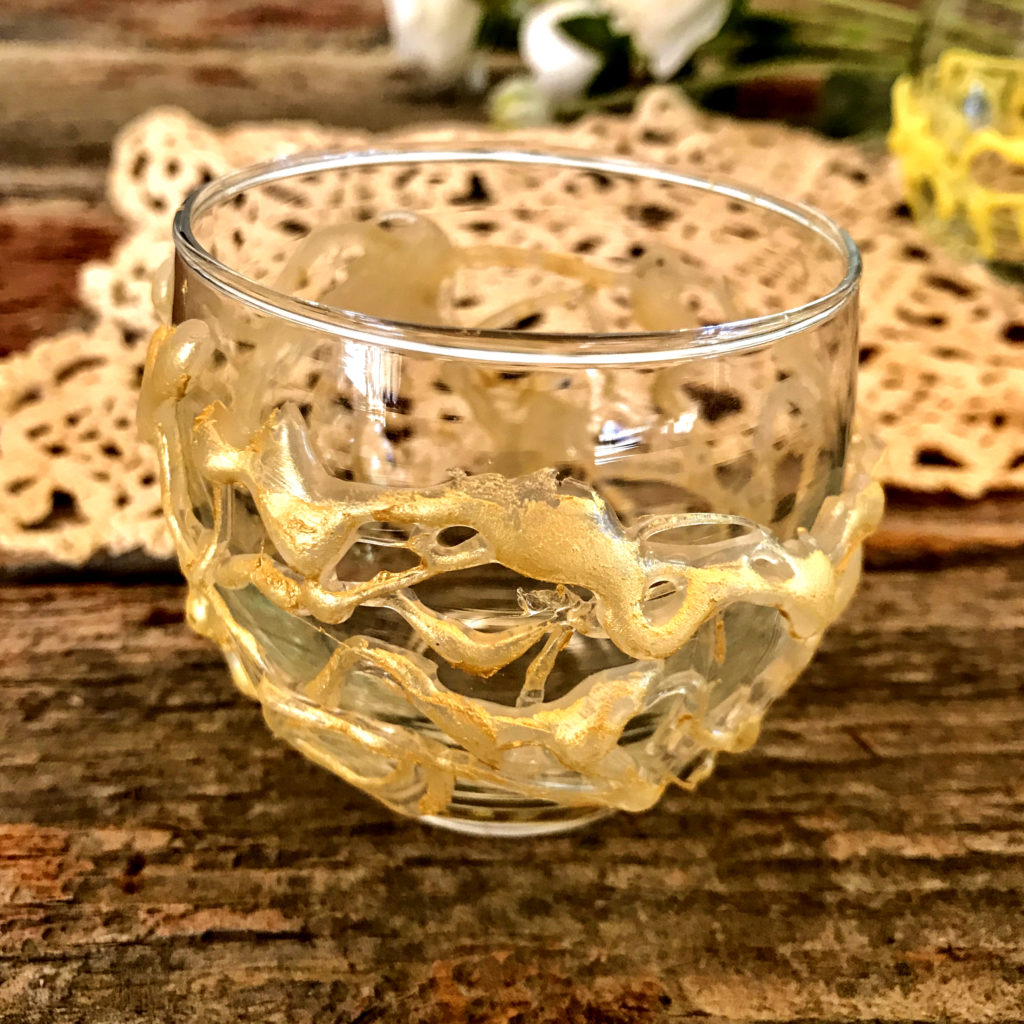 Gilding Wax vs. Gilding Paste
The main difference between waxes and wax pastes is that wax pastes only take one hour to dry and harden to the touch, while the basic waxes take about four hours to dry. Additionally, the pastes can be buffed or polished after twelve hours, whereas waxes require a four day wait. There are metallic spray paints that can create a similar look, but careful taping and spraying makes the task more difficult.
The application of these products is best achieved with plastic gloves and using just your fingers. You should apply only a little dab onto the surface and lightly rub in. If too much is accidently applied it is easily remedied by rubbing a small amount of clear wax on the area with a clean rag.
Why Gilding Wax?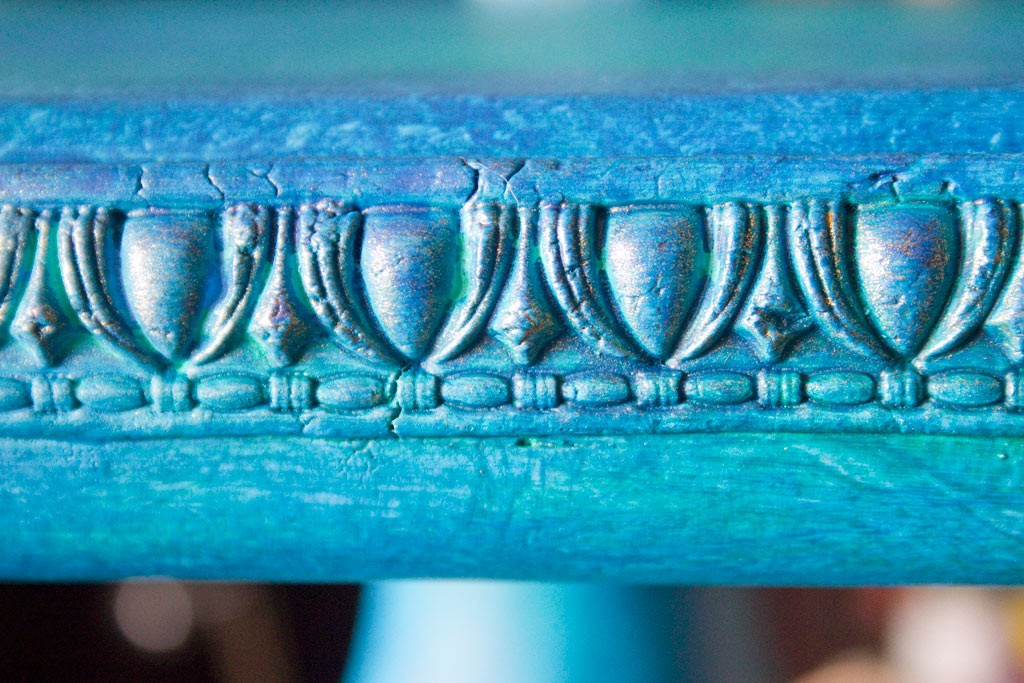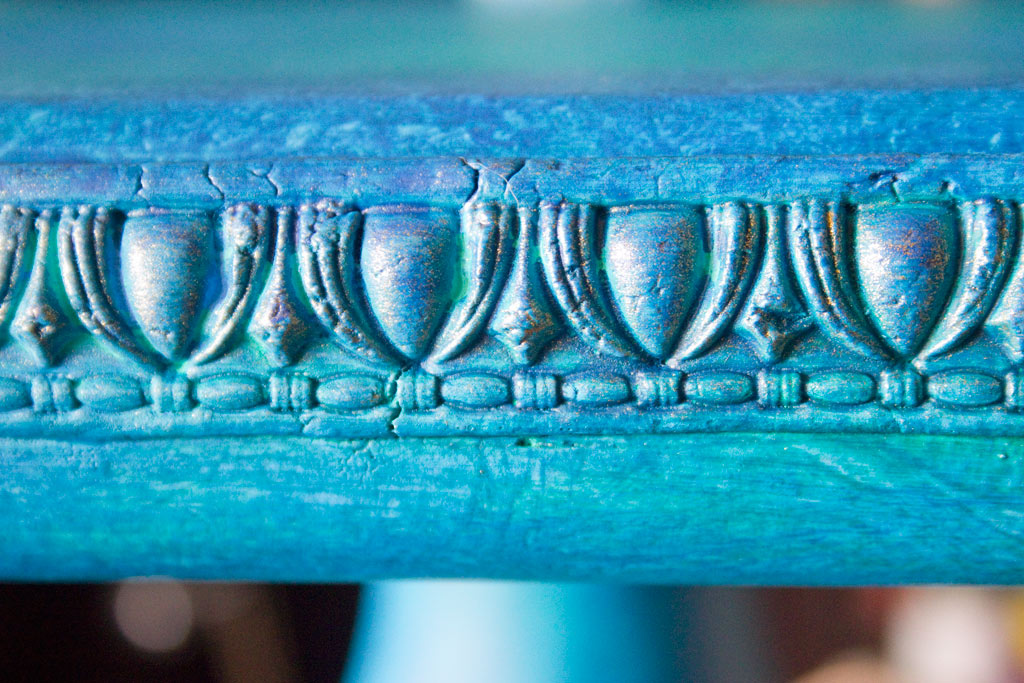 Gilding waxes are used to provide 'bling,' or an eye-catching visual enhancement with a shiny, lovely, metallic finish. They look particularly beautiful on ornate carvings and mouldings. These potions are sometimes referred to as 'embellishment' waxes by crafters. They are a unique wax that gives an elegant feel to your furniture detail. Available colors include copper, chrome, bright silver, dark silver, zinc, bright gold, warm gold, pewter, bronze and colors like teal, red, magenta, and green. They can be used on many materials such as:
Cardboard
Ceramics
Glass
Leather
Paper
Plaster
Plastic
Wood
One of the most popular uses of these products is the enhancement of decorative wood and metal picture and mirror frames. Embellishing moldings on furniture and doors is also commonly done. Marbelizing hard surfaces and actually staining of wood can be achieved with gilding waxes as well. (Below is a Antiqued Gilding Wax on a wood frame.)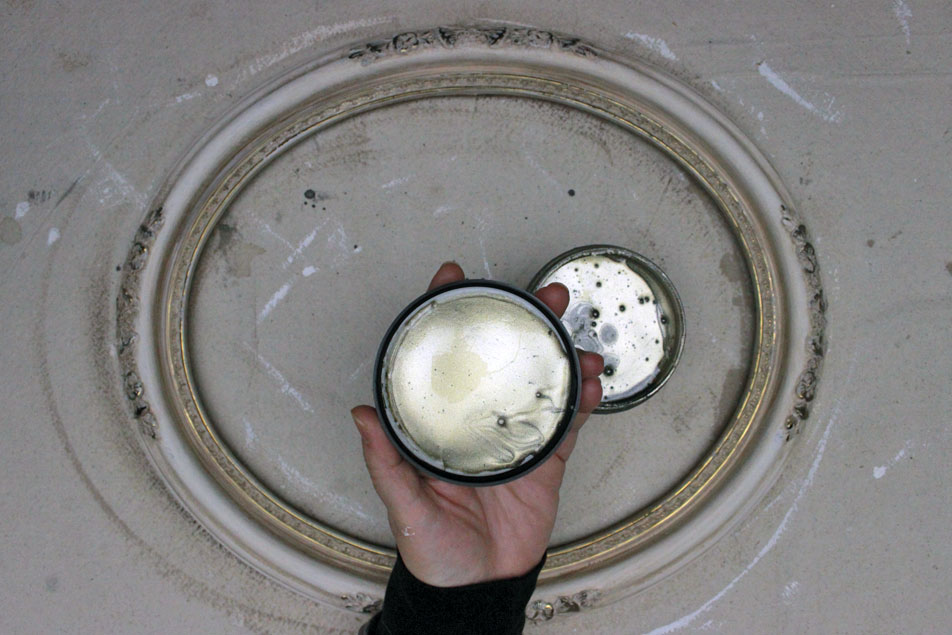 One method that produces a remarkably attractive and interesting result is to apply several different wax colors to various parts of moldings (including wood). This leaves a strong patina with an aged (or worn) metallic touch, and looks amazing as different angles of light create many varied colorful appearances. Such a striking silver finish on the piece in the photo above, don't you think?! And just look at that luscious wax! (Below is a rust diys look that is aged perfection … Make Your Own Rust Pastes HERE!)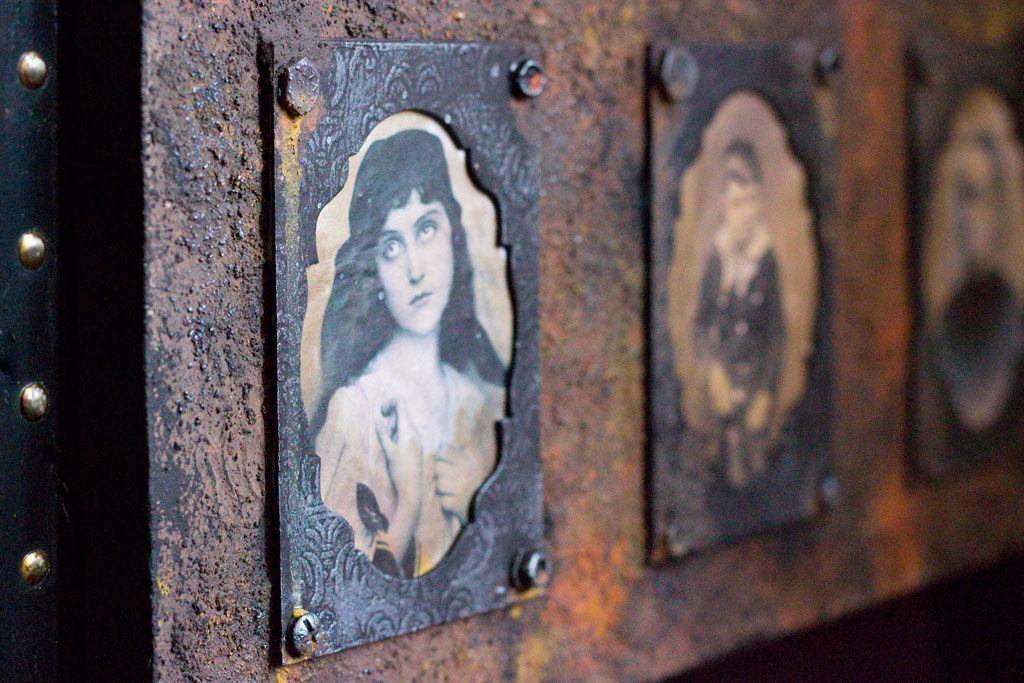 Importantly, the waxes work well in a situation where the colors of an item such as a picture frame may not blend in nicely with the decor colors of furniture, etc. in a particular room. This can be rectified by adding the necessary color to the frame to alter it enough to fit in perfectly. For example, if a frame is gold and a silvery tone is needed for the decor, then silver gilding wax can be applied for the desired result.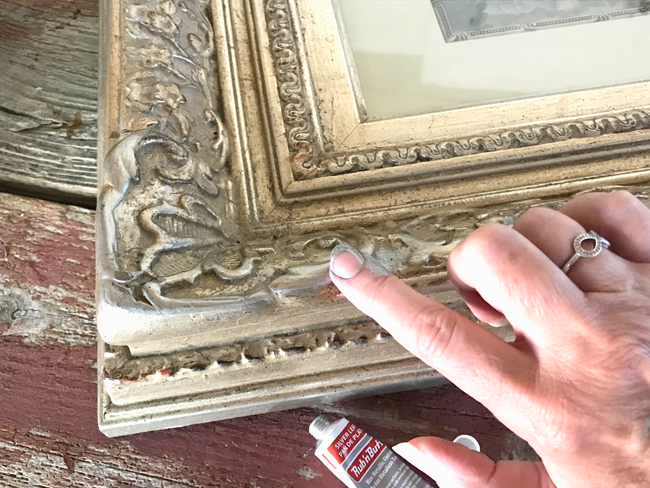 Mixed Media Gilding
Gilding waxes and pastes can be an invaluable tool for mixed media artists. Oh the fun we can have with these little pot of gold, or whatever color you prefer! A metallic sheen can be added to materials like cards, chipboard, lace, and baked polymer clay, along with books, papers, and more. They are also great for highlighting embellishments (decorative features), die cuts (Cricut, etc.), and embossed (carved, molded, or stamped) patterns. (Below, see Metallique Waxes Mixed Media Tutorial HERE!)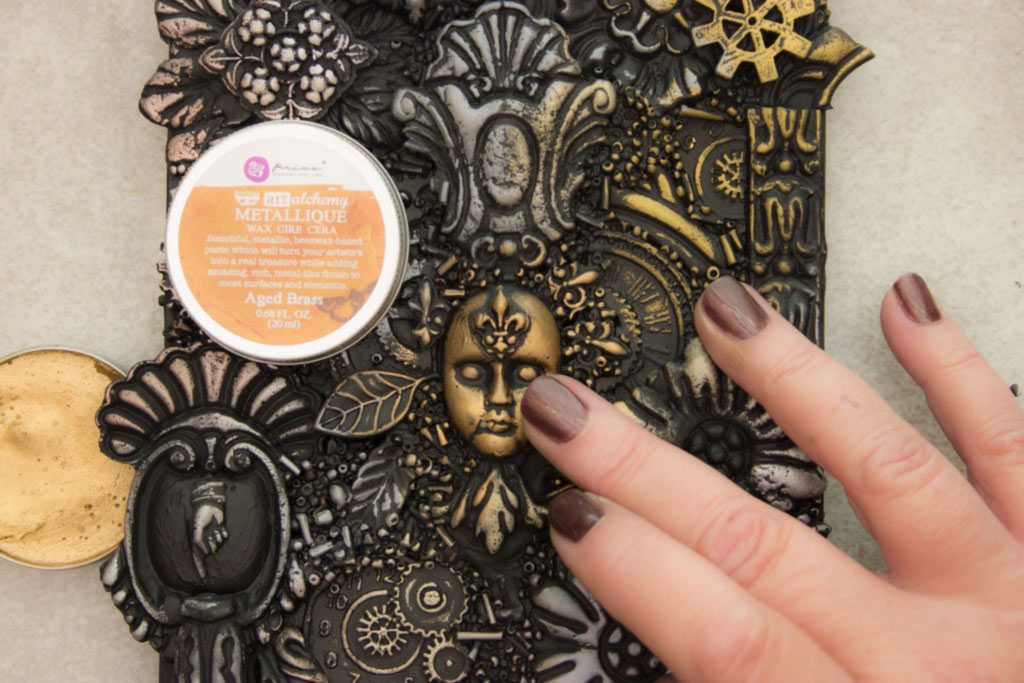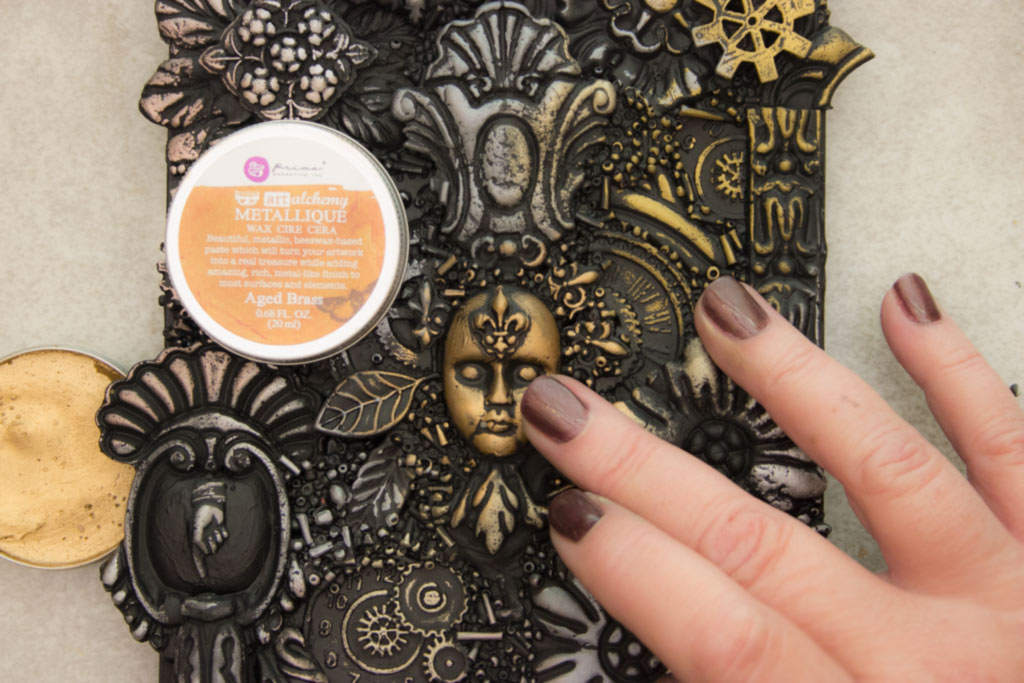 A few of the most well known brands that offer gilding waxes and pastes are:
Annie Sloan Gilding Wax (available at independent stockists)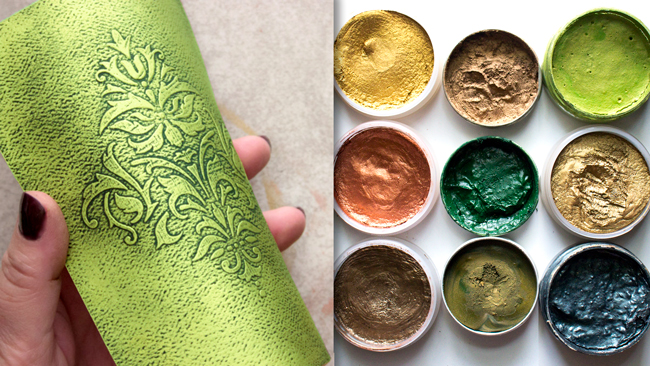 Tips and Tricks When Applying Gilding Waxes and Pastes
The wax can be applied with your finger, a sponge, brushes, a soft cloth, etc.
You can use your finger to apply just a dab of wax, but I recommend using gloves or a lint-free rag for bigger jobs.
Lightly brushing Gilding Wax over the top of  texture will highlight the relief details.
Older Gilding Wax can separate inside the tubes. Massage the tube with the cap securely tightened to redistribute oils and pigments evenly!
Apply Gilding Waxes and Pastes last to avoid wiping them off when applying topcoats.
Allow the wax and paste to cure as directed by the manufacturer. Some of these take up to 4 days to fully dry and cure. Be sure to read instructions carefully.
Buff according to manufacturer's directions for dry time and process.
Don't seal Gilding Wax. Let it cure. If it fades, just add more!! The exception is for surfaces that will be handled a lot, like drawer knobs. Check manufacturer's directions for the process.
Several brands are not water based and will need paint thinner cleanup. Be sure to check if the wax is oil based or water based. For example, GILDERS paste is thinned with paint thinner.
You can mix two of the same brand of waxes for a different color. Pay attention to the rules of the color wheel.
Drying times vary depending on the wax, the thickness of application, and substrate. DO a test piece first and always to become familiar with the product.
Try using with a Stencil to create your own masterpiece!
Best Gilding Wax Tip from Annie Sloan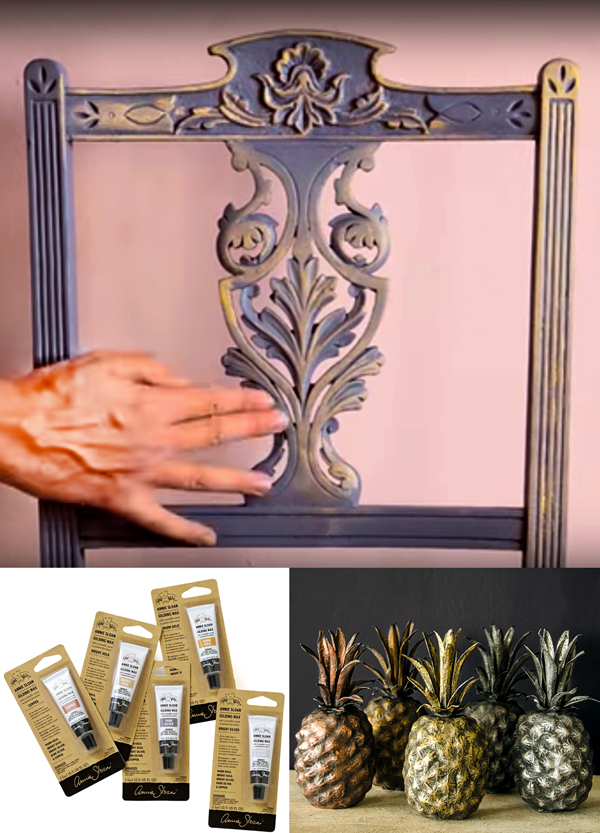 A super tip from my friend Annie Sloan: "My tip is to mix colours of wax on the work so the colour of a line is not flat but varied!" Photo above included by permission from Annie Sloan.
Want to learn How to Make your Own Gilding Wax? Click HERE for the post! 
I hope you have fun exploring the shine and shimmer of gilding waxes!! I also create Photoshop Elements tutorials and craft project videos over on The Graphics Fairy Premium Membership site. You can find even more of my art, DIYs, and whimsical shenanigans on my site HERE
Hello! Are you new to The Graphics Fairy?
Welcome, I'm so glad you're here! Browse around to find 
thousands of Stock Images
 that you can use in your projects or designs! I post new Vintage images every day, as well as projects and DIY's too! Need more info about my site? Try my 
FAQ
 page.