Today I'm sharing 50 (more) free wall art printables! I shared over 50 of my favorite instant art printables late last year, and everyone really enjoyed the list, so I thought I would make a part two to the post.
These gorgeous full page prints are great as instant art — all you need to do is print them out and frame them up for some lovely (free) artwork!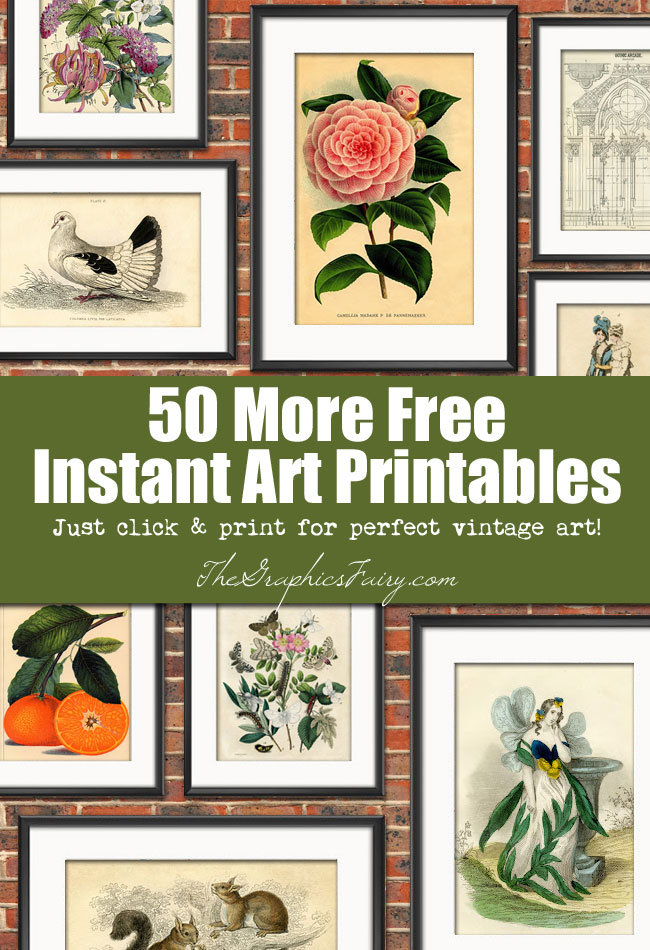 PEOPLE & COSTUMES
1) Regency Fashion Ladies Print. This is another charming Regency Fashion Ladies Print! Shown is a lovely Jane Austen-esque print that dates to around Circa 1800 and shows two ladies wearing lovely white dresses. One of them is wearing a blue scarf with black lace trim and a fancy blue hat!
2) Paris Fashion Print. This is a Circa 1843 Victorian Fashion Print of French Ladies Fashions from Paris! Shown are three stylish ladies in all their finery! The hand colored image includes reds, blues and pink dresses; so stylish!
3) Flower Fairy. This is a wonderful Antique Print of a very Lovely Flower Fairy next to a Garden Urn! This print is done very much in the style of those found in Les Fleurs Animees by J.J. Grandville, and comes from about the same time period (mid 1800's). The fairy has on a white dress with leaf and flower accents and stands next to an urn.
4) Children Doing Doll Laundry. This is from an antique Children's Nursery Rhyme book. Here we have a sweet little scene showing two little girls, washing up some Laundry for their Dolls! I've included a full size printable so that you can print this up, frame it, and hang it in a little girl's room, or cute for the Laundry Room too!
5) Victorian Children's Fashions. This Vintage Printable,is a page from the Circa 1855 Godey's Ladies Book. Shown is a Girl's Party Dress and a little Boy's Suit, among others. The print is in black and white, but the clothes are just lovely.
6) Regency Evening Dress. This one is a fabulous Antique Print of a Regency Period Evening Dress! The print dates to around Circa 1800 and shows a woman wearing a gorgeous fancy White Dress, with some amazing White Roses all along the hem! The view is from the back of her dress, so you can see the intricate dress details!
BIRDS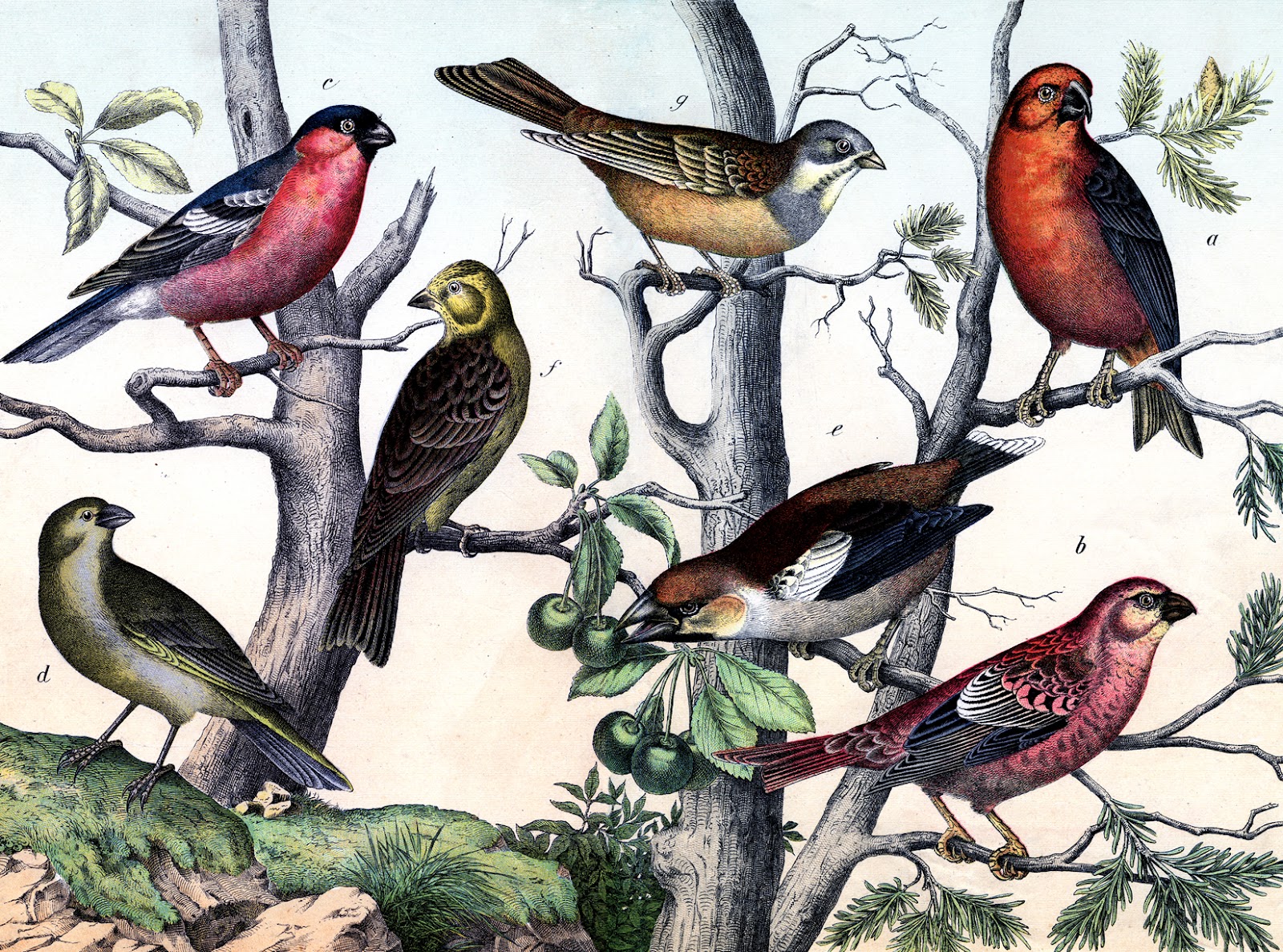 7) Birds on Branches. This is a gorgeous Natural History Bird Print Circa 1879!! This beautiful Lithograph shows 7 lovely Birds, perched on Branches! The different birds are mostly in shades of reds and browns and all are perched looking in different directions and poses!
8) Grey & Brown Natural History Bird. This is an attractive looking Bird on a branch, and the hand colored art work is nicely detailed. There are nice muted tones of blues, greys and browns. The bird is called a Fieldfare.
9) Pretty Dove or Pigeon. This is a gorgeous circa 1830's Natural History print! The print features a lovely bird, a Pigeon or Dove perhaps. The bird is mostly white with some black feather accents and bright pink feet.
10) Black & White Parrot on Branch. This is a gorgeous antique print of a wonderful Parrot on a branch. The artwork is black & white on an old sepia toned background. The print was done by George Shaw and dates to 1811.
11) Owls Print. This is a wonderful Natural History Owls Print! There are 5 lovely Owls in a beautiful natural scene with mountains and trees. This graphic was scanned from a fantastic 1878 German Children's Encyclopedia Bird Book.
12) Gorgeous Pink Crossbill. This circa 1870 Natural History print shows the most extraordinary looking Pink Bird!! I'm so in love with this color! The bird is a Two Barred Crossbill and has lovely pink and peach feathers with black feather accents.
EGGS & NESTS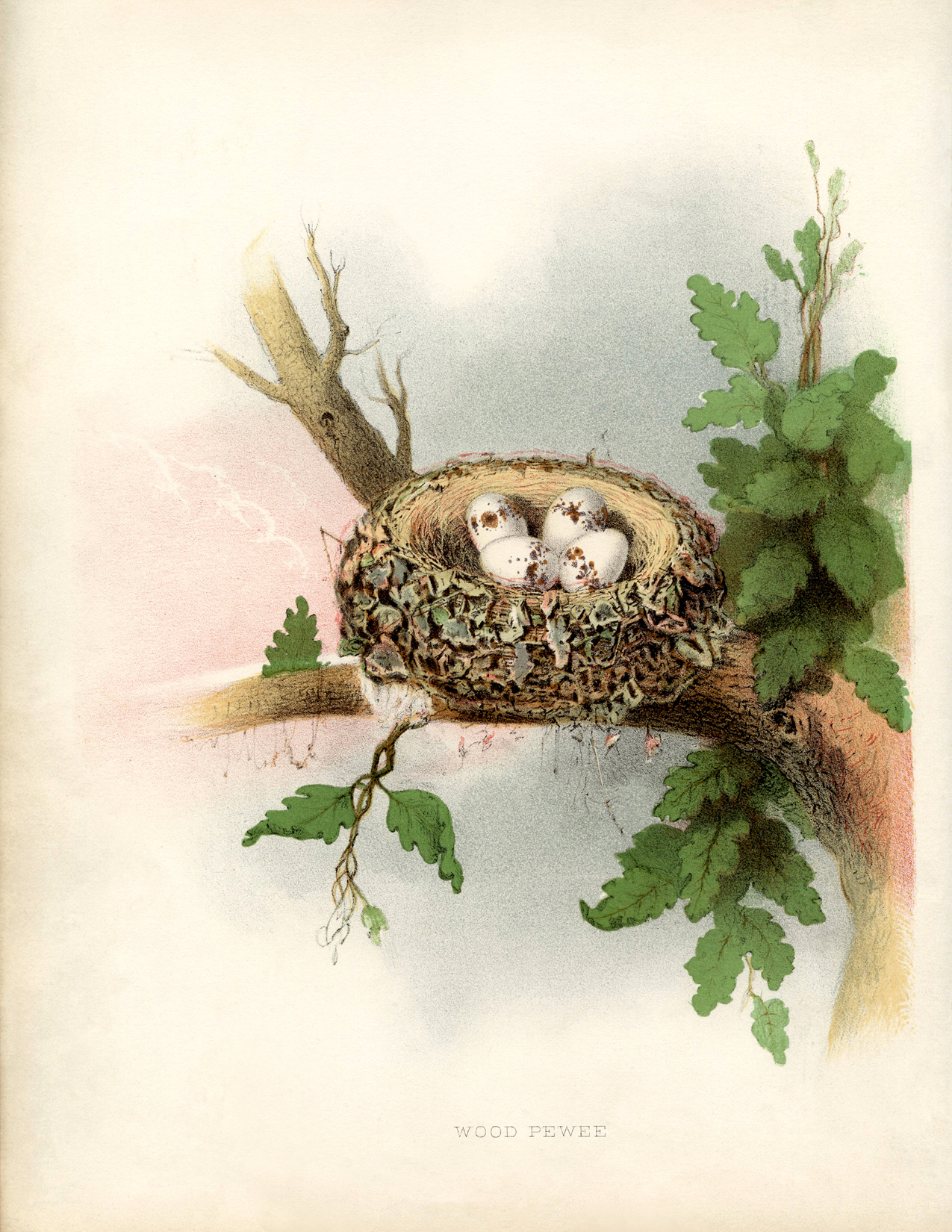 13) Vintage Eggs on Branch. This is a Beautiful Vintage Nest with Eggs Picture from a rare 1880's Natural History Bird Book in my collection! This picture shows a wonderful rustic looking Bird's Nest with four brown and white Spotted Eggs inside. According to the caption this nest belongs to a Wood Pewee.
14) Goldfinch Pair with Nest. This is another fantastic Bird and Nest Print from an 1882 Natural History Book! This one shows two darling Goldfinches, (one of my favorite birds!) perched next to their Nest. One of their tiny Eggs is illustrated underneath.
15) Egg Pile Print. These are some pretty fab looking bird eggs, done in soft pastel shades. I love how they're all together in a pile and I love the broken one too. This is another one from the circa 1830's print collection that I picked up.
16) George Morris Egg Print. This is a nice Antique Natural History Print of some Speckled Eggs! This one is by artist George Morris and shows two speckled eggs, the top white with grey & brown spots and the bottom one in green with brown spots. These look great framed and hung together in a group!
17) Nest with Egg. This lovely Vintage Printable shows a charming bird's nest in a branch with a mostly white egg at the bottom. The nest looks like the bird has collected lots of twigs along with various scraps to complete the nest The print is circa 1882.
18) Yellow Throat Birds with Nest. This is a fabulous Vintage Birds and Nest Printable from a rare 1880's Natural History Bird Book This picture shows 2 adorable yellow and brown Birds. According to the print they are Maryland Yellow Throats. They have a wonderful brown twiggy Nest. I love how the female is peeking her head through the blades of bright green grass! Shown at the bottom of the page are 2 illustrated Eggs.
FLOWERS & LEAVES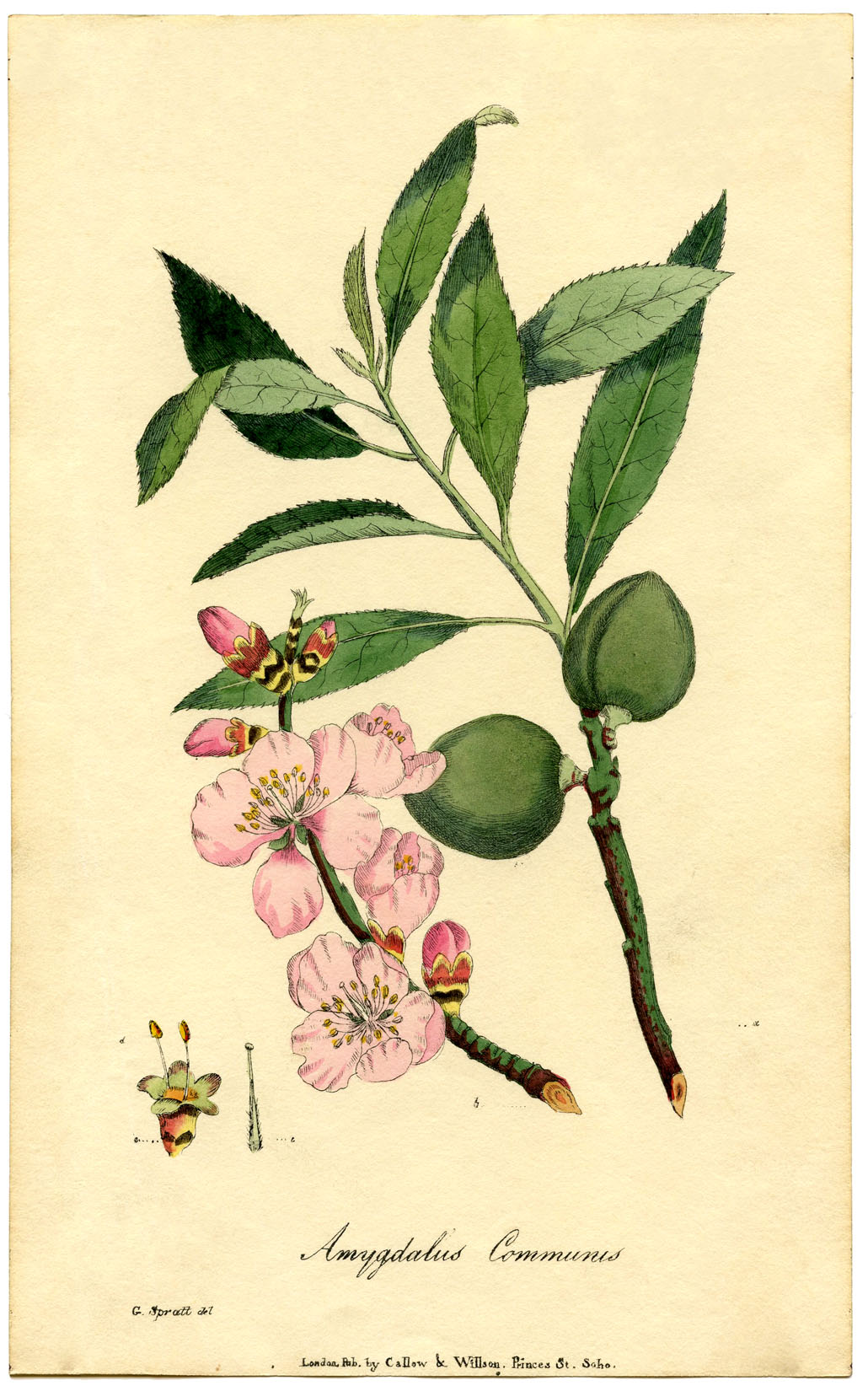 19) Almond Flower Print. This features a beautiful Almond plant with, some Almonds formed on the branch and also showing a section of the plant's pretty pink Blossoms! This one is quite old and dates to Circa 1829! The artist is G. Spratt.
20) Beautiful Ferns. This is a fabulous antique Natural History print, circa 1850's! This gorgeous print features some lush green ferns and includes a bit of the roots. Such a great graphic for any garden themed project!
21) Tropical Plant Leaf. This is a fabulous Vintage Printable Botanical Leaf from an 1860's Ornamental Plant Book! Shown is the Alocasia Jennings, which is an exotic and tropical plant. I just love the colors on this and the striking pattern on the leaf! I'll be sharing lots more of these soon, I think they would look fabulous framed in a collection on a wall!
22) Pink Camellia. This gorgeous botanical is a lovely pink Camellia print, which dates to around the mid to late 1800's. There is a pretty cameillia in full bloom and a few buds behind it. Dark green leaves surround the print on sepia paper.
23) Holly Plant Botanical. This is a Beautiful Vintage Holly Printable that shows two kinds of Holly on it! Included are some Mountain Holly and some American Holly. Such fabulous colors on this one and so nice to use in your Holiday Decor!
24) Pretty Striped Leaf. This is a gorgeous Vintage Leaf Printable! This one comes from an 1860's Ornamental Plant Book! This one has the most beautiful Stripes in shades of green, it almost looks like a Feather to me!
25) White Rose with Purple and Yellow Flowers. This one comes from an amazing Antique Botanical book from England circa 1855! The book has some really beautiful floral Botanical prints in it. This one is a pretty large white rose open, with a purple and a yellow flower around it. They are all on an aged sepia tone background.
26) Pink & White Flowers Botanical. This beautiful Pink and White Botanical Print came out of a Circa 1855 Book. It shows a few different types of pink and white flowers together along with their leaves and branches. The full size printable is on creamy paper.
27) Beautiful Cottoneaster Plant. This lovely botanical print is of the beautiful Cottoneaster plant! It dates to the 1880's. The print has a branch specimen along with some berries and flowers forming and in full bloom and ripeness.
28) Sunflower Printable. This is a marvelous Old Print of a Bouquet of Flowers, included in the bouquet are a big beautiful Sunflower and some Fig Marygolds! Such a pretty combination! This one was scanned from a Circa 1860's Antique British Botanical Book!
HOUSEHOLD OBJECTS
29) Gothic Arched Windows. This is a wonderful Architecture Printable of Gothic Arches, scanned from an Antique Architecture Book! Featured is a wonderful Diagram of some Antique Gothic Arches. A nice one to frame as it is, or to use in your Digital Art or Collages!
30) Victorian Corsets Ad. This is a fun Printable Corsets Ad from a Victorian Fashion Catalog! The original is at the top of the page, and I've created a Black and White Version too. These would be great to Frame and hang in a Powder Room or Dressing Room. I think they would be fun to use as Wrapping Paper for a Gift too!
31) Fancy Desserts. This one comes from an 1860's Cookbook! It's a page illustrating six Fancy Desserts, including pudding, cake and lady fingers. I loved the fancy French one with the Cherries on it!
32) Corinthian Columns. This is a wonderful Architecture Printable Corinthian Columns Image scanned from an Antique Architecture Book. This is a wonderful Diagram of some classic looking Corinthian Columns.
FRUITS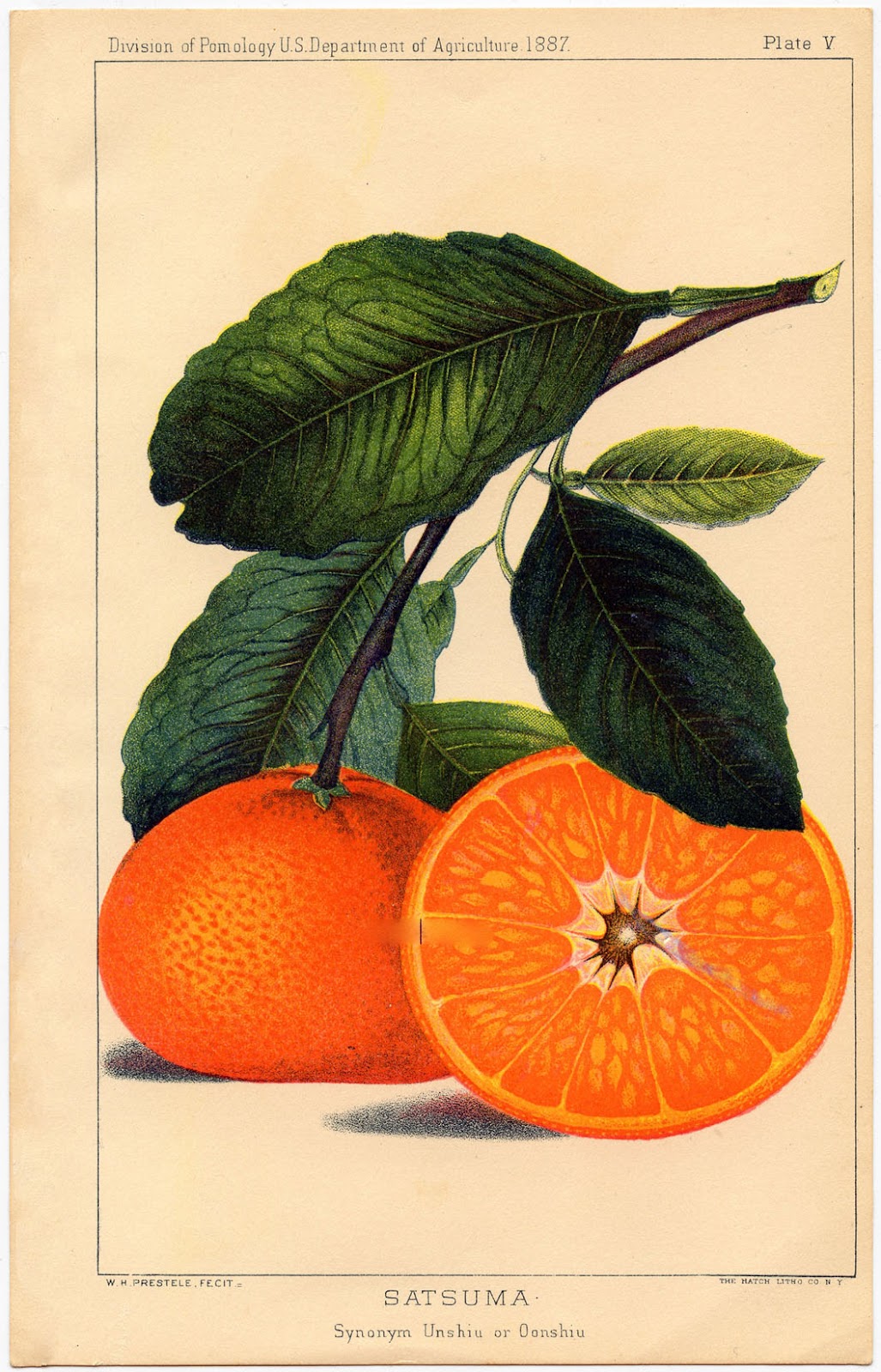 33) Gorgeous Orange Botanical. This is a nice Summery looking print! Here we have an Antique Botanical Fruit Print of some beautiful bright colored Oranges with leaves. This one comes from an old Department of Agriculture book.
34) Yellow Apple Art Print. This is a Circa 1851 Botanical Apple Print that I scanned from my collection. It shows gorgeous Yellow Apples, I'm guessing they are Yellow Delicious, but the print doesn't say for sure. The colors are so bright and lovely on this print.
35) Pear Print. This is a gorgeous Botanical Pears Printable that dates to 1858. There are two golden looking pears on a branch with pretty green leaves surrounding them. It has wonderful colors and would make some great Wall Decor!
36) Purple Grapes. This is another wonderful Antique Botanical print, this one shows some plump juicy looking Purple Grapes! This would look fabulous paired up with the Green Grapes print on the blog. This would look great near a wine rack or int he dining room.
37) Apples and Apricot. This marvelous Old Fruit Print showing some beautiful Apples and Apricots! This one was scanned from a Circa 1860's Antique British Botanical Book! The paper has aged to perfection with it's brown aged edges, such a great patina on this one.
BUTTERFLIES, MOTHS & OTHER WINGED CREATURES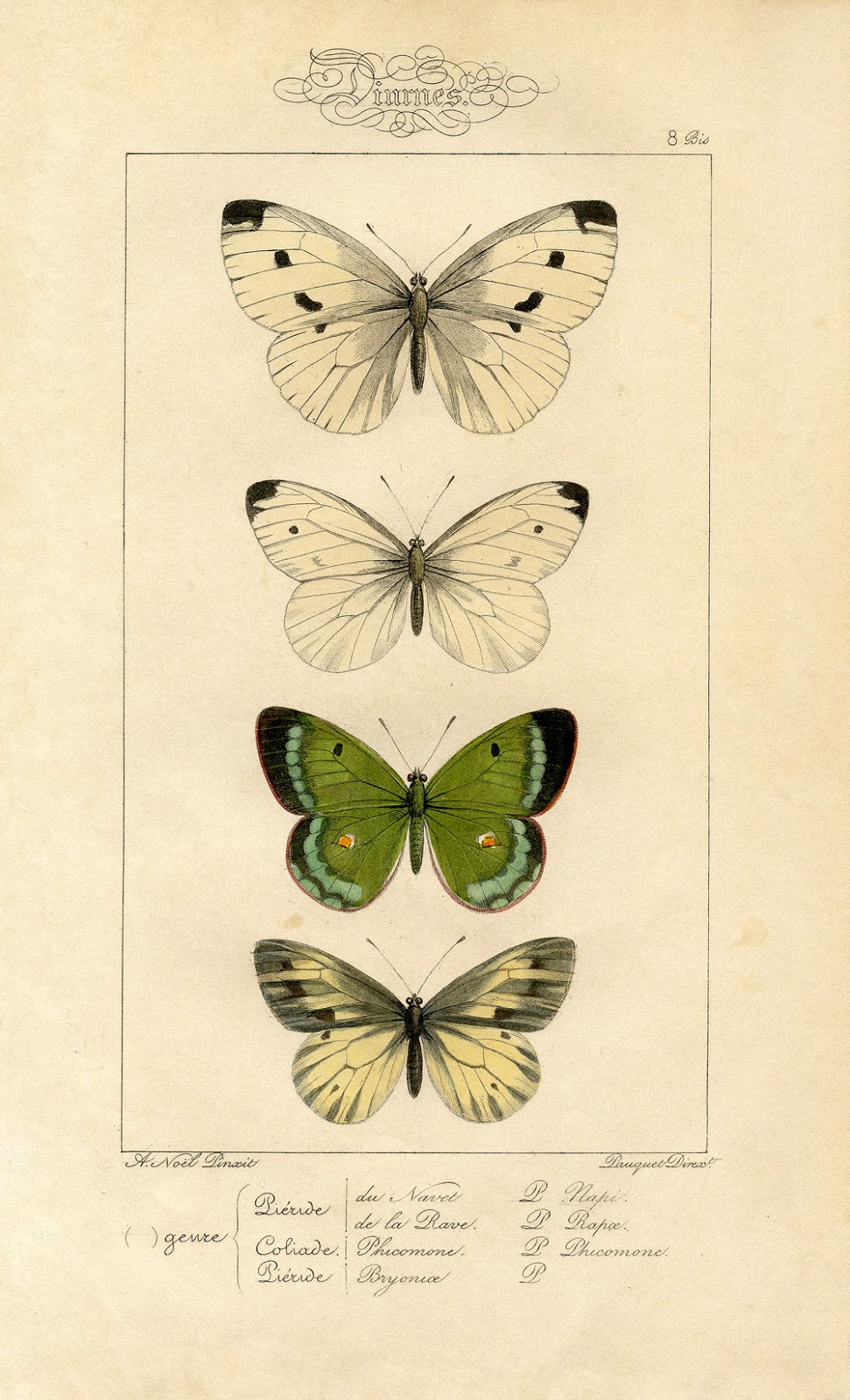 38) White & Green Butterflies. Here's a wonderful Antique French Natural History Print! This one shows 4 wonderful Butterflies in cream and green tones. This one dates to about the mid 1800's. In addition to these lovely Winged Insects, there is also some fabulous looking Typography included on the print.
39) Printable Fall Moths. This is a fabulous Printable Moth Wall Decor Download! This print comes from a Circa 1863 German Natural History Butterflies and Moths Book. It shows several moth species and caterpillars. I think the Yellow and Brown colors on this one make it the perfect print for your Fall Decor!
40) Vintage Beehives Print. This lovely print is from a Circa 1840 Natural History Book. Shown are 3 charming Beehives in lovely Sepia tones. Each hive is a different style and they ahve small bees swarming around them.
41) Printable Insects. This print comes from a Circa 1863 German Natural History Butterflies and Moths Book. This print includes various species of moths on different leaves with caterpillars. The lovely print is on a cream background.
42) Printable Bees. This fabulous Vintage Bees print comes from a Circa 1840 Natural History Bees Book. Featured are three Beautiful Bees also known as Orchid Bees. I love the rustic style of this print and the creamy monochromatic background!
ANIMALS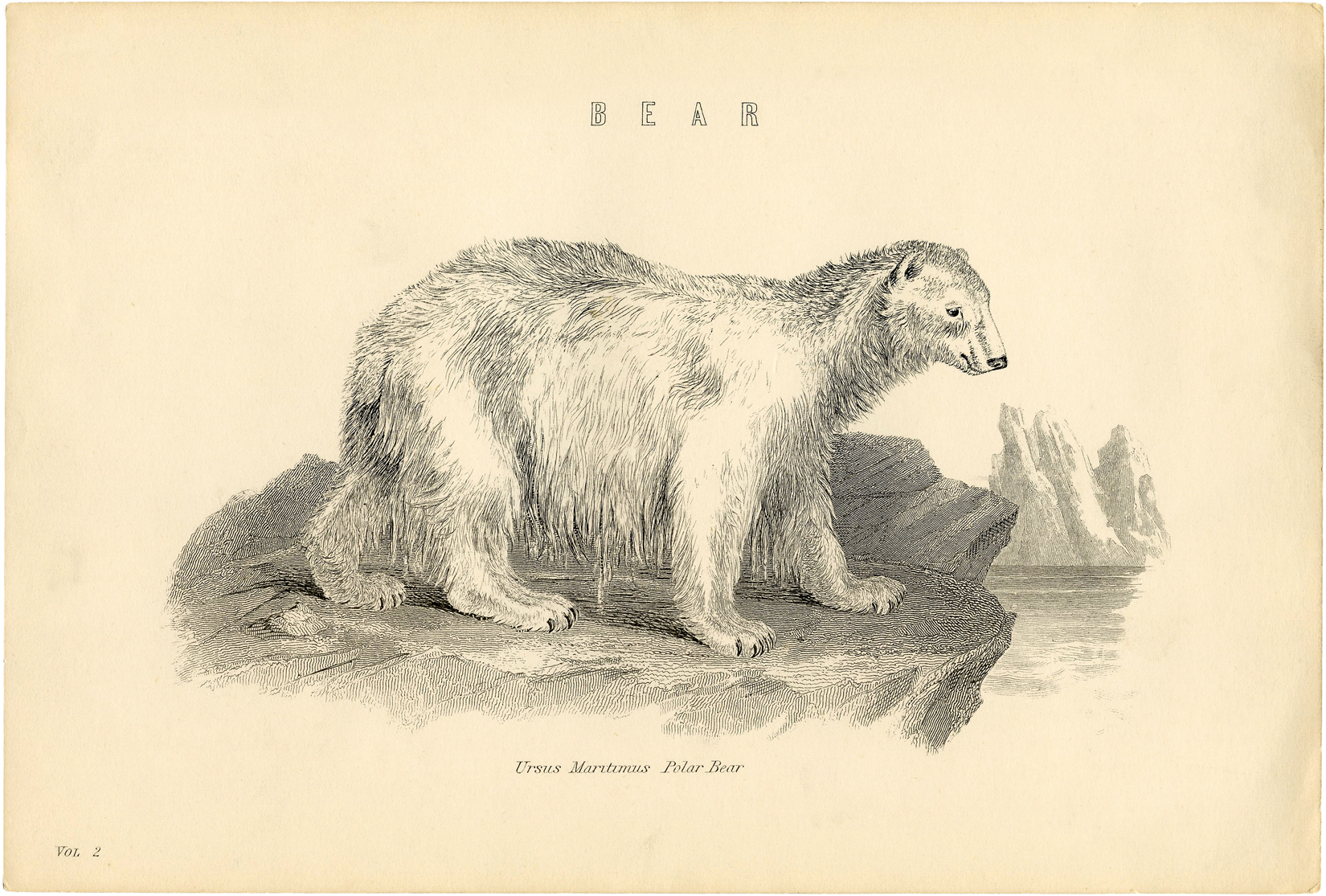 43) Polar Bear Printable. This wonderful Natural History Animal Print dates to about the 1860's. Shown on the print is a lovely Polar Bear standing on an iceberg. I think the soft sepia tones in this print are really pleasing. You could print this out for some Instant Wall Decor, perfect for the Holidays or everyday.
44) White Farmhouse Cows. This pretty print shows a family of amazing Vintage Cows. These are Chillingham Cattle from England. They are a lovely soft creamy white color and they are set in the dreamiest country background.
45) Lodge Style Fish Print. This old fish print has lovely green and blue tones. He's quite old and pretty gorgeous…love the colors! He's got a nice tranquil scene with boats behind him too. I've made a full size printable, so that you can frame him and hang him up in your Lodge or Lake House.
46) Squirrels with Acorn. This wonderful Instant Art Print is from an 1840's book. Here we have two cute Squirrels climbing a tree. One squirrel is holding an acorn in his hands. A wonderful Natural History print that you can frame and hang on your wall, or great to use in your Fall Craft Projects!
47) Shell Natural History Prints. I can never get enough of these amazing early Natural History prints!! This one, full of gorgeous Seashell specimens, is perfect for an Ocean themed collage project, or framed and hung in a powder room!
48) Beautiful Antelope. This lovely natural history print shows a beautiful Antelope running through the wilderness! The brown hand colored antelope is staged on a pencil drawn background with grasses and a stream. This one comes from an 1840's book.
49) Raccoon Printable Art. This is a fabulous and rare 1830's Natural History print of a beautiful Raccoon. The full size print shows a raccoon in a natural setting walking on grass with a mountain in the background.
50) Deer Trio Printable. This beautiful Natural History Animal Print dates to about the 1860's. Included on the print are a Long Tailed Deer, Virginian Deer and a spotted Fallow Deer. The deer are sketched on a lovely sepia toned paper.
I hope you enjoy my 50 More Favorite Free Wall Art Printables!   I hope these inspire you to create some new artwork for your spaces. Don't forget to visit my original post with the original list of my favorite wall art printables, and there are plenty more instant art printables in the archives for you to browse too! Enjoy!
Hello! Are you new to The Graphics Fairy?
Welcome, I'm so glad you're here! Browse around to find 
thousands of Stock Images
 that you can use in your projects or designs! Need more info about my site? Try my 
FAQ
 page.