How to Make a Junk Journal
Hello creative friends! I am Heather from Ruby & Pearl xo. Today we will be learning how to make a Junk Journal from start to finish! This 3 part series is easy to follow and a perfect way to learn how to create a journal of your own! This is a mini free online course to get you up and running with your first journal. It's perfect for a beginner, but even if you have already been crafting your own junk journals for awhile, you will hopefully still find lots of inspiration.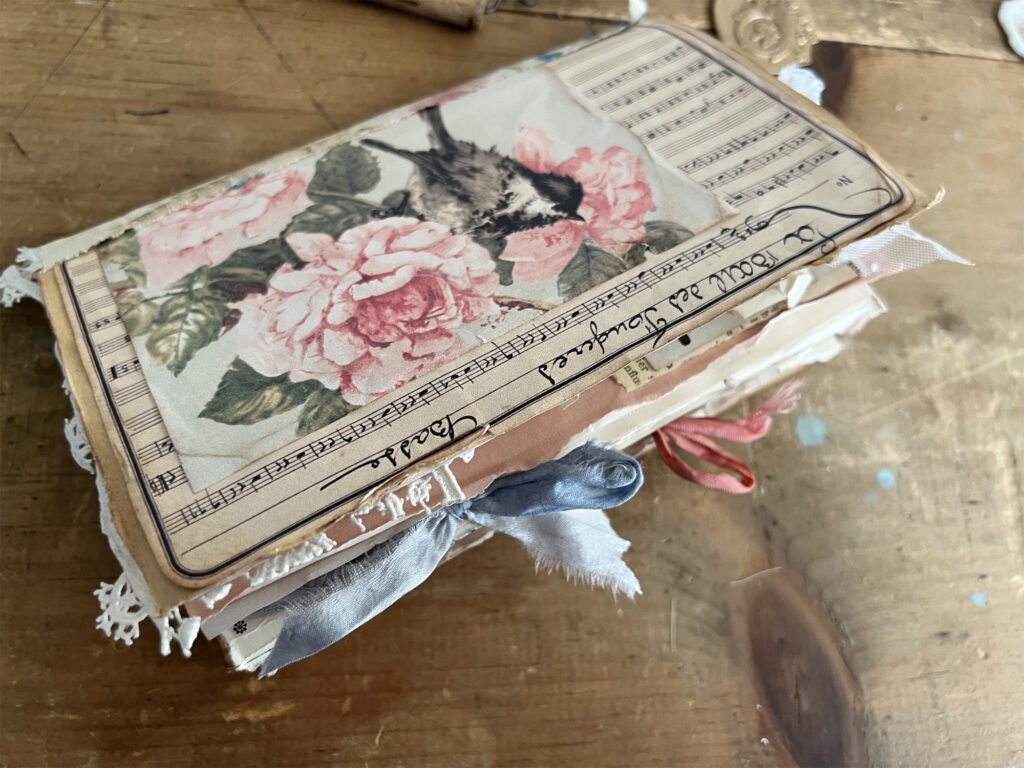 A junk journal in its simplest form is a handmade journal created using an eclectic mixture of various papers and ephemera. There are usually pockets, tuck spots and scraps of this-and-that clipped to the pages. It is the perfect place to write your thoughts, tuck your photos or fill with whatever makes you smile!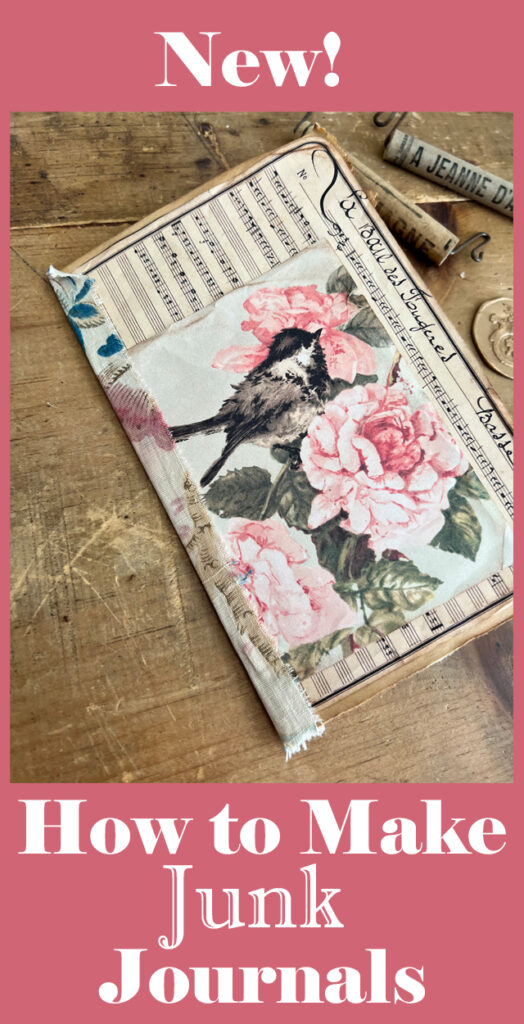 To get started we will begin assembling the cover.
How to Make a Junk Journal Supplies for Cover:
Kraft Colored Cardstock (I am using 65lb)
Scissors
Printed Images (see links at bottom of post)
Fabric Strip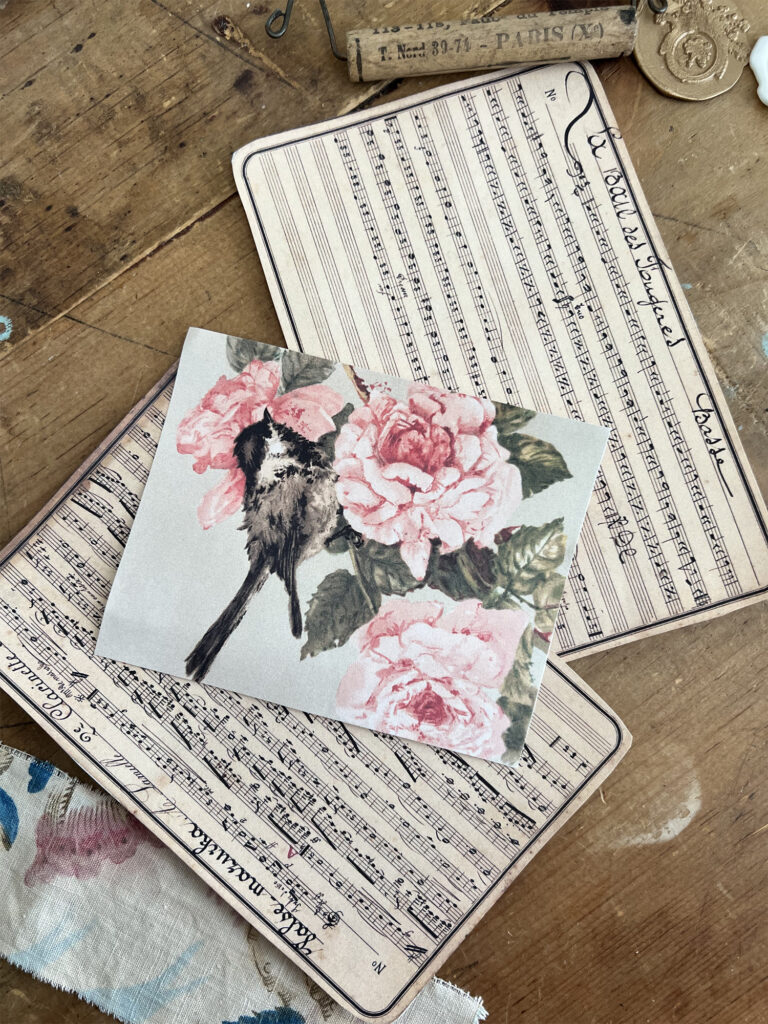 Instructions:
The first step is to cut your cardstock to size. For this journal I will give you my measurements but you can adapt this to whatever size you like.
To create the base for the cover, measure with a ruler, and cut a piece of kraft colored cardboard to 9" horizontal x 7" vertical. Tearing the edges of the cardstock instead of cutting with scissors creates a pretty organic look too. Once you have your base cut out.. You will fold it in half and crease with the back of your scissors to give a nice crisp edge.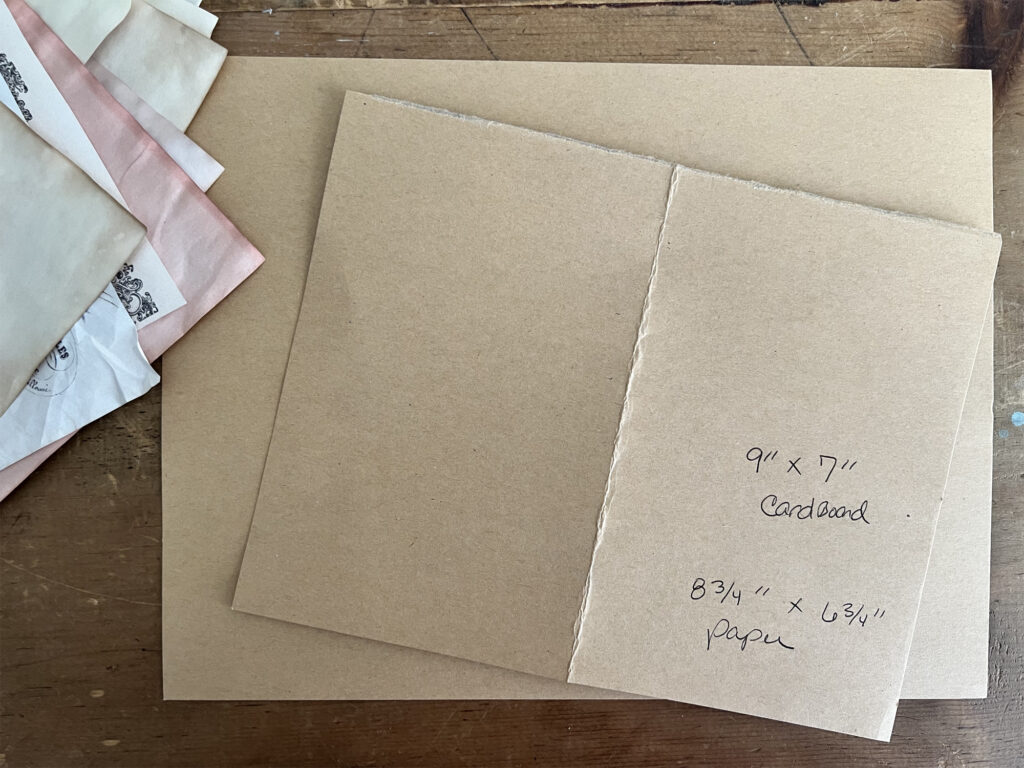 Next we will be using these 2 pretty vintage music pages from the Graphics Fairy and also the little bird image to add to the front cover.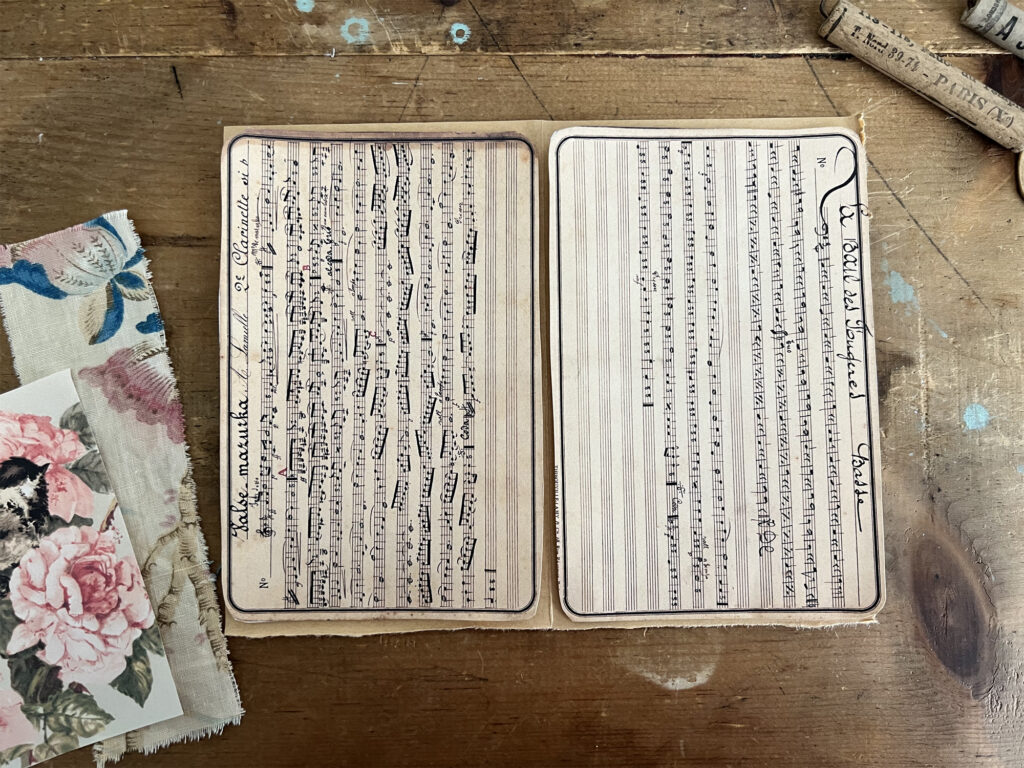 I used some distress ink along the edges of the images and also crinkled the paper along the edges with my fingers to give them a worn and imperfect look. I printed these at 5" x 7" size on my printer. They are the perfect size for our journal.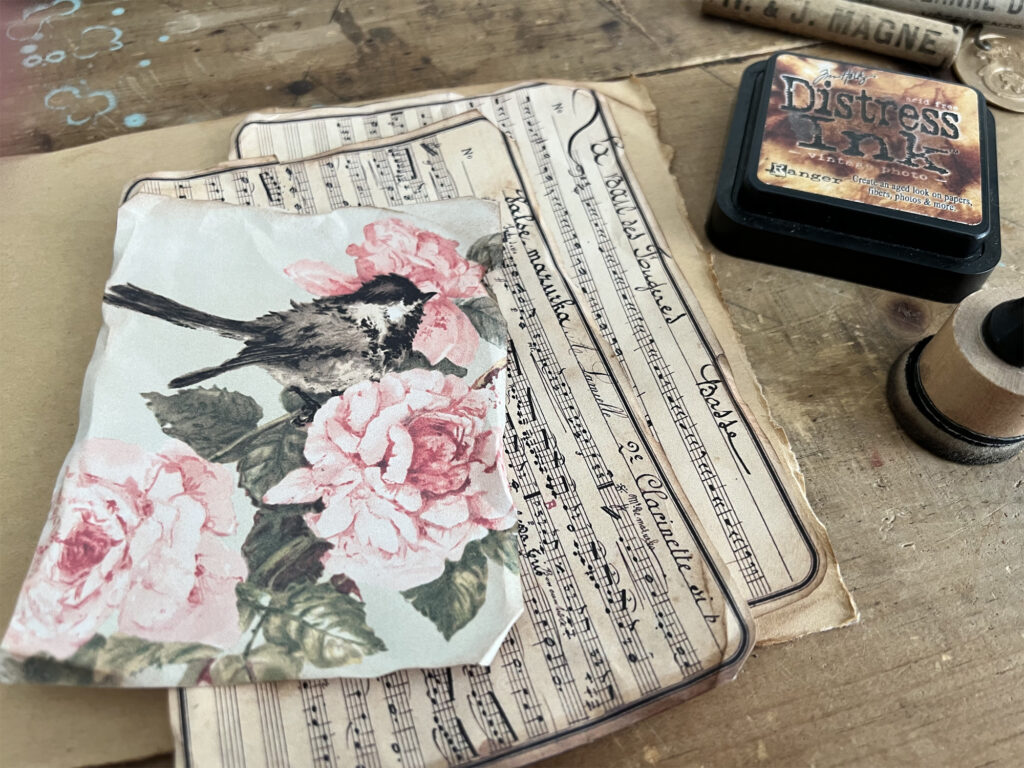 Next we will glue the music pages to the front and back cover and then collage the little bird image to the front. I love how pretty the pink flowers look with the sheet music. The glue I am using is Fabri-tac glue.. It dries quickly and adheres very well.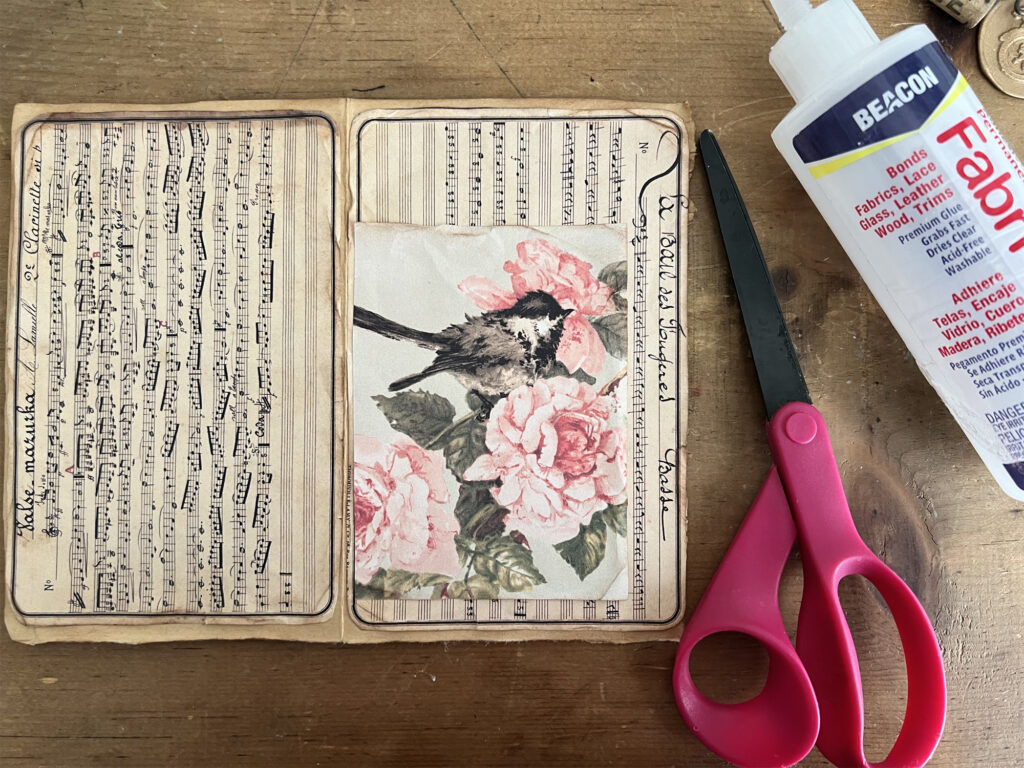 Now we are going to add a thin strip of fabric to the middle crease which will be the spine of the journal with glue.. This is just to give a little texture and pattern to the cover and when the journal is closed it will cover the spine beautifully.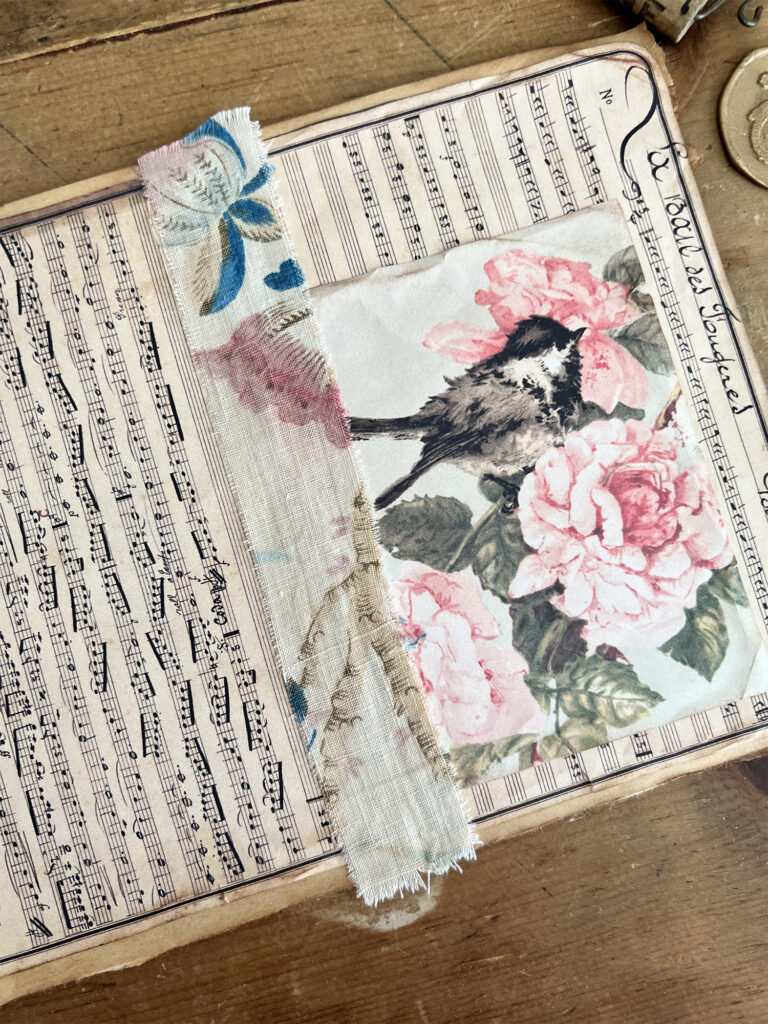 So now the cover is complete! It looks so beautiful.. and really is so simple to get your journal started! I didn't really have a specific theme for this journal, but of course you   could create themed Junk Journals if you wanted to.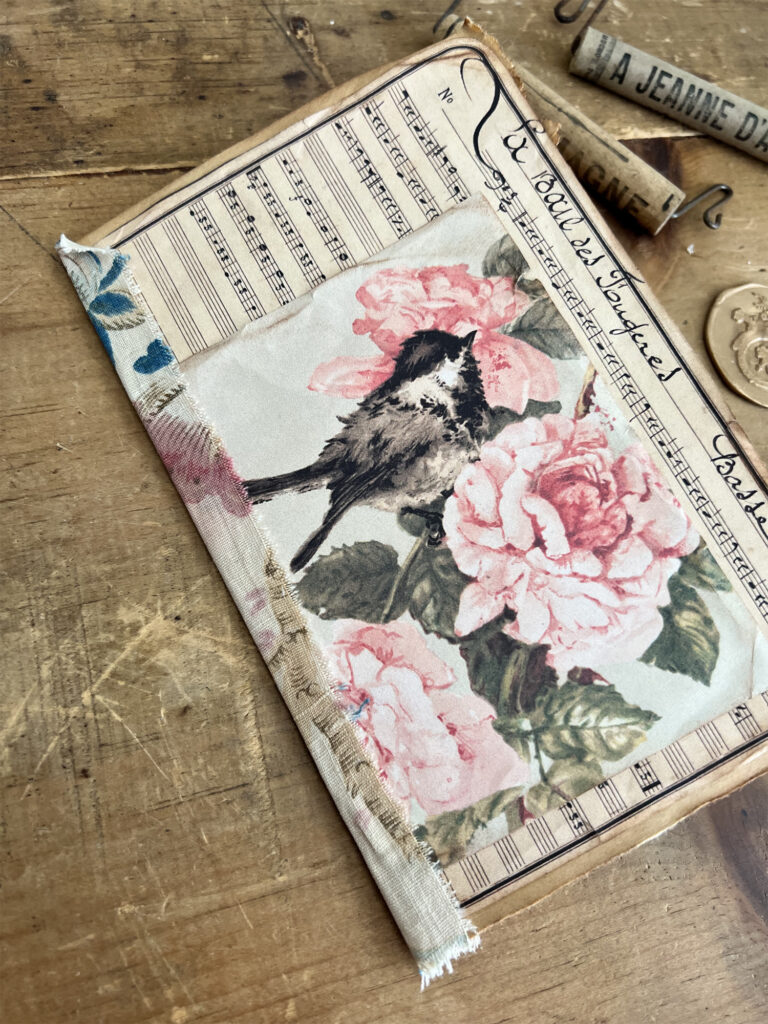 Next we will need to think about the types of papers to add inside. You can choose any type of papers you like. Some of my favorites are tea dyed papers, avocado dyed paper, sheet music, drawing paper with the little torn bits still attached, book pages, old envelopes, paper scraps, vintage greeting cards, printed french documents… really whatever you like. I love to mix different shades and textures, and different types of paper,  to get a really pretty time worn look when assembled.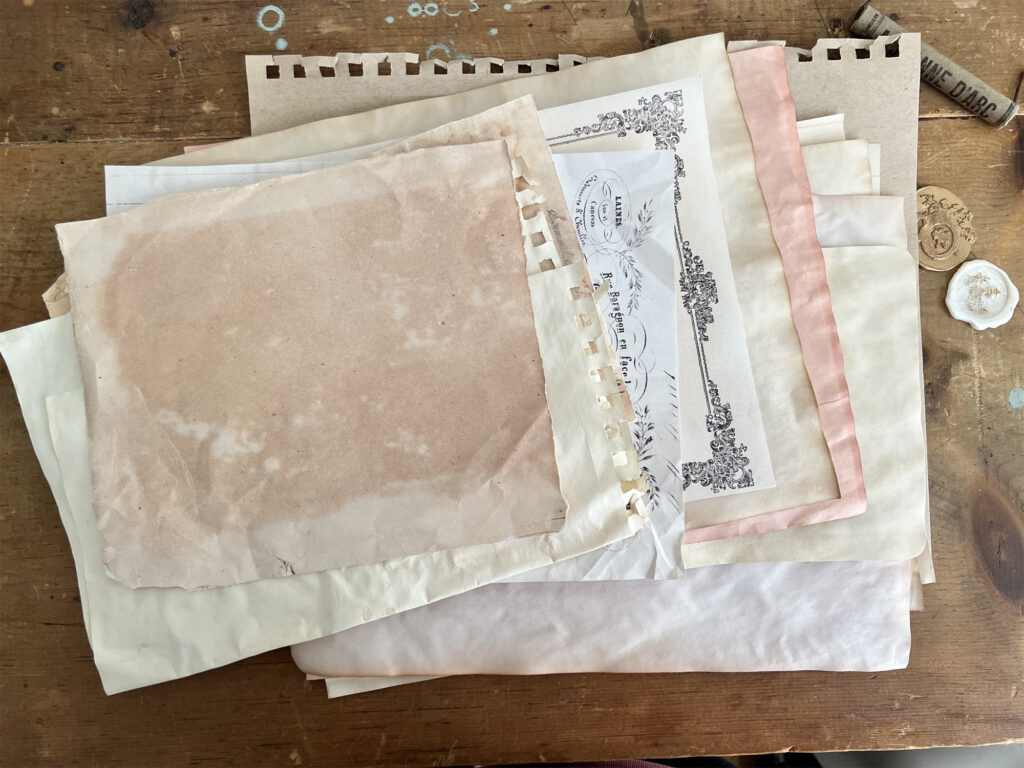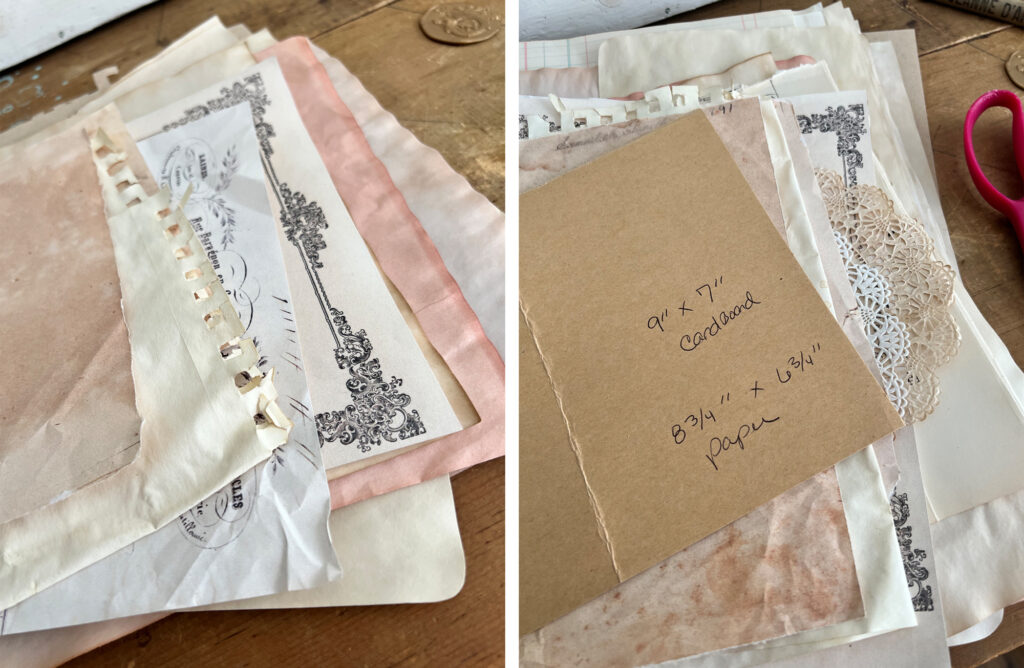 We will create a template for the page sizes we need. Here I am showing you how I folded a sheet of paper to the inside of the journal cover leaving just a tiny space on each edge so the papers will nestle inside the cover. The measurement for this paper to go inside the journal is 8 ¾" x 6 ¾" .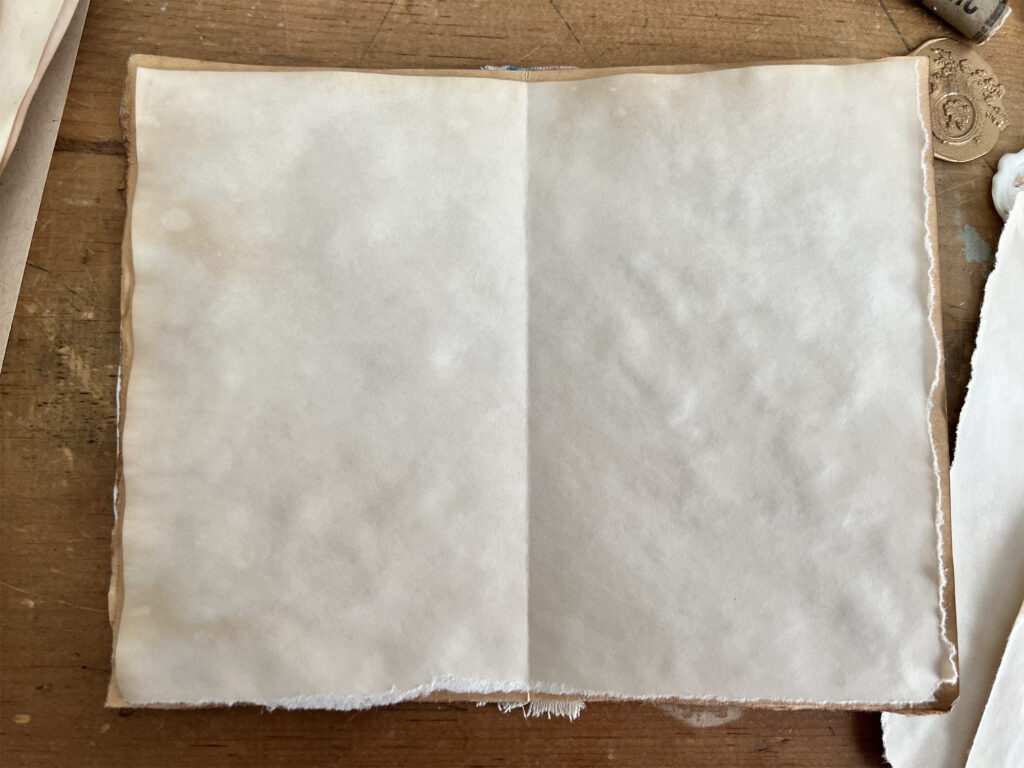 Next I am going to start folding papers… some smaller and some the same size. I like to vary the sizes of my papers inside because it makes for an interesting look when flipping through your journal if all the papers are not the same size. I like to make a few of the first papers a little smaller and build up to a larger sheet so when you open  your journal you can see the edges of the papers in a layered way.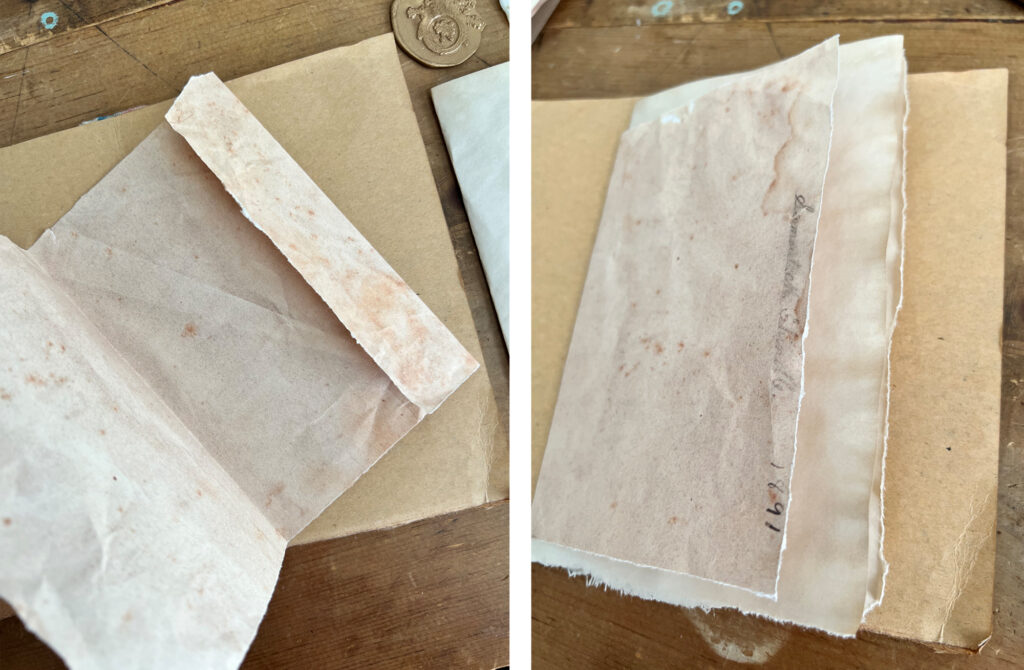 This Graphics Fairy image above of this old aged paper made a great addition to to my tea dyed papers.. I printed on both sides.
I keep adding various papers.. some I printed and some I dyed with tea or avocado. I also added a tea dyed paper doily as well for some added interest. This process is called creating a signature.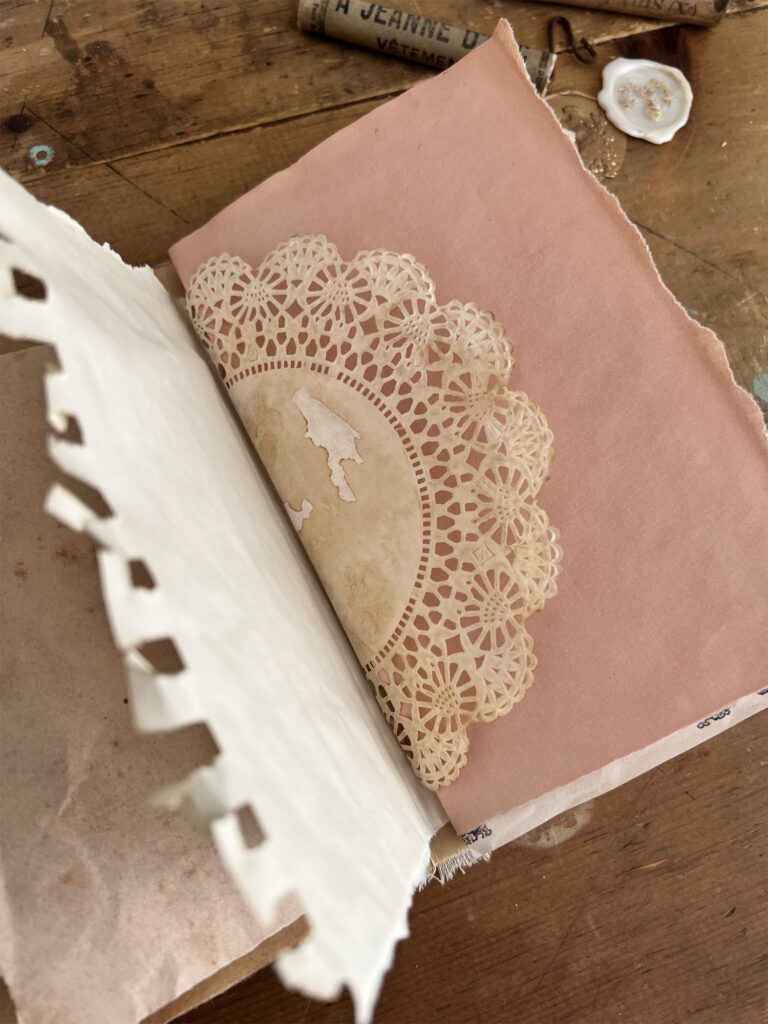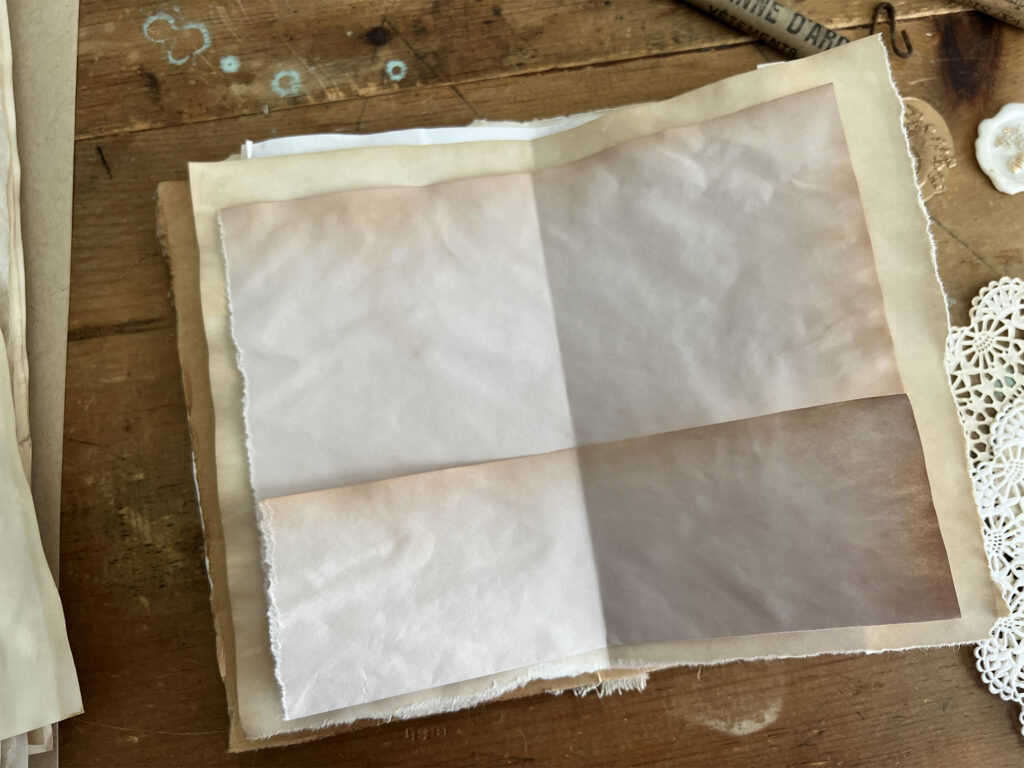 This will be the center page.. I folded the bottom of the paper up which will create a pocket once we bind it together. All together I used 10 different sheets of paper at varying sizes folded in half. This will give us a 40 page journal.
Images used in How to Make a Junk Journal Tutorial:
Take a Video Tour of one of my past Junk Journals:
I hope you will follow along with this how to make a junk journal tutorial you can find Part 2 of this series for Journal Binding HERE . Next we will be binding all of this together to create our journal!
Happy Creating!
Heather ~ you can find more of my art at Ruby & Pearl xo
A note from Karen & Emily… Heather Naggy was one of our instructors on our Premium Membership Site for several years. She has taught dozens of wonderful tutorials via instructional video on our Membership site. If you enjoyed this content you might want to consider joining our Premium site HERE to access lots more Junk Journal instructional tutorials and videos, as well as thousands of premade Printables to put in those books!