Fifty Fantastic Free Activities for Children
We wanted to share a collection of printables that will be sure to keep the little ones in your life busy this holiday season.  This set of fifty images and printables includes coloring pages and paper dolls with plenty of learn to draw, story telling, connect the dots, and crafting activities with children in mind.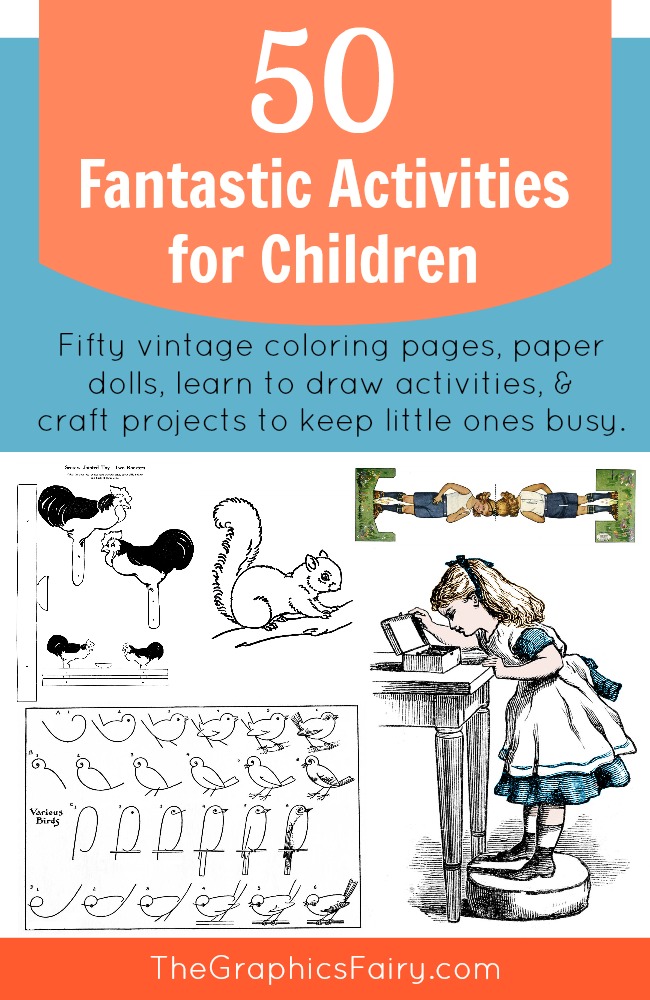 As you're visiting family for the holidays, these free activities for children, are a great way to keep little hands busy and a wonderful way to play and interact with the children in your life.  We've already had a few snow days around here, so here is a list of fun activities you can do with the children in your life when your indoors.
PAPER DOLLS
These great printables feature paper dolls that are perfect for coloring, cutting, crafting & playing with.  Children will enjoy interchanging the clothing on these dolls and making up stories and scenes for these dolls to interact with.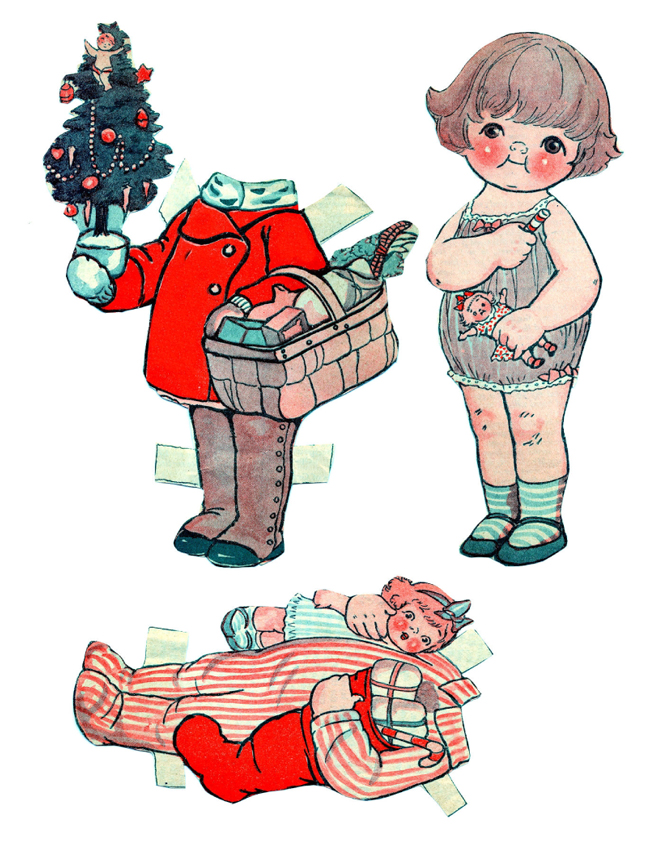 1)   Dolly Dingle Christmas Paper Doll.  An adorable full-cheeked little girl is ready for Christmas!  Dress her up in a red Christmas coat, complete with a tree and basket of goodies, fun stripped pajamas with a bright red stocking ready to be hung on the mantle, and two cute little frocks with matching shoes and socks.
2)   Fairy Tale Costume Paper Doll.  This cute antique postcard also doubles as a paper doll. There are 3 costumes included, Little Miss Muffet, Mother Goose, and Princess Goldilocks. Each costume has its own hat and there is even a little stand for the doll.
3)   Paper Doll with Three Outfits.  This adorable doll has 3 changes of clothes, 2 of the outfits have matching hats and 1 has matching shoes.  I just love her wide eyes and short cropped haircut.
4)   Cowboy Paper Doll.  This Dolly Dingle paper doll boy has a hat, cowboy outfit, schoolboy outfit and formal church outfit.  The illustration is done in reds, blues, and greys.
5)   Paper Doll with Interchangeable Heads.  A pretty black and white image of a woman in a ruffled dress.  The paper doll includes seven interchangeable heads what feature costumes from around the world.  She would be fun to color in and play different characters with.
6)   Scottish Children Paper Dolls (Boy).  This smiling Scottish boy paper doll is ready to be dressed in his kilt.  Just cut him out and fold in half (there is a front and back view).  Add a hat and thistle accessories too!
7)   Scottish Children Paper Dolls (Girl).  A really cute image of a smiling Scottish girl with a plaid dress.  Cut her out and fold her in half (this paper doll has both a front and back view).  There is also a hat and thistle to play with.
CHILDREN'S COLORING PAGES
These lovely black and white images are great coloring pages for your little ones.  Children will enjoy coloring the clothing, people, and animals in these children-themed images.  These images are more intricate coloring pages than the ones in the section right after this.  If you have very small children, check the next set of images too.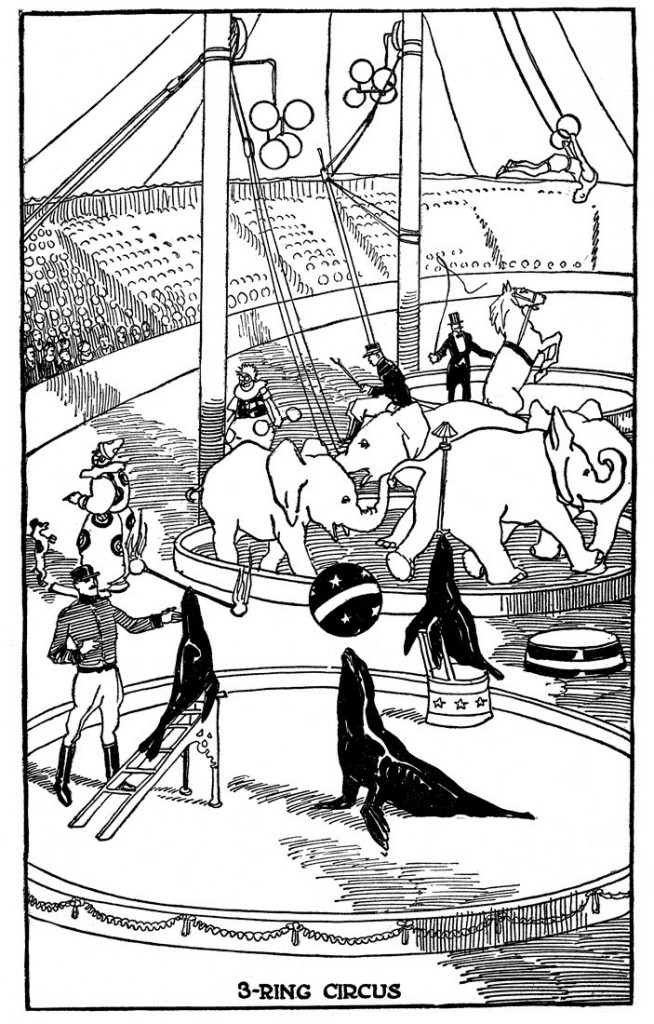 8)   Three Ring Circus Coloring Page.   A very lively a fun coloring page featuring a three ring circus scene.  This page has lots to color – seals balancing balls, elephants in the center ring, and a horse rearing.
9)   Little Nurse with Cat.  A cute image of a little girl dressed up as a nurse.  She is taking care of her sick cat, who is sitting on a stool getting medicine.
10)   Marie Antoinette Style French Ladies.  This drawing is from an old costume book and features five ladies dressed up in their finest.  I think little ones (and big people too) would have so much fun coloring the ornate dresses and hats in their outfits.
11)   Little Boy Dressing Himself with Bear.  A cute image of a little boy who is learning to button his shirt.  His stuffed bear is patiently waiting on the floor.  This image would be cute to enlarge and use as a coloring page for little boys.
12)   Traveling Bunny.  An adorable bunny image comes from an old children's painting book.  The bunny is walking upright while holding a mason jar lamp and he has on a big bow.
13)   Little Girl Baking.  An adorable coloring page image of a girl with her baking supplies, rolling out some dough.  This girl has on the cutest apron and a bowl, rolling pin, and sifter out on the counter.
14)   Jousting Knights Coloring Page.  A wonderful kids printable image of two knights jousting.  The knights are just about to meet.  The horses are galloping at full speed and both knights and horses have on their finest armor and costumes.
BASIC LINE ART FOR TRACING, COLORING & DRAWING
These images are line drawings with less detail than the coloring pages above. They are perfect to use as coloring pages for younger children.  Children in grade school may enjoy cutting them out, tracing them on a window, or practicing the lines in the images as they learn to draw.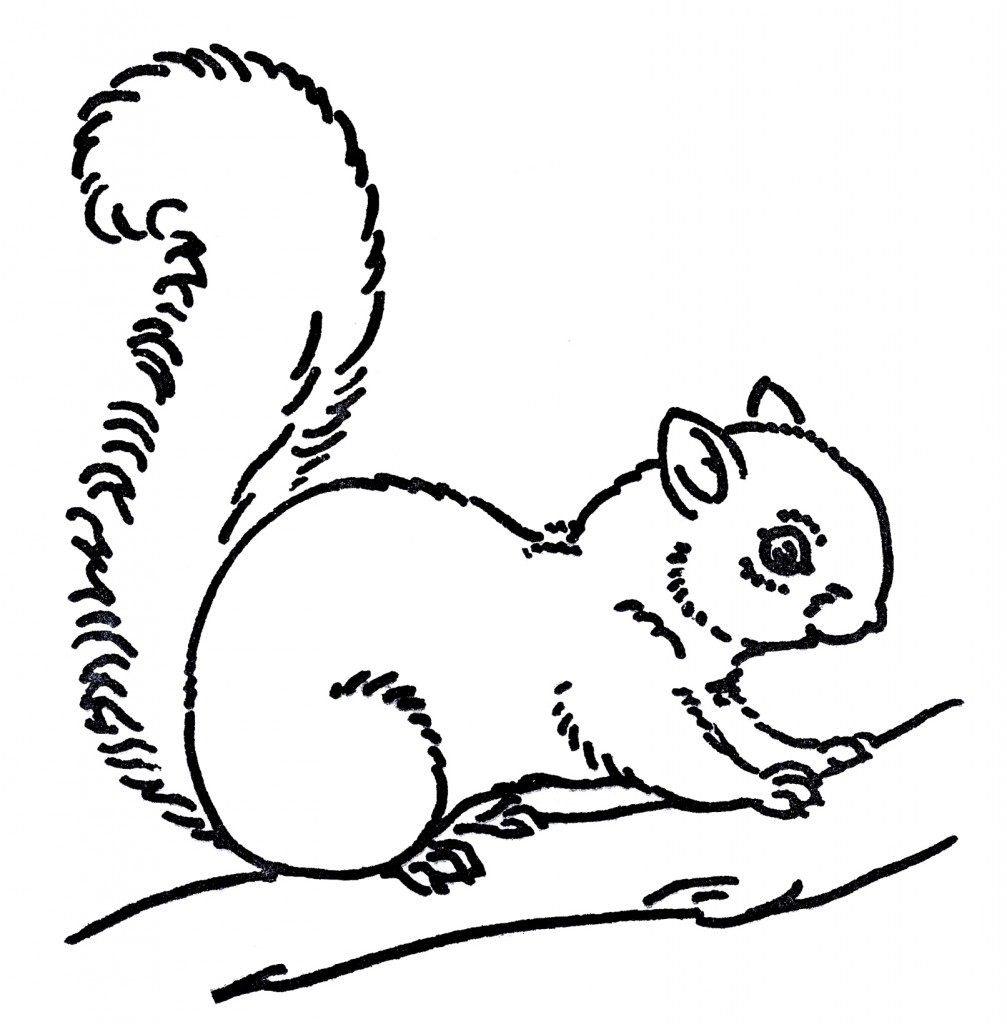 15)   Happy Squirrel Line Art.  This one is a black line drawing of a squirrel with a bushy tail.  This little guy has stopped mid scamper up a tree branch.
16)   Rocking Horse Line Art.  This 1940's line art illustration of a rocking horse, complete with saddle.  This one has simple enough shapes that it would make a great coloring page for smaller children.
17)   Goldfish in a Bowl Line Art.  This adorable children's book image shows a goldfish (or betta fish) swimming around in a round bowl.  I just love the slowing fins on this guy.
18)   Tea Set Line Art.  This image is from the 1940's and shows a child's tea set, complete with little teapot, matching creamer, a tea cup and saucer and even a little plate with crumpets on it!
19)   Cardinal on a Branch.  This simple black and white line drawing is of a cardinal leaning over on a branch.  This is a great image for your little ones to color in, but could also be used as an embroidery pattern too.
20)   Beach Shovel and Pail Set Line Drawing.  A cute image for children, this line drawing features a shovel and pail.  The pail is super-cute and has waves and a little fish image on the side.
LEARN TO DRAW
This series of activities includes visual instructions for a series of steps to complete simple line drawings of animals.  Children love following along and creating the image using a series of simple shapes and steps.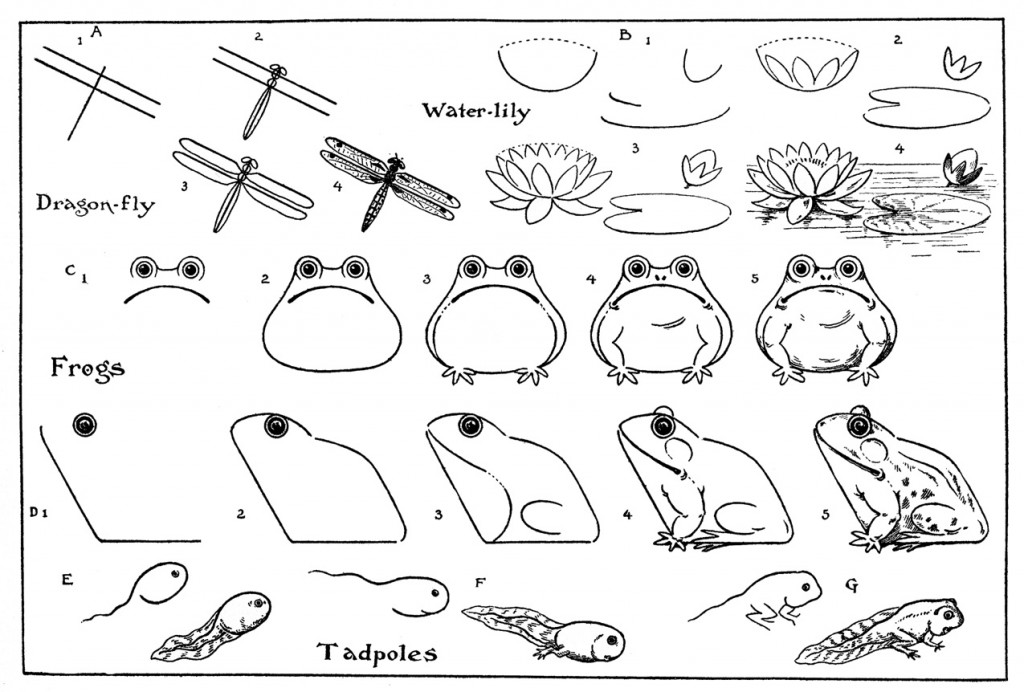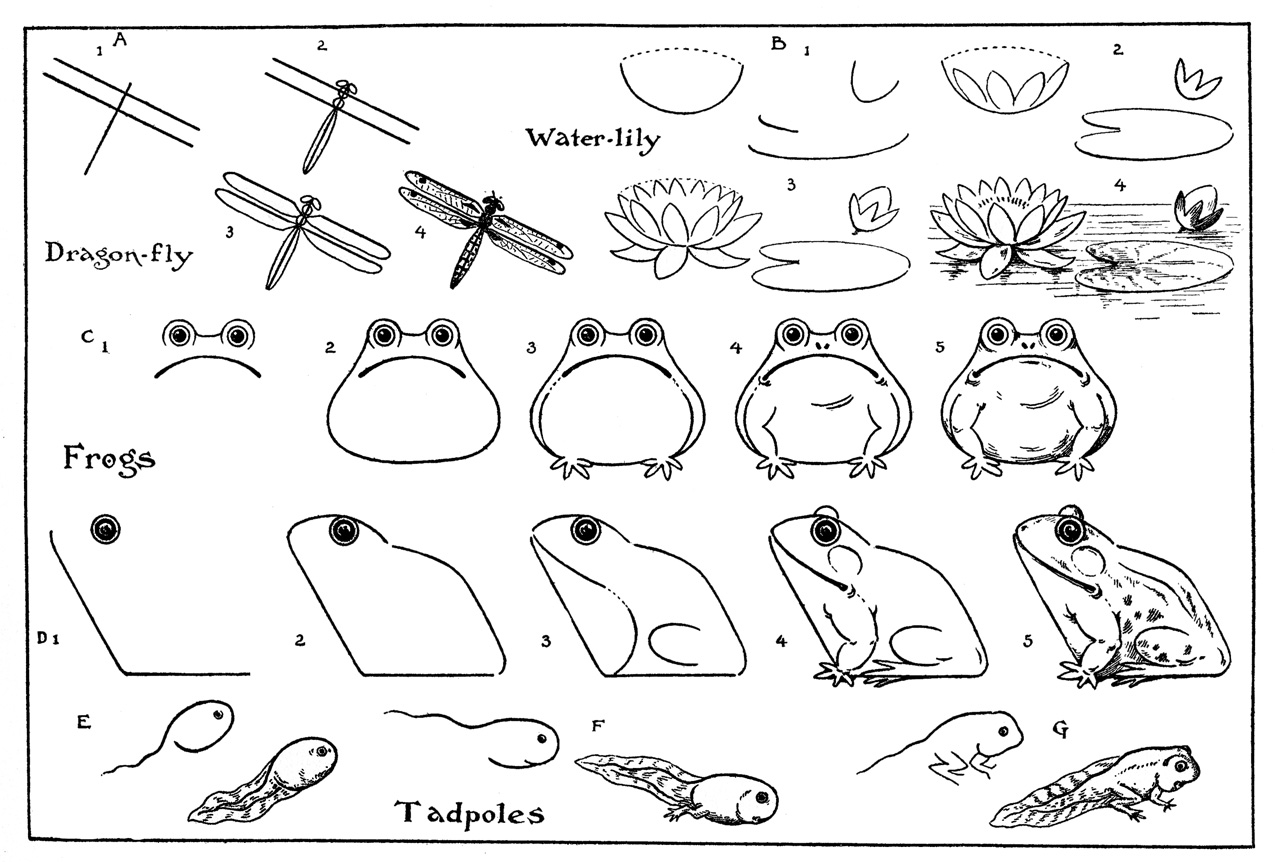 21)   Draw Frogs and Pond Life.  This adorable series includes instructions for completing a dragonfly, a lily pad with flower, tadpoles, and two frogs.  There is a frog facing the side, and a really cute image of a frog facing forward.
22)   Draw Some Dogs.  This printable shows you how to complete three dog images from a series of steps.  You can create a running dachshund, the face of a pug puppy, and a full body image of a spotted dog.
23)   Draw Four Birds.  This black and white printable shows instructions for completing four bird images.  There is a bird on a branch facing right, a bird looking left, what looks like a parakeet, and a cute bird who looks to be mid-song on a branch.
24)   Draw Two Squirrels Printable.  This printable has two squirrel drawings.  The first is a side view of a squirrel on all fours, while the second squirrel is perched on his back feet as he holds and acorn in his front paws.
25)   Learn to Draw Birds Mid-Flight.  This printable shows you how to create four birds mid-flight using simple lines and shapes.  There are four different birds, each with its wings extended, swooping through the air.
26)   Drawing Lessons for a Pig & a Goat.  Another cute printable with steps to create a pig image and the image of a goat's head.  These would be great to practice drawing and then color in.
CRAFT & OTHER ACTIVITIES
This group of images has several different activities and ideas to keep little ones busy.  Construct a moveable doll, create a cute bunny, sing a song, or finish drawing the dress on some antique scrap images.
27)   Jointed Roosters Toy.  Use this image of two roosters sitting on a fence to make a moveable toy!  Print this image out on card stock, color, and add brads as indicated on the printable.  You can move the roosters so they appear to be eating from the dish on the fence, fun!
28)   Spool Rabbit Craft.  This cute printable bunny is sitting in the grass.  Cut out this cute bunny (a front view & back view) and glue to a spool to make a three dimensional bunny.  I've included multiple images on one sheet so you can make a few bunnies at once.
29)   Elf & Squirrel Blank Book Plate.  This 1918 black and white drawing features an elf and squirrel holding a blank scroll.  A mouse, snail, and bug look to be paying close attention.  This would be cute to color and use as place cards, to have your children practice writing their names, to write a special message to a family member, or to use as a book plate for their favorite books.
30)   Jointed Mary Mary Quite Contrary Doll.  Print out this cute image of a young girl in a bonnet picking flowers (I recommend printing on card stock).  Color and assemble her to make a jointed paper doll.  I recommend adding brads at the joints so that she is moveable.
31)   Girl with a White Shirt Victorian Scrap. This cute Victorian scrap is of a young blonde girl from the waist up.  She is wearing a white short sleeve blouse with a blue bow.  This image would work wonderfully for drawing or mixed media projects; draw & color a dress on her, or use some scrap fabric to create a dress!
32)   Victorian Diecut of Girl in Pink Shirt.  The sister of the image directly above, this Victorian scrap features a lovely young girl in a pink ruffled blouse.  Like her sister, she could be used in your drawing or mixed media projects — just draw and color a dress on her, or use some extra fabric to create a dress for her!
33)   Jingle Bells Coloring Page with Song Lyrics.  This black and white drawing is an image of two children holding open a song book.  The lyrics to Jingle Bells are also included.  Have the little ones color the image, then sing Jingle Bells to you!
CHILDREN'S CHRISTMAS THEMED COLORING PAGES
This set of coloring pages is perfect activity for cold days this holiday season.  Get out the crayons and markers, get cozy, and start coloring!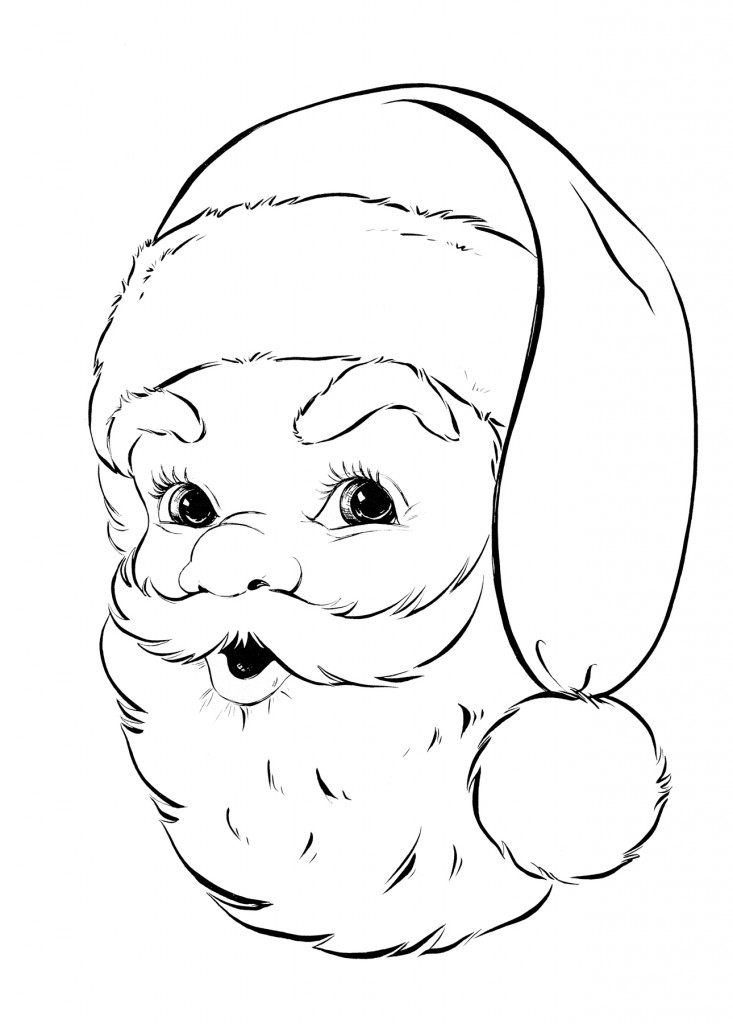 34)   Retro Santa Coloring Page.  This 1950's image of Santa's face is so sweet.  The closeup of Santa's head includes his signature hat and fluffy beard.  His eyes have a cute twinkle too!
35)   Santa & Mrs. Claus Reading the Wish List.  A lovely detailed scene of Santa seated comfortably and reading Christmas wish lists.  Mrs. Claus is bringing Santa more letters to read.
36)   Retro Angels Coloring Page.  A lovely 1950's style drawing of two angel girls with big dresses on.  One angel has the cutest stars on her dress, and the other has an adorable holly sprig bow.
37)   Elf with Reindeer.  A fun coloring page with an elf leading a regal, snorting reindeer.  The elf has a scarf and hat on, while the reindeer is outfitted with a sleigh bell harness.
38)   Shhh Santa Coloring Page.  This 1940's image is of Santa with a bag of toys.  He is looking back over his shoulder with his finger to his mouth as if to say "shhh".  I love how he looks like he was caught unloading his pack by the Christmas tree!
39)   Poinsettia Flowers Coloring Page.  This line art drawing of poinsettia flowers can be used as a coloring page or for embroidery work.  I think that kids would love to color these flowers in with a bright red crayon – so pretty!
CONNECT THE DOTS
These vintage images feature black and white drawings.  Connect the dots to reveal a hidden picture, and color the printables in for extra fun!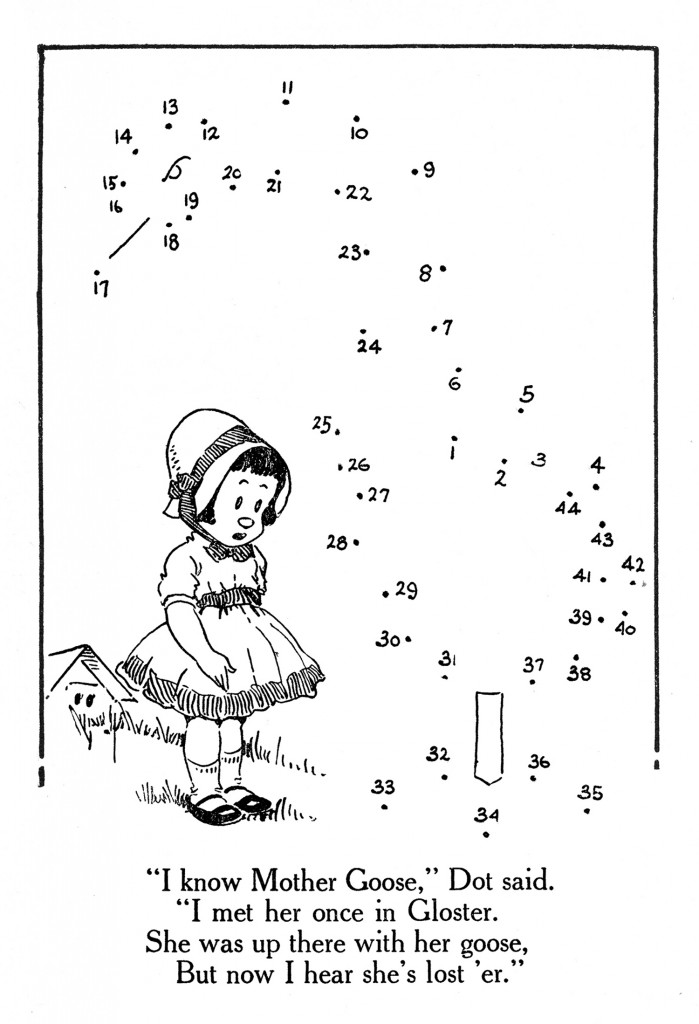 40)   Girl with Mother Goose Printable.  This coloring and connect the dots activitiy page features a young girl with a dress and bonnet looking over at a goose.  The goose is revealed when you complete the connect the dots activity.
41)   Dutch Girl Connect the Dots.  This image includes a little dutch girl in costume in the foreground.  In the background is a hill with a connect the dots activity which reveals what is making her so chilly.
42)   Mollie Harrow Connect the Dots.  A cute image of a little girl in the foreground.  Behind her is a fence.  Connect the dots and color in to see what is standing on the fence behind her.
43)   Flapper Girl Printable.  This was scanned from a 1917 Children's book and is a cute little Flapper Girl! She's wearing a charming felt hat and a darling little coat. You'll have to complete the activity to find out what she's looking at in the scene!
44)   Cute Child Connect the Dots.  This one is a cute child with jacket and hat.  Connect the dots and color the image in to reveal the animal that is jumping over the child in this scene.
TELL ME A STORY ACTIVITY
Children are so imaginative and I love when they create stories about the pictures in a book.  These vintage children's book illustrations are perfect to help you interact with children in a fun way.  Print these images out and have your little ones tell you a story all about what's happening in the picture!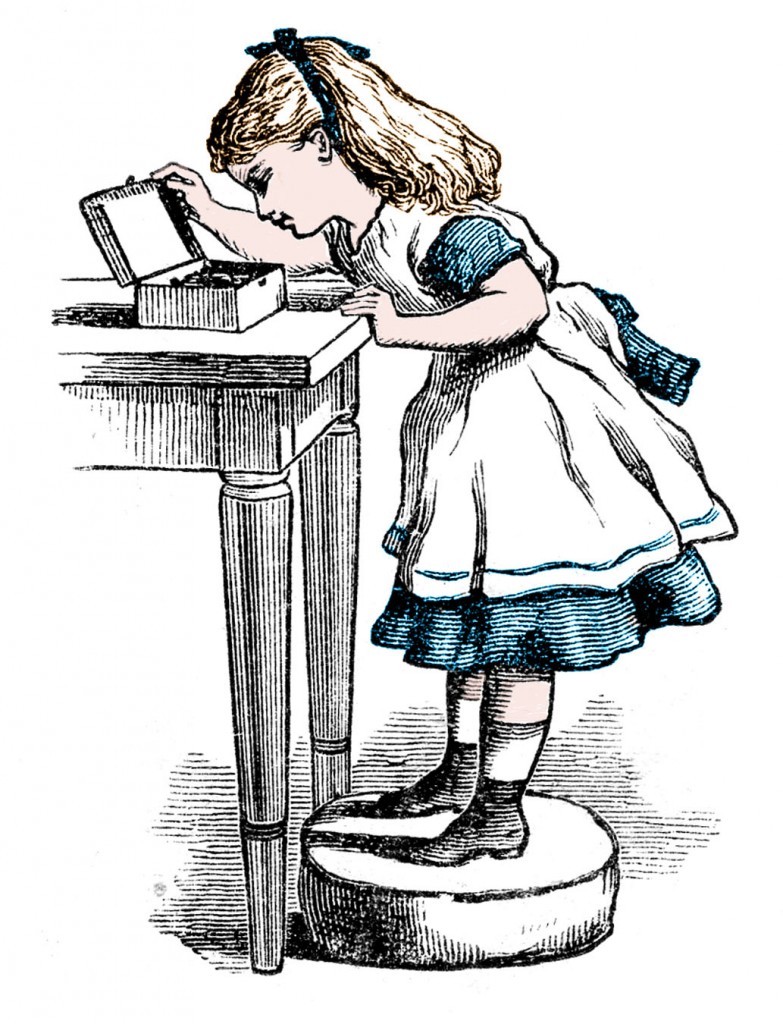 45)   Girl Peering in to a Box.  This Alice look-a-like is standing on a stool and peering in a box.  You can just imagine what's in the box, or what adventures it might take her on!
46)   Boy on a Scooter with a Dog.  This cute image of a boy on a red scooter with a German Shepard dog on the back, comes from a vintage 2nd grade reading book.  It would be fun to think about where they are going and what they might do next.
47)   Two Children by a Campfire.  This is a lovely black and white image of two girls sitting by a campfire singing and playing pat-a-cake.  It might be fun to talk about what they are singing and what is brewing in the huge steaming kettle behind them.
48)   Dog Riding a Goat.  This one is a Victorian color image of a dog, dressed up in a red suit, riding a goat!  The backdrop is an outdoor scene and the frame has pretty yellow flowers.
49)   Cat in a Pink Dress and Bonnet.  This Victorian image of a tabby cat walking with a pink spotted dress and red flowered hat.  The kitty is picking flowers and putting them in her basket.
50)   Thumbleina with Butterfly.  A really fun image of Thumbelina on a lily pad with what appears to be a butterfly towing her along.  This image would be a lot of fun to talk about with kids: how did she get so small?  where is she going?  why is she in the pond?  why is the butterfly helping her?
Thanks so much for stopping by today!  We hope you enjoy these free activities for children, images and projects and have fun spending time with your little ones!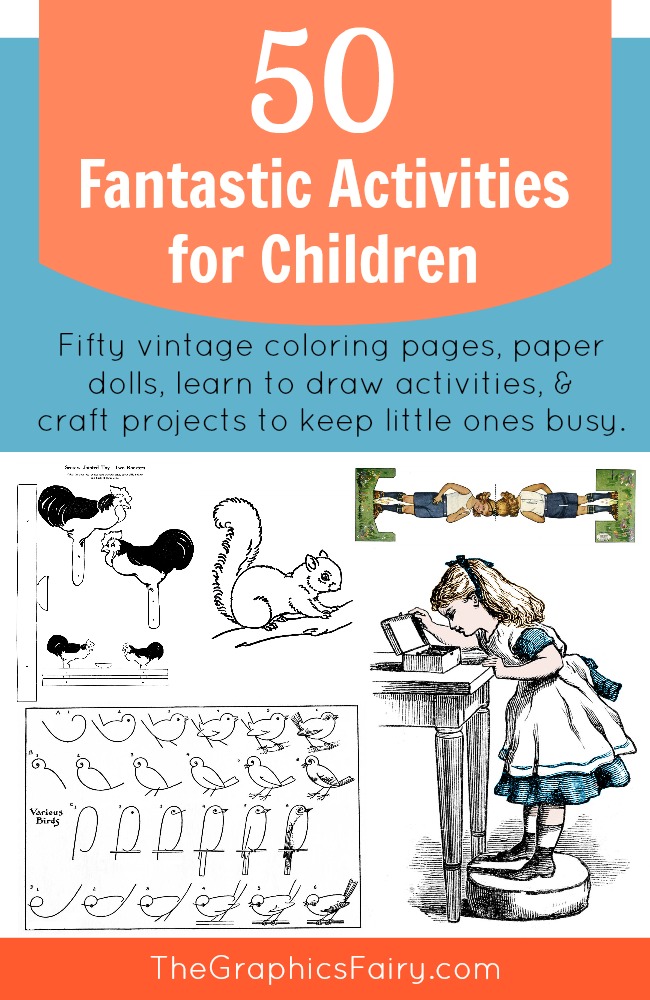 Hello! Are you new to The Graphics Fairy?
Welcome, I'm so glad you're here! Browse around to find
thousands of Stock Images
that you can use in your projects or designs! I post new Vintage images every day, as well as projects and DIY's too!  Need more info about my site? Try my
FAQ
page.