16 Blue Painted Furniture Projects
Graphics and painted projects go hand in hand a lot of times. I love seeing how paint and the graphics from The Graphics Fairy often work together to transform a project into something gorgeous. These 16 gorgeous blue painted furniture projects were all submitted by fabulous readers of the Graphics Fairy and they are all absolutely stunning.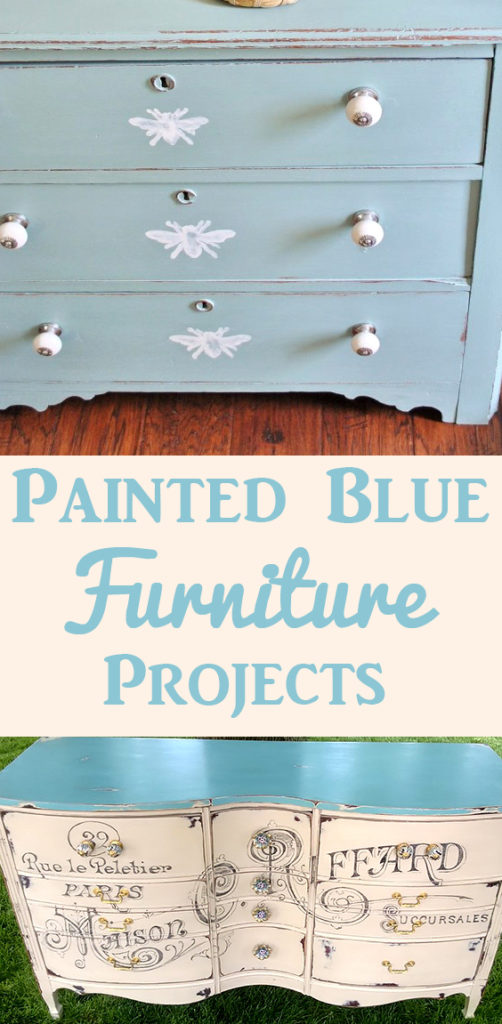 There are so many beautiful shades of blue and you will see everything from pale blue to bright turquoise in this collection of projects. Each one is gorgeous in its own way and works so well with the graphics chosen to accent the furniture project.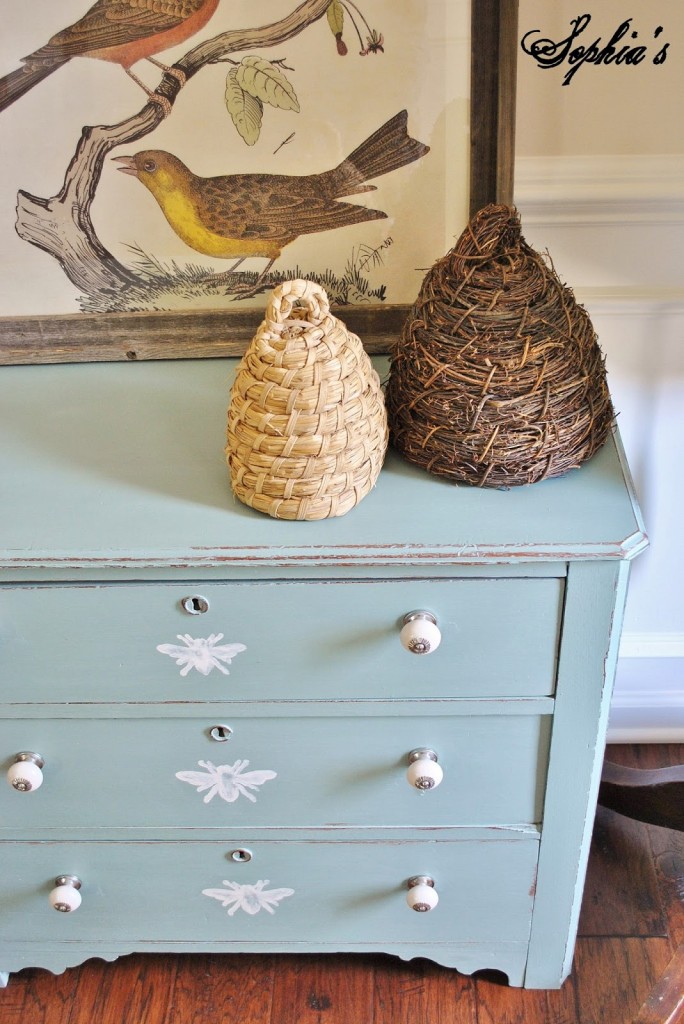 This gorgeous little honeybee dresser was created by Sophia over at Sophia's Decor. She used the Queen Bee Iron on Transfer to add the special bees  down the center.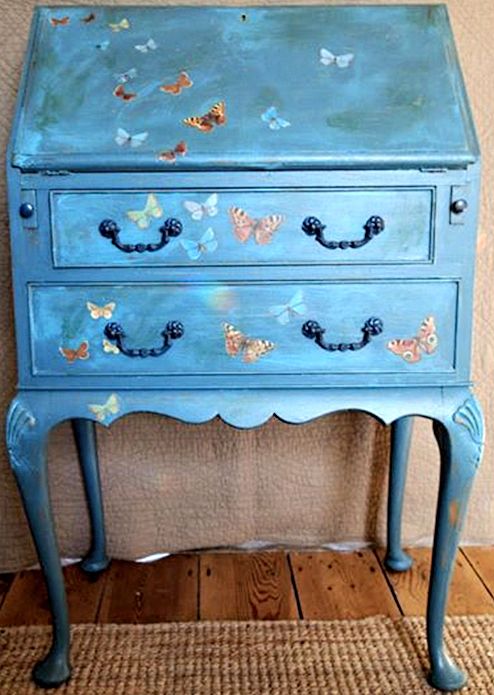 How gorgeous is this butterfly accented secretary? I love the shade of blue mixed with the butterflies from The Graphics Fairy Butterflies and Bugs collection. This lovely piece was submitted by Tatty2Natty.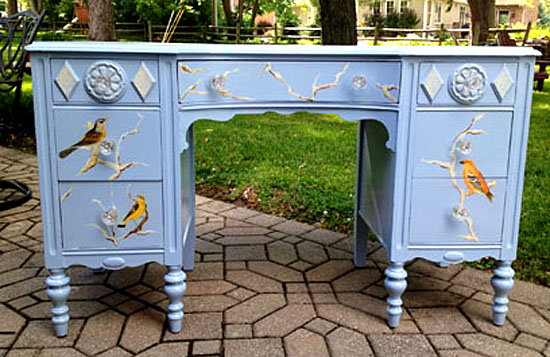 This creation from Heidi Shannon is absolutely stunning. I adore the birds on branches used to finish this piece.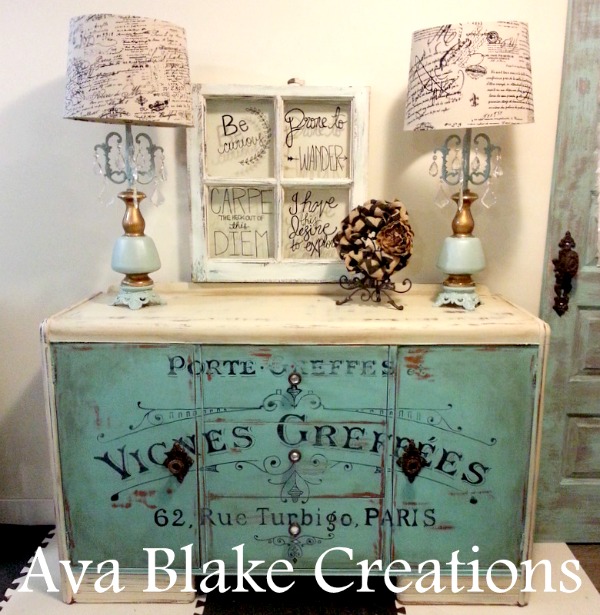 This entertaining cabinet went from drab to fab thanks to an amazing redo by the brains behind Ava Blake Creations! I love the use of the French Wine Maker Transfer on the front.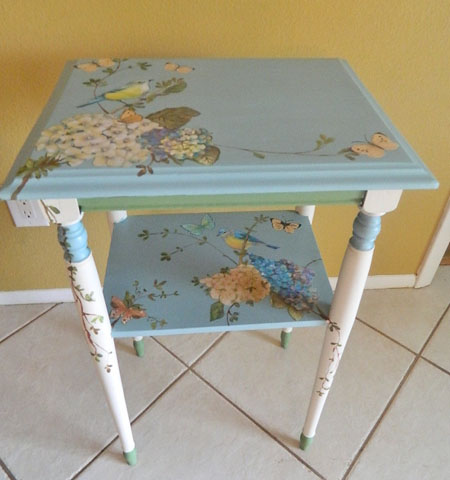 This little table features gorgeous birds and butterflies from the The Graphics Fairy. See this and more gorgeous creations over at the Shabby Cupboard's Facebook Page.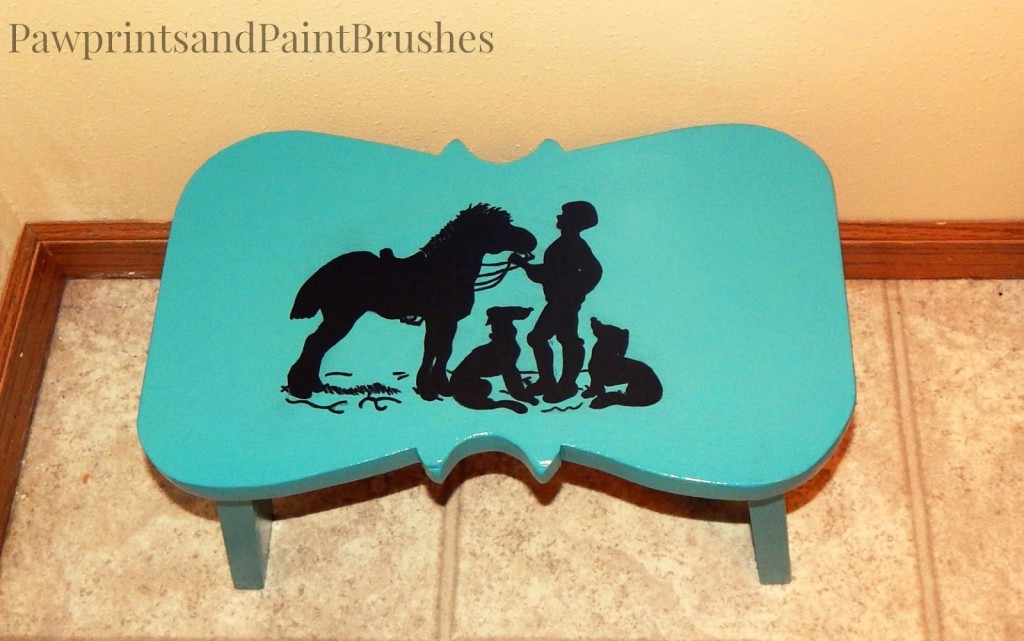 This little footstool features images from the Silhouette Collage Sheet. I just love the one that Pawprints and Paintbrushes chose to complete this adorable silhouette footstool.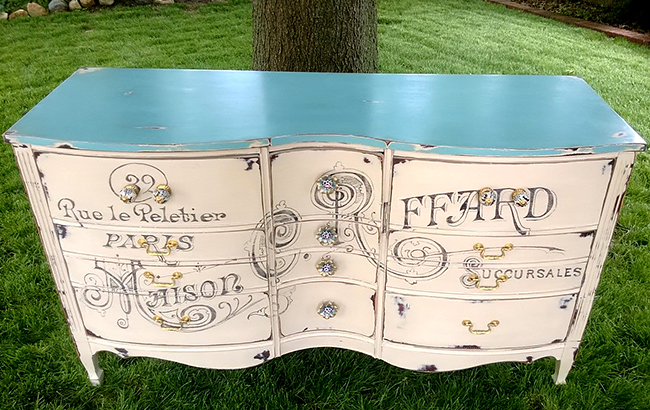 The Whimzy Bel's Facebook page is full of amazing projects like this stunning Paris Painted Dresser.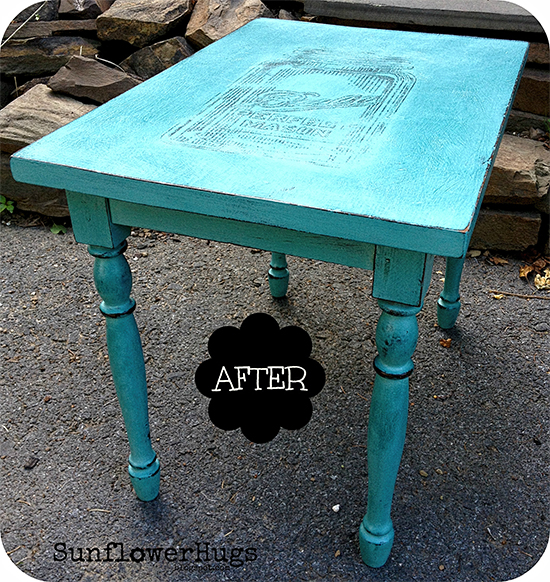 Using an Acetone image transfer with The Graphics Fairy's Vintage Images – Mason Jars, Susan from Sunflower Hugs, created a perfect little side table.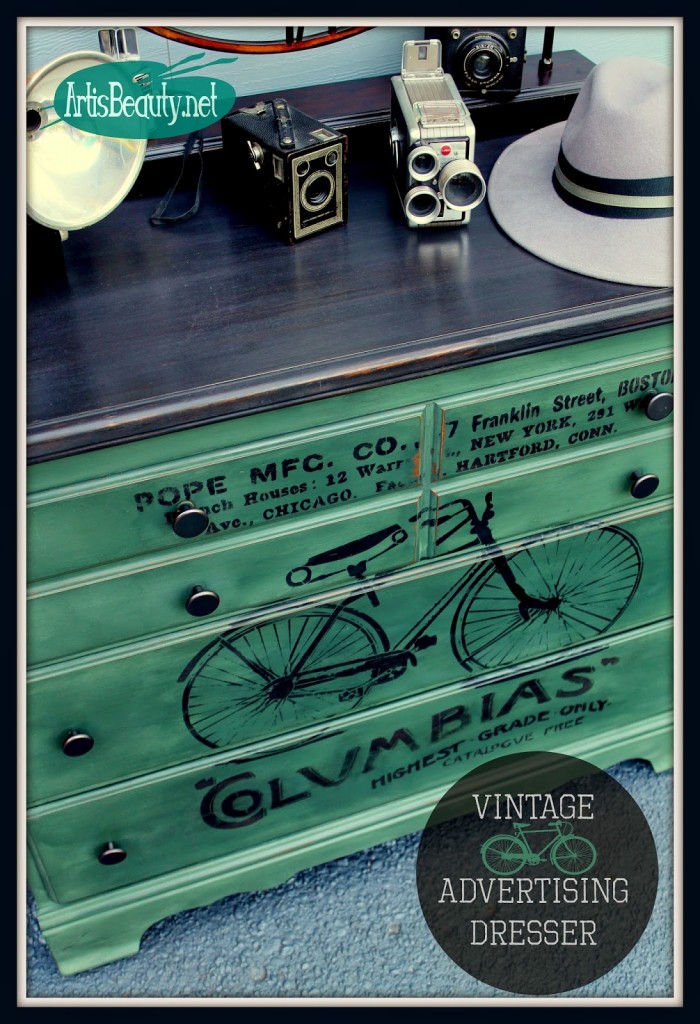 This Vintage Advertising Dresser, from Art is Beauty, is perfection. I love the Vintage Advertising Clip Art – Antique Bicycle used on the front as the finishing touch.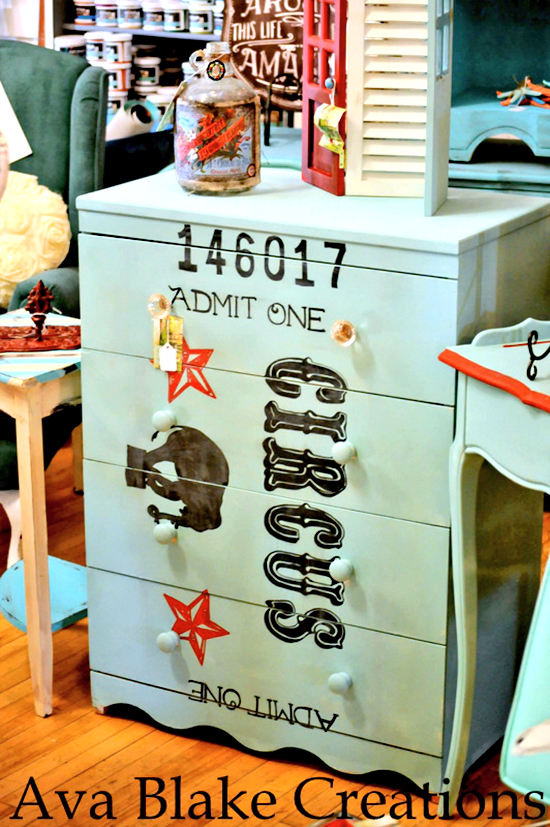 Whimsical furniture pieces, like this circus themed dresser from Ava Blake Creations, are always a favorite of mine. The Vintage Circus ticket and other circus themed graphics look so perfect on this piece.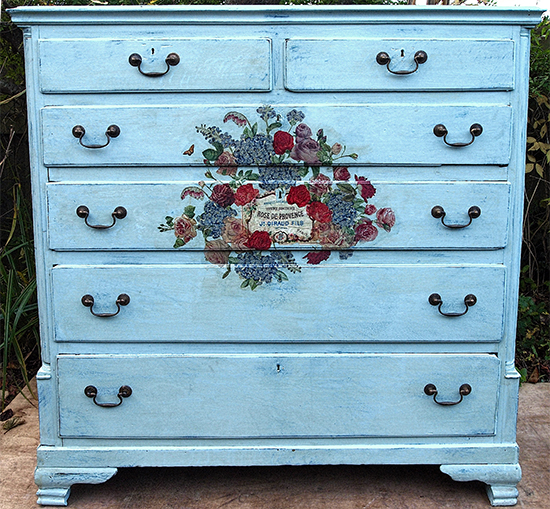 Using the Vintage Clip Art – Pretty French Perfume Label graphic, Vikki turned this piece into the perfect blue chest of drawers. This is another one created by Tatty 2 Natty.
Ava Blake Creations totally knocks this project out of the park. Using the Vintage Christmas Clip Art – Laurel Frame Wreath, this simple dresser is turned into a showstopping focal point for any room.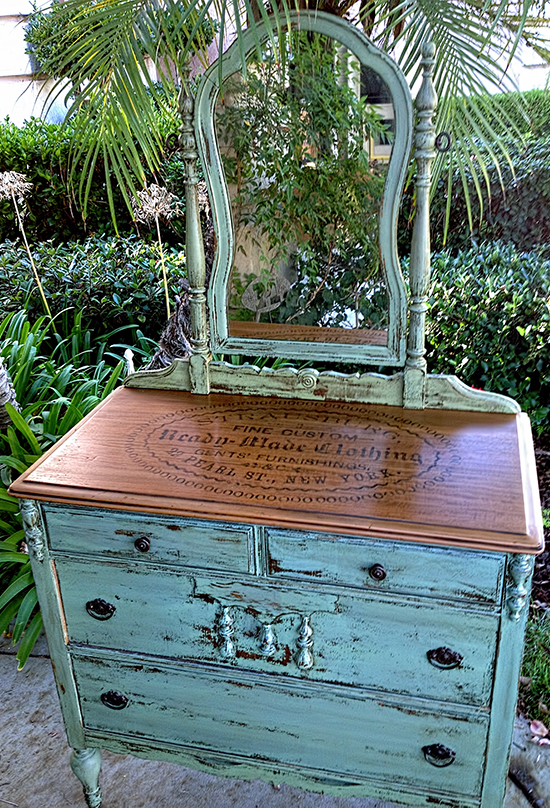 This combination of a painted piece with some original wood detailing is always gorgeous. This combination of blue paint with the Vintage Clip Art – Clothing and Oval Frame is so beautiful and creates an amazing dresser.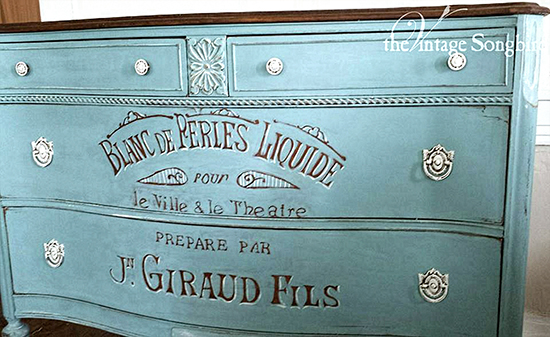 Jenni, from the Vintage Songbird, painted this gorgeous dresser and added The Graphics Fairy's Vintage Perfume Label Image to the front.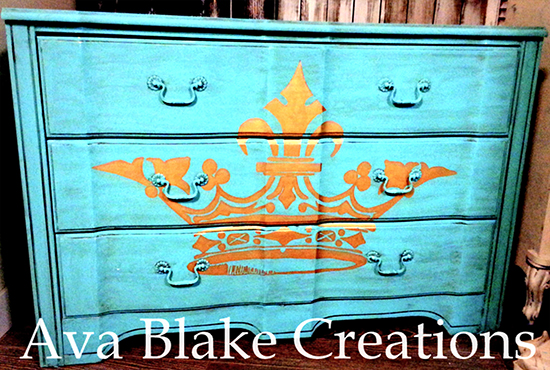 Remember the turquoise I mentioned? Well, here it is in all its glory. The crown dresser, from Ava Blake Creations features a gorgeous, bright color and is finished with the Transfer Printable – Crown Silhouette in gold.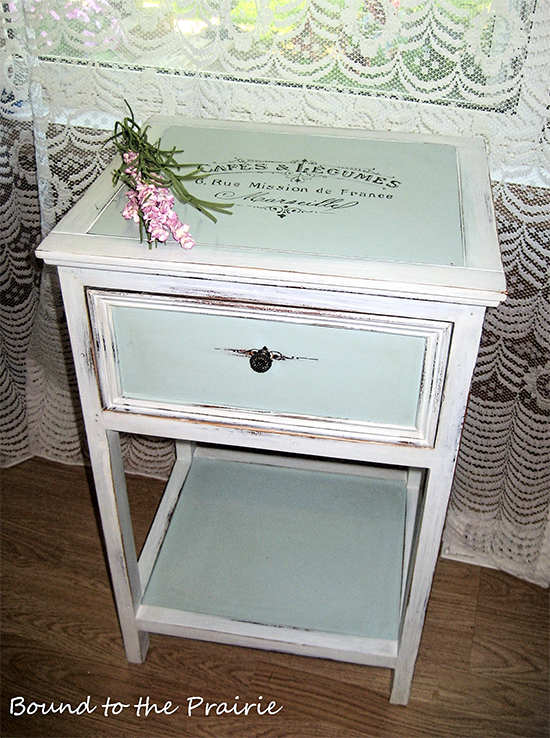 Using the The Graphics Fairy's French Transfer Printable – Typography – Marseille, Karin from Bound to the Prairie, transformed this little table into a gorgeous Paris themed side table.