35 Free Vintage Fall Images! 
Autumn is fast approaching.  Nothing says fall like crunching through the forest on a crisp day, and let's not forget one of our favorite holidays, Thanksgiving, will be here shortly.  It's time to plan your fall and Thanksgiving projects, and we're here to help!
We've collected 35 images from The Graphics Fairy archives that represent fall and Thanksgiving.  Everything from woodland animals, trees and nuts, turkeys, pilgrims & Indians, vegetables, and images related to a fall harvests.    There is a little something for everyone, from detailed black and white etchings to Victorian scrap pieces, instant natural history art to fun retro style graphics.
We hope you enjoy these 35 Fabulous Free Vintage Fall Images!  And don't forget to share your creations on Brag Monday!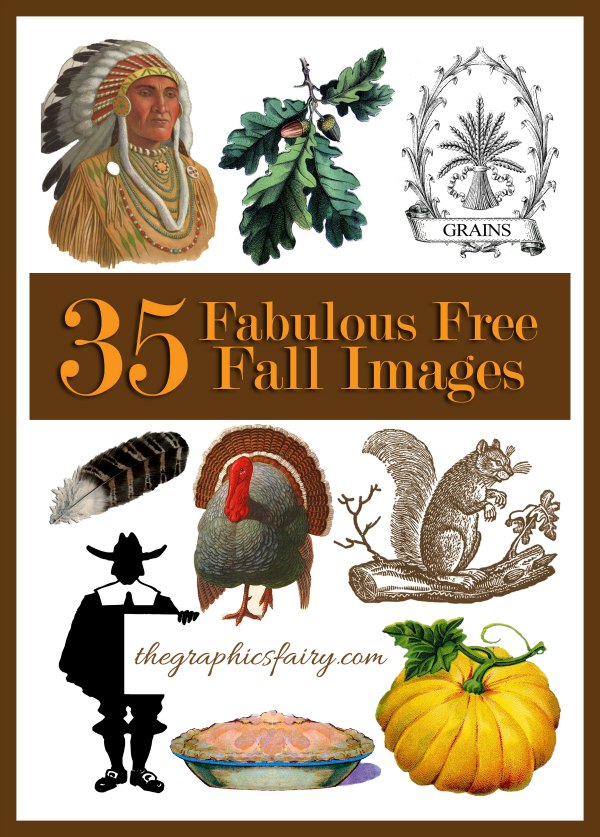 TURKEYS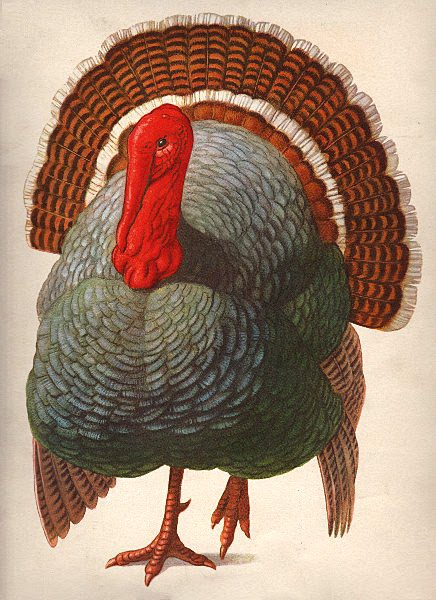 1)   Turkey Facing Forward.  This fun turkey was an image from an old children's game.  He is walking towards you with a bright red head, pretty grey body, and detailed brown feathers.  I especially love this image because the turkey is facing forward.  So often, you see turkey images with the turkey viewed from the side or a 3/4 view, and this is a fun change!
2)   Traditional Full Color Turkey.  This turkey image is one of my most popular!   This turkey engraving came from an old encyclopedia and is facing to the side with one foot in the air.  I love the detailed feathers on this image and tones of red, browns and blue.
3)  Detailed Turkey Engraving.   This detailed engraving is from an 1828 printer's book.  This guy looks like he was walking through the woods and stopped to look over his shoulder.  His feathers are all close to his body and the etching details on his feathers are fantastic!  I have three color versions in this post – brown, red, and black.
HARVEST & FALL BOUNTY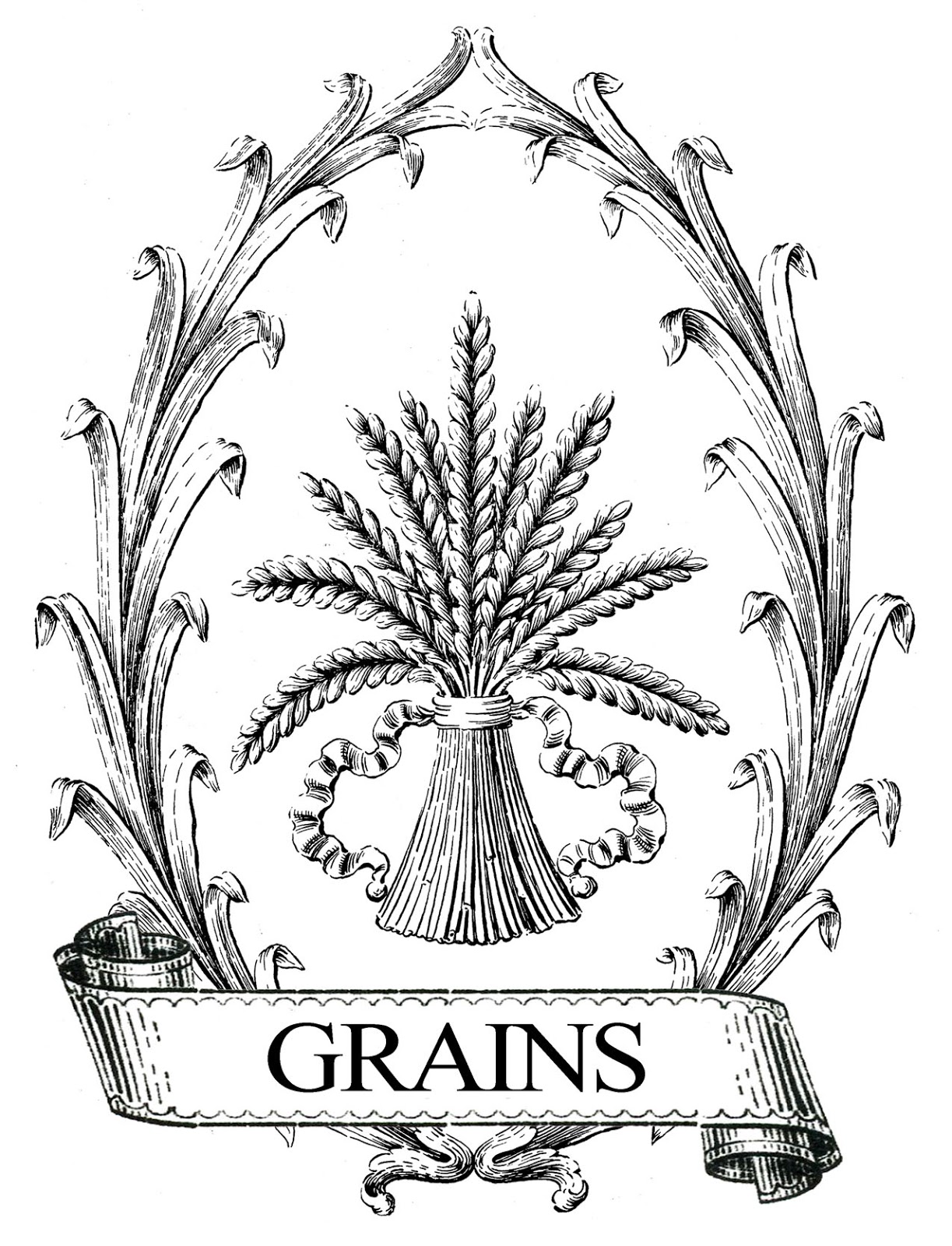 4)   Wheat Bushel with Ornate Frame.  This fantastic French Grain Sack Transfer Printable features a bundle of wheat and some ornate scrolls!  This would be great to use in your fall burlap or flour sack transfer projects.
5)   Woman Wheat Harvest.  This Victorian scrap is of a lovely woman with her dark hair pulled back, looking over her shoulder.  She is carrying a bushel of wheat and carrying a scythe.  This lovely piece features autumn tones of reds and golds.
6)   Victorian Apple Harvest.  Fall would be incomplete without a trip to the apple orchard.  This Victorian card shows a mom and two daughters in the orchard.  The youngest is perched on a ladder with an apple she's just picked.  The older daughter kneels on the ground next to a bushel of ripe apples.  The mother is wearing a lovely pink dress.
7)   French Cornucopia Ornament.  This detailed French cornucopia etching is particularly ornate.  I love how the flowers, vines, and grains are spilling out of the cornucopia, taking on a very organic and flowing feel.  There are three color versions of this engraving – basic black, chocolate brown, and gold.
8)   Onion Book Plate.  When I think of a fall harvest, I think of all the great vegetables we use in our Thanksgiving meals.  This fantastic book plate is a full size printable of two types of onions in yellow and pinkish-orange tones.  The subject matter and colors make it perfect for some instant fall kitchen art!
9)   Pumpkin with Vines.  A great horizontal botanical of a pumpkin patch with a plump pumpkin, ready to be harvested.  This image has yellow, orange and green tones.  This realistic image includes large leaves, detailed pumpkin vines with tendrils, and squash blossoms.
10)   Baked Pie.   This cute pie illustration came from an antique nursery rhyme book.   This image would look great on recipe cards, or any fall projects that require an image of baked goods!
11)   French Harvest Woman.  This lovely ad with a gold frame shows a pretty young woman with a large bundle of grain.  She is wearing a bonnet and a rustic red dress.
12)   Harvest Time Sheet Music.  This vintage sheet music is for the song, " 'Tis Harvest Time."  This image would be great as a background image for your collage projects, and is perfect for sheet music wreaths!
PEOPLE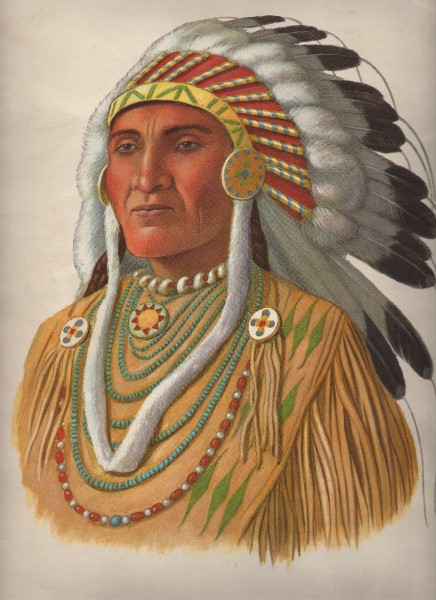 13)   Native American Chief.  I posted this proud Native American Indian chief back in 2007!  The head an shoulders portrait shows the details of his feathered headdress, beaded necklaces, and deerskin clothing.
14)  Fall Costume Paper Doll.  This fun newspaper image has an adorable black and white paper doll with three changeable costumes — an Indian, a turkey, and a Pilgrim.   Print this full size image on card stock and lay them out for the kids to color and play with at the kid's Thanksgiving table!
15)   Retro Mom Serving Turkey.  A great pen and ink 40's style line drawing of a mom setting the piping hot turkey down in front of her hungry husband and son.  I just love her cute spotted apron!
16)   Pilgrim Silhouette Place Cards.  This image features a full body silhouette of a Pilgrim man holding a sign.  I thought these would be perfect to repurpose as place card holders, and there is both a black and white version, and a brown and white version in this post.
17)   Pilgrim Couple in Woods.  A very detailed image of a Pilgrim couple walking through the woods.  The man has his hat on and is holding his gun over his shoulder.  His wife has on an apron with her hair pulled back.
18)   Native American Woman.  This Victorian scrap image is a full body image of a woman in Native American attire with a bird perched on her shoulder.  I love the muted colors in this image and the feathers in her hair.
FALL FLORA AND FAUNA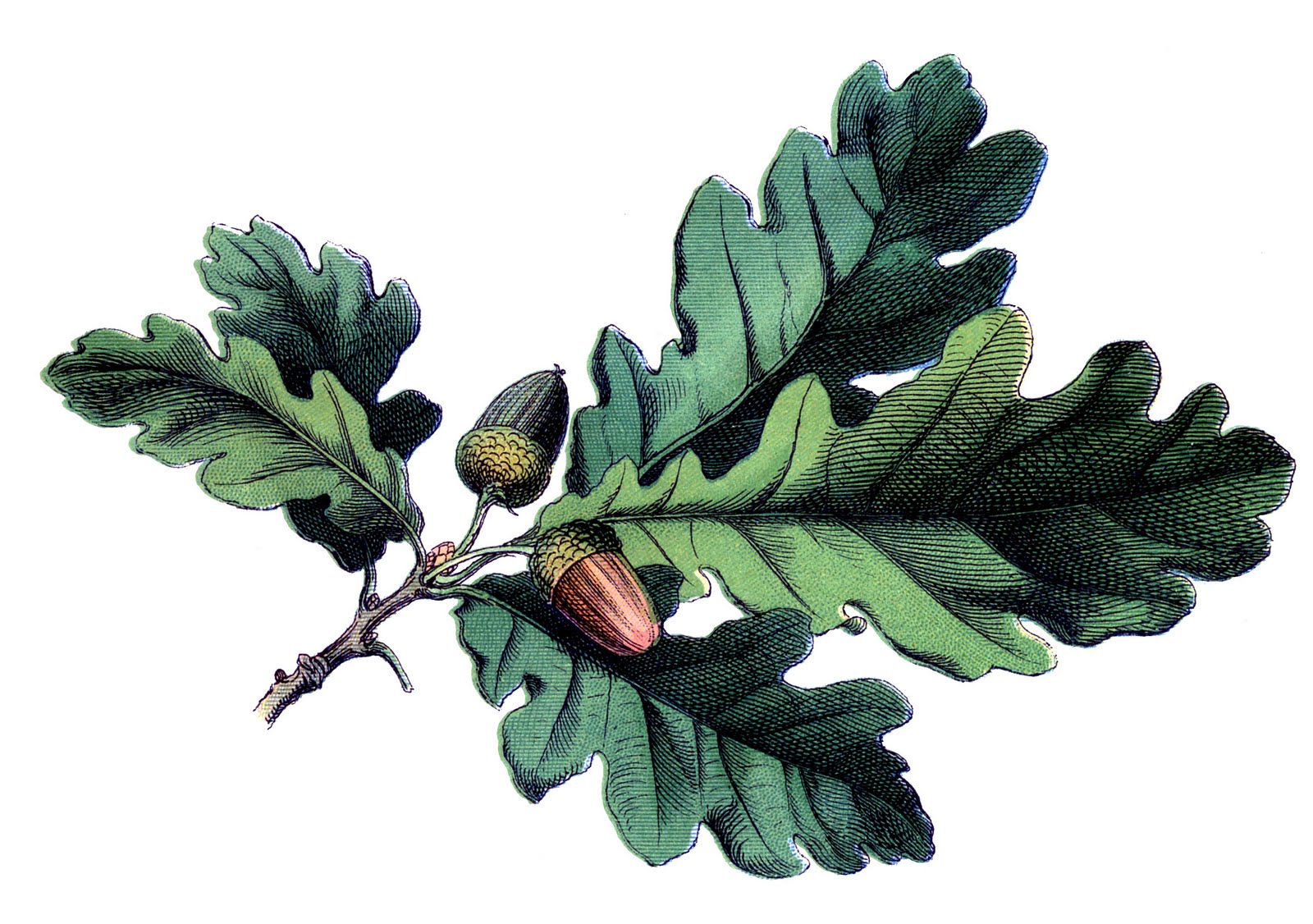 19)   Acorns with Oak Leaves.  A wonderful antique botanical image of a branch of green oak leaves with two acorns, still on the branch.  This pretty bunch would look pretty for fall and Thanksgiving projects!
20)   Primitive Squirrel.  This one is a great woodcut squirrel (in black and in brown) with nice thicker lines.  This cute squirrel is sitting on a branch with his arms curled in front of him and looks ready to gather some nuts.
21)   Colorful Pheasant.  An antique image from a children's encyclopedia, this pheasant has bright colors – browns, reds and blues.  He is standing with one foot up and has a lovely long feather tail.
22)   Red & White Mushroom.   This mushroom has a bright red cap with white spots.  This image would be beautiful in a fall garland for your mantle.
23)   Brown Striped Feather.  This antique scrap piece of a brown striped feather would work really nicely in your digital art and collage work.
24)   Frisky the Squirrel.  This is a very detailed image of a squirrel holding a nut.  "Frisky" is from an old children's book, and he looks quite lifelike and adorable.
25)   Detailed Acorn.   This one is an image of a large detailed acorn with a few leaves in the background and it came off an old invoice.   I just love how you can see all of the individual scales on the acorn's cap — someone spent a lot of time drawing this image.  There is a black and white version as well as a brown and white version in this post.
26)   Grouse Feathers.  A lovely piece of instant art, you can use this plate of 13 grouse feathers in a variety of patterns and sizes in your fall decorating displays.
27)   Count Your Blessings Acorn Wreath.  This one is a great printable of an acorn wreath with a bow, and the words "Count Your Blessings" in the center.  This image would work well in holiday paper projects or transferred on to cloth napkins or pillows.
POSTCARDS
28)   Maple Leaf Postcard.  I recently posted this antique postcard illustrated by Ellen Clapsaddle.  This Thanksgiving postcard features several red maple leaves with a holiday greeting.  I've added a second version with the wording removed so you may add your own messages, which makes this a truly versatile image for fall crafts!
29)   Orange Mums Postcard.  A vintage postcard with orange mums and a holiday greeting.  I've included a blank version, so you can write your own messages as well.  I think this image would make a great holiday place cards for a fall meal — just write the names of your guests and lay on top of their dinner plate.
30)   Turkey with Corn Postcard & Ear of Corn Postcard.  This post has not one, but two wonderful vintage postcards to choose from!  The first is of a big fat brown and red Thanksgiving turkey with an ear of golden corn behind him.   The second postcard is a closeup of a single ear of corn in browns and golds.
31)   Turkey Pulling Pumpkin Wagon.  I've included this unique postcard because it's not every day that you see a chef with a knife and fork, riding a pumpkin wagon, being pulled through town by a turkey.  A real great image with lots of Thanksgiving feast imagery!
FALL ADVERTISING IMAGES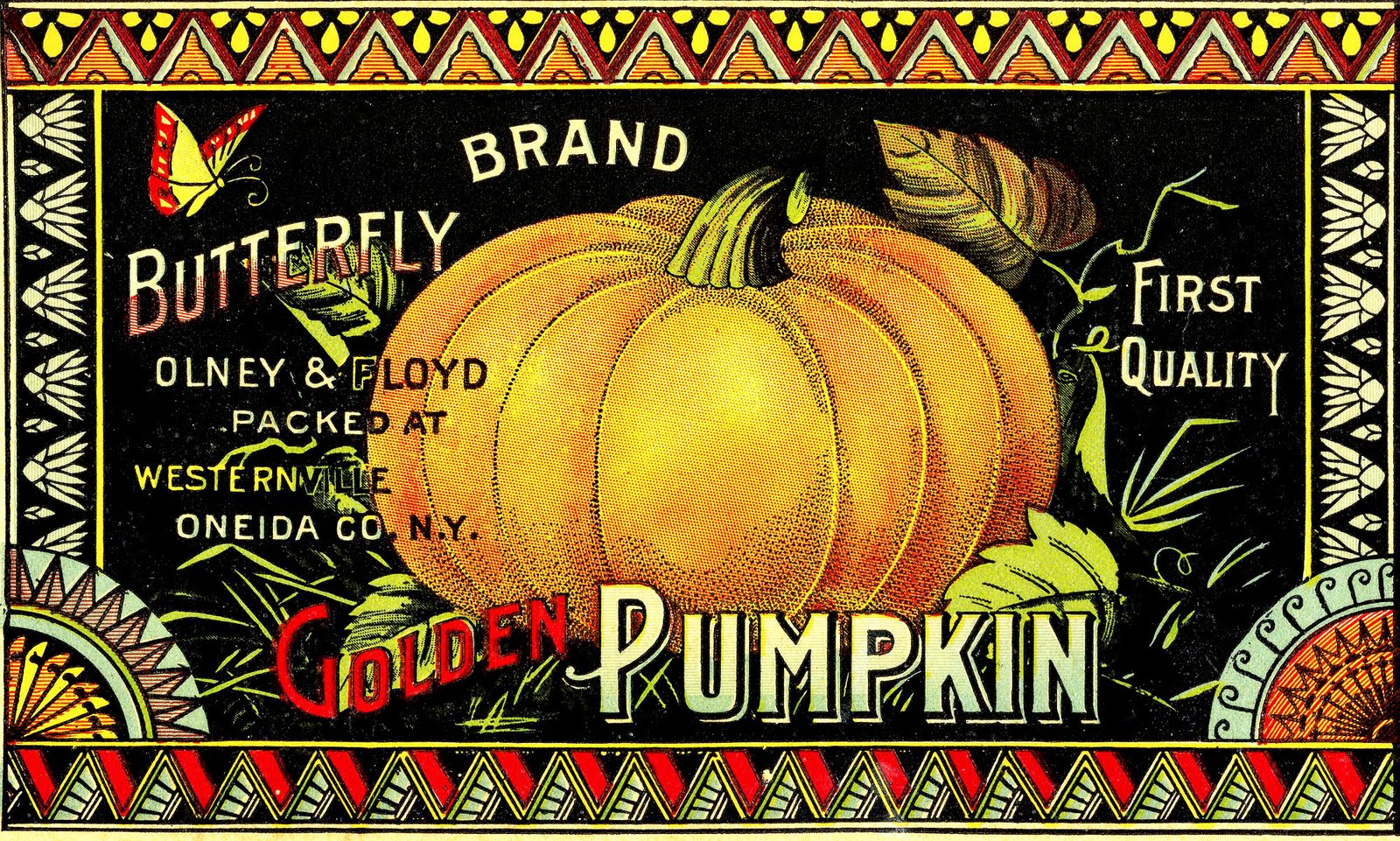 32)   Pumpkin Crate Label.  This fantastic horizontal vintage crate label for Butterfly Brand pumpkins features a large round pumpkin.  There is a great geometric border with lots of reds, yellows, oranges, and golds — the perfect colors for the fall.
33)  Cape Cod Cranberries Ad.  This vintage ephemera is for cranberry wholesale company.   I just love the layout and variety of typography in this ad.   The type is in black on a natural off white background.
34)   Acorn Girl Advertising.   An adorable girl holding a pug is featured in this ad for Acorn Stove company.  This ad in in the shape of an acorn with an oval frame on the inside.  It would be really fun to modify the acorn and insert your own images or type on the inside.
35)   Pumpkin Seed Packet.  Old seed envelopes had such great art on them!  This one is a vintage seed packet with a black and white border and a view of the pumpkin field with a giant pumpkin front and center.
If you're looking for Halloween images, don't forget to check out our 50+ best free vintage Halloween images post!  That post has everything from skeletons to ravens, pumpkins to spooky spiders, and much more!
Hello! Are you new to The Graphics Fairy?
Welcome, I'm so glad you're here! Browse around to find
thousands of Stock Images
that you can use in your projects or designs! I post new Vintage images every day, as well as projects and DIY's too!  You can
subscribe via email
so that you
don't miss a single post
, just
click
HERE
to sign up
! Need more info about my site? Try my
FAQ
page.