Today we have a nice collection of 35 Free Romantic Images from The Graphics Fairy's archives. In this post, we have 35 links to romantic images like couples in love, beautiful birds, and romantic imagery. These images would be perfect for upcoming Valentine's Day projects, or use them for wedding or anniversary projects as well!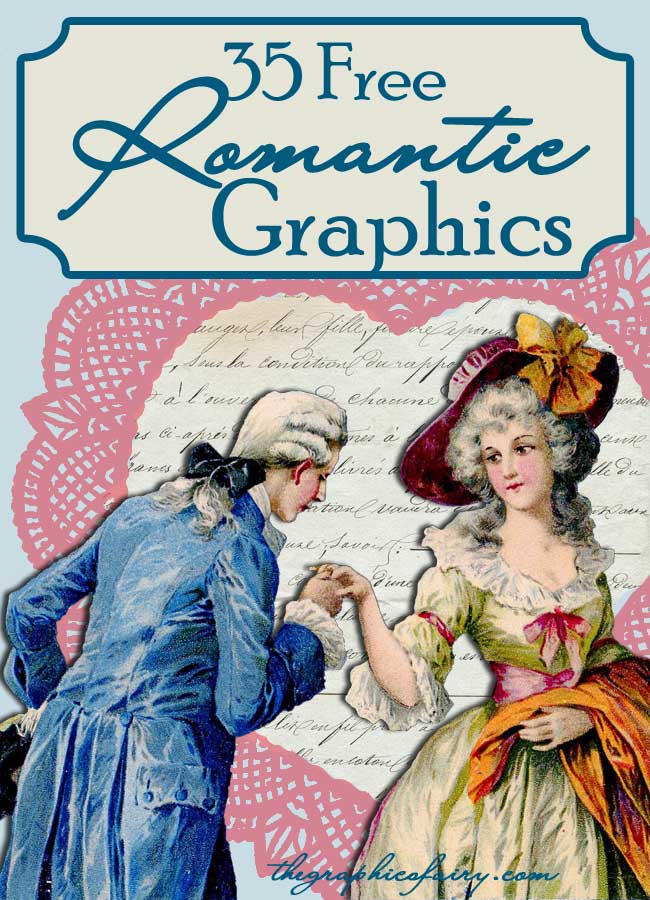 PHOTOGRAPHS – COUPLES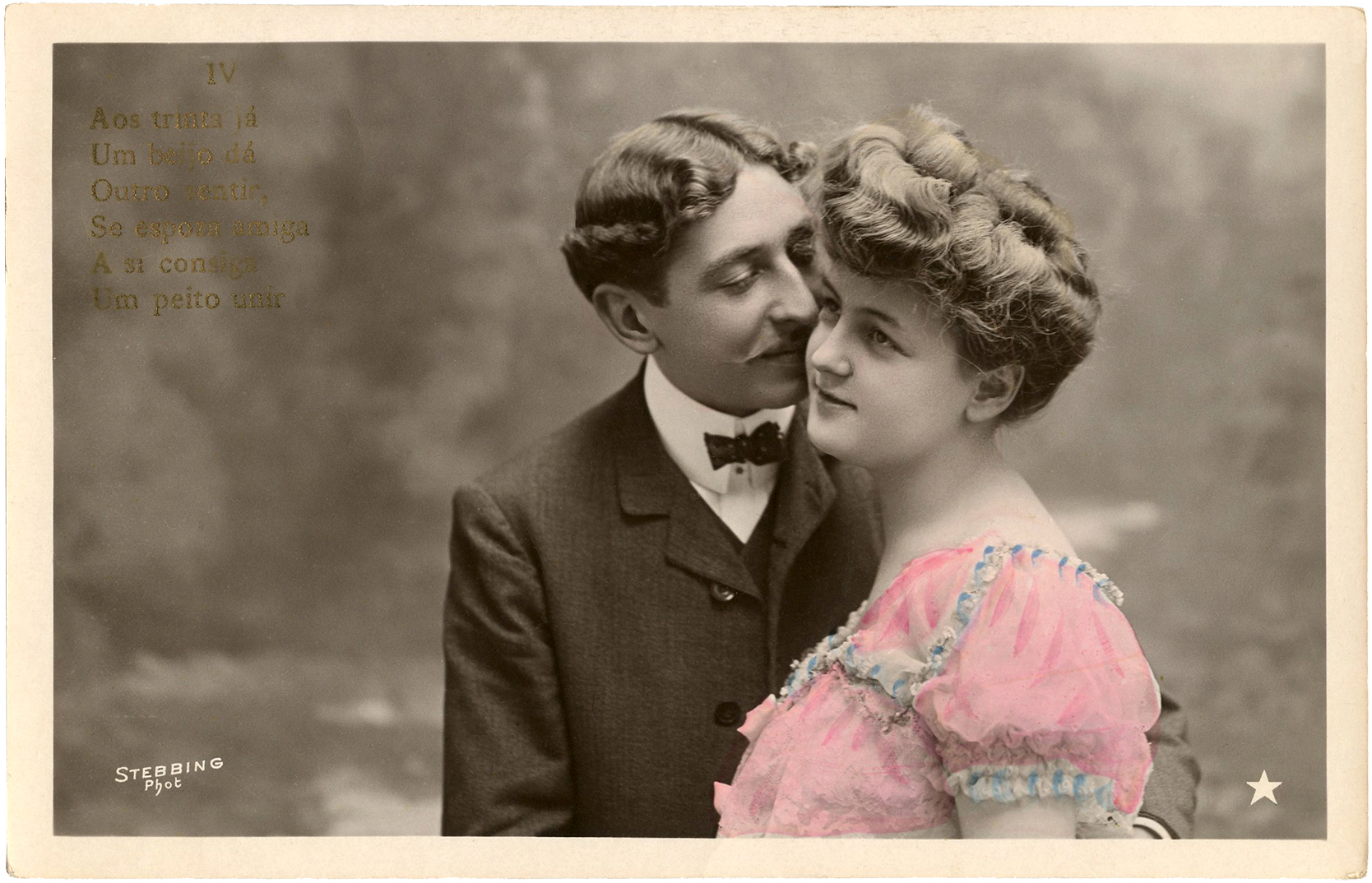 1)   Whispering Couple. This is a fun old photograph with a romantic couple whispering sweet somethings or getting ready for a kiss. The gentleman has a wonderful mustache, and is giving the lady a little kiss on the cheek. The woman's dress was hand tinted in pink, while the rest of the photo has sepia tones.
2)   Couple with Adoring Eyes. This is a fun old photograph with a Vintage Romance theme! The young couple is looking at each other with adoring eyes. The woman's dress was hand tinted such a pretty soft blue and really lovely in contrast to the black and white sepia tones in the photo.
3)   Woman Dreaming of Love Photo. This interesting old photo postcard shows a glamorous woman smoking and dreaming of her love. The photo of a man with flowers is superimposed on the image and shows up in the smoke of her cigarette.
4)   Kissing Beach Couple. This fabulous vintage photo postcard shows a couple embracing on the beach. The couple's backs are to us and they look to be snuggling or caught mid-kiss.
5)   Wedding Day Couples. This post has three great photos of brides and grooms on their wedding day. These lovely antique photos were found in an old album. The photos are in various sepia and black and white tones.
6)   French Romantic Couple. This cute image shows a young romantic couple in an outdoor or cliff scene. The woman is wearing a lovely pink dress. There is also a pair of doves in the corner of the photo too!
7)   Daydreaming Couple. This pretty French postcard features a woman in a blue dress and rosy cheeks, looking up and dreaming of her beau. The man is in the corner and it looks as if he's getting ready to blow her a kiss.
ILLUSTRATIONS – COUPLES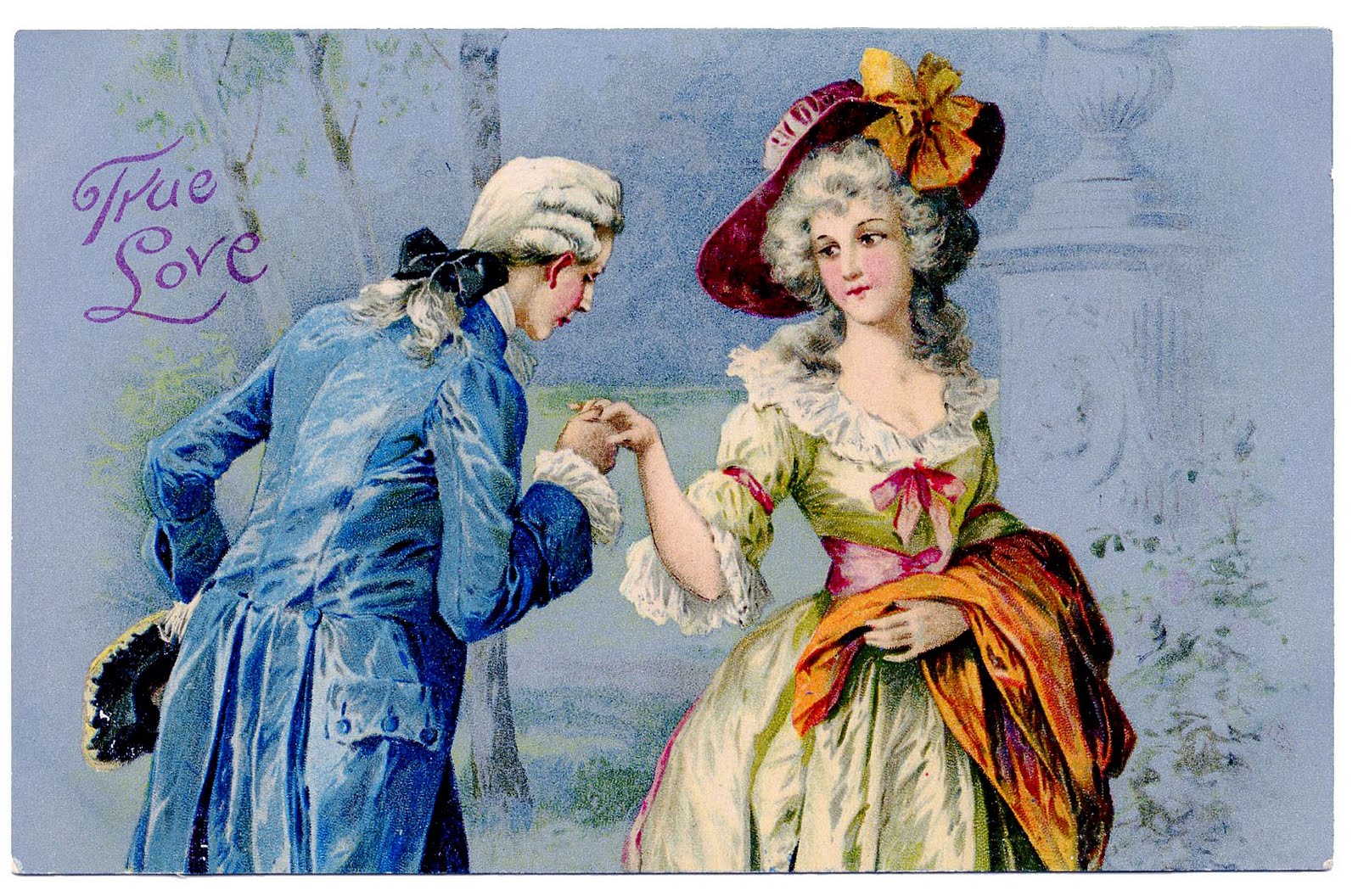 8)   Marie Antoinette Couple. This one is a pretty postcard with a romantic couple. The woman has a lovely dress and had with a bright yellow bow. The man is dressed in blue and is bending over to kiss her hand. The postcard reads "True Love" and has lovely shades of blue.
9)   Young Couple Engraving. This lovely image is set in the woods. The woman is sitting on a bench, she has on a pretty light pink dress. The man is leaning over the back side of the bench and has on a tan colored overcoat. She looks like she is pondering a question from him!
10)   Victorian French Couple. This stunning French card, shows a Romantic couple with an Ornate Frame. The card shows a woman in a balcony and the man is playing an instrument and serenading her. The ornate pink floral frame is also perfect for projects too!
11)   Apple Picking Couple. This pretty advertising card from Paris shows a woman in a blue bottice and skirt on a ladder in an apple tree. A man in a tan coat is offering his hand to her.
12)   Romantic Young Couple. This is a lovely engraving from the 1890's. It features a young couple in love. The woman has a pretty Empire style dress, and the man has on a military uniform. The woman is looking longingly in to her beau's eyes.
RETRO
13)   Anniversary Couples. This post has three separate couple graphics – a couple dressed to the nines, dancing; a couple enjoying a candlelight dinners, and a couple in evening wear ready for a night on the town! These graphics have a 1950's look to them and are in black and white.
14)   Skating Couple. This one is a cut image from a 1940's printer's book that shows a couple with linked arms ice skating. The black and white images shows a woman in a sweater and skirt and a man in a checked sweater. They both have adorable hats on.
15)   Retro Toasting Couple. This Vintage Image was scanned from a 1940's Printer's book. It features a woman and man in evening attire, toasting a special event. This would work well on a party invitation or anniversary card.
16)   Horse Riding Couple. This fun retro 1940's image shows a couple riding horses in the mountains. The black and white images comes from an old printer's book. There is also a fun image of a couple rock climbing in this post too.
17)   Driving Retro Couple. This post has two images of retro couples in cars, driving off in to the sunset. My favorite black and white image shows the image of the back of a couple where the woman has moved to the center seat, snuggled up against a man as they drive away.
VINTAGE VALENTINES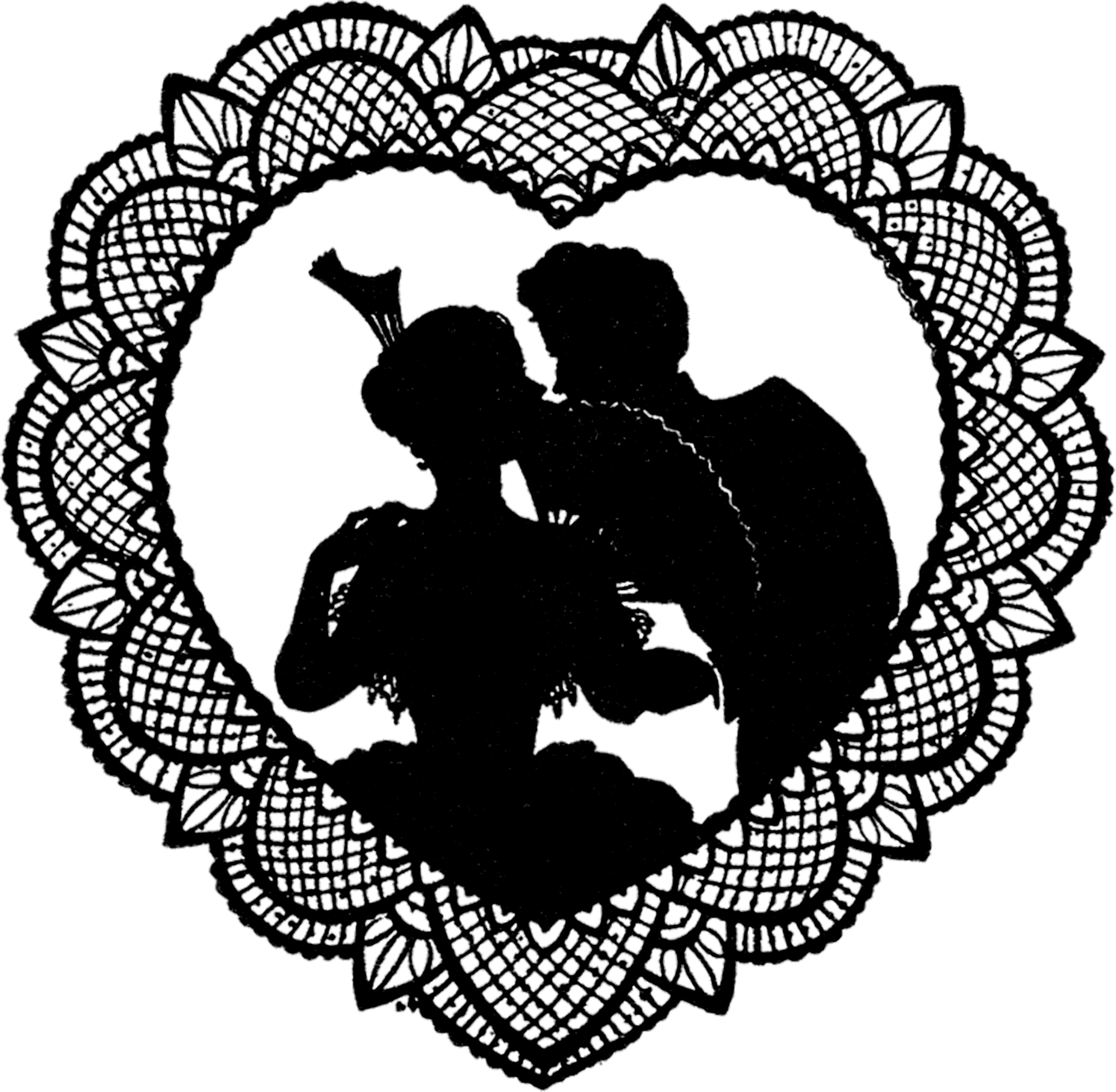 18)   Ornate Lace Silhouette Valentine. This image is a pretty lace valentine silhouette. The silhouette shows a charming Couple framed up by a beautiful lacey heart. This one came from a 1941 printer's catalog.
19)   German Couple Valentine. This cute images shows a man and woman in colonial dress. They are surrounded by a flowery pink wreath and the woman's arms are full of roses.
20)   Valentine Silhouettes. This post has two lovely old Valentine's Day silhouettes, from some antique cards. Both show romantic young couples. The first shows a couple behind a bright red lacy heart. The second image shows a silhouette of a man in a long red coat kissing the hand of a woman in a long dress.
21)   Victorian Couple in Heart. This lovely couple is taking a walk through the forest. The woman has on a pretty pink dress and the man is dressed in a green overcoat and purple pants. The heart-shaped valentine has a pretty scalloped edge too!
22)   Sweet Boy and Girl Valentine. This sweet valentine shows a cute pair of children, a boy and a girl, skating on the ice. The valentine is framed in blue flowers and hearts.
EPHEMERA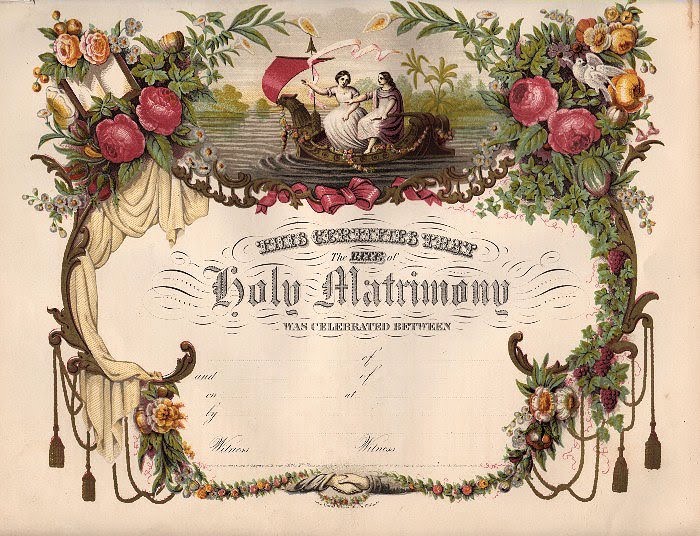 23)   Ornate Marriage Certificate. This fabulous piece of antique ephemera came out of an early pre-civil war bible, dated 1839! This is a wonderfully ornate Victorian Marriage Certificate, that has never been used. It shows a couple in a boat on the water. The frame shows leaves, roses, and draped fabric.
24)   Marriage Certificate. This beautiful sepia tone antique marriage certificate comes from a circa 1880s book. It's a sample certificate that can be customized so that you can use it as you like! There are beautiful elements including the phases "marriage" and "Holy matrimony" and some lovely frames and corner pieces.
25)   Purple Marriage Register. This marriage register has a gorgeous ornate frame. It dates to the 1830's and was used to record marriages in a family bible, although this particular one was never filled in! This would be a wonderful piece to add to a wedding scrapbook or album.
26)   Spencerian Wedding Frame. This amazing 1860's Spencerian, pen flourishing frame shows french script writing in an ornate flourished frame. This one would be quite beautiful on wedding stationary or for valentine's Day projects.
27)   Dove Ephemera. This little piece of ephemera was originally used as a valentine, it has a beautiful engraving that can be used for any romantic occasion. Two doves are sitting together on top of flowers. There are ornate scrolls that surround the image.
FRAMES
28)   Heart with Arrow Frame. This one is a pretty vintage heart frame with flowers woven together in the shape of a heart. There is a nice arrow going through the top portion of the heart. The original is black and white, but I've also made red, light pink and dark pink versions.
29)   Wedding Ring with Doves. This one is a pretty image that shows two doves perched on top of a wedding ring with a bow underneath. This one comes from an 1880's typography book. There are several color variations in this post, and the frame would look lovely with a monogram.
30)   Wedding Frame with Doves. This pretty square frame shows two doves with wings outstretched, on top of a few branches. There is a lovely bow at the bottom of the frame. The line drawn frame is available in black, pink, red, and blue versions.
BIRDS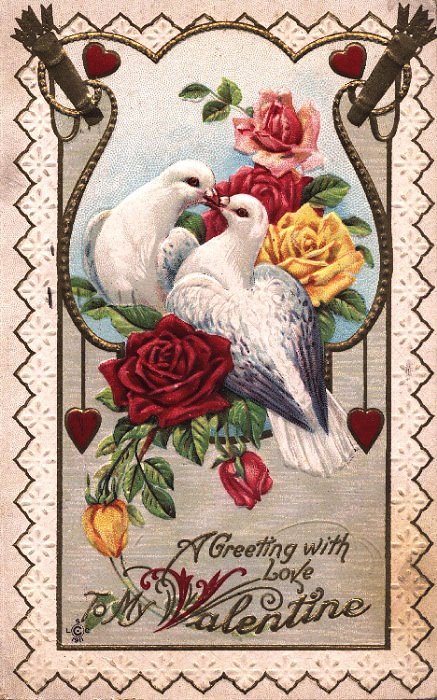 31)   In Love Doves. This pretty vintage valentine includes two white doves sitting on some pretty red, yellow and pink roses. One dove appears to be feeding the other. Arrows and hearts surround the image, with a geometric frame.
32)   Swallows with Nest. This charming old French postcard shows two birds on their nest. There is the cutest little red heart with an arrow through it below the nest, and a lovely flowering branch in the background.
33)   Doves with Roses. This is a beautiful old valentine postcard. This pretty illustration shows two white doves kissing! They're perched on top of a ring of lovely pink roses, with a blue sky background.
34)   Swallow with Love Note. This is a really lovely old valentine postcard with a swallow swooping through the air. He has a cute love note in his beak! The background is a light blue scene and the postcard says "To my Valentine" in the corner.
35)   Flying Bird with Message. This vintage card shows a bird flying with a child on its back. The child is wearing a red dress and the card's romantic message is written in an ornate print.
Hello! Are you new to The Graphics Fairy?
Welcome, I'm so glad you're here! Browse around to find
thousands of Stock Images
that you can use in your projects or designs! Need more info about my site? Try my
FAQ
page.