Today I'm sharing 35 Fun (and Free) Food Images from my food archives. I've put together some favorites, from wine & cheese, to yummy desserts, to breakfast foods. You're sure to find something! I've also included some adorable retro cooking images that would be perfect for Mother's Day!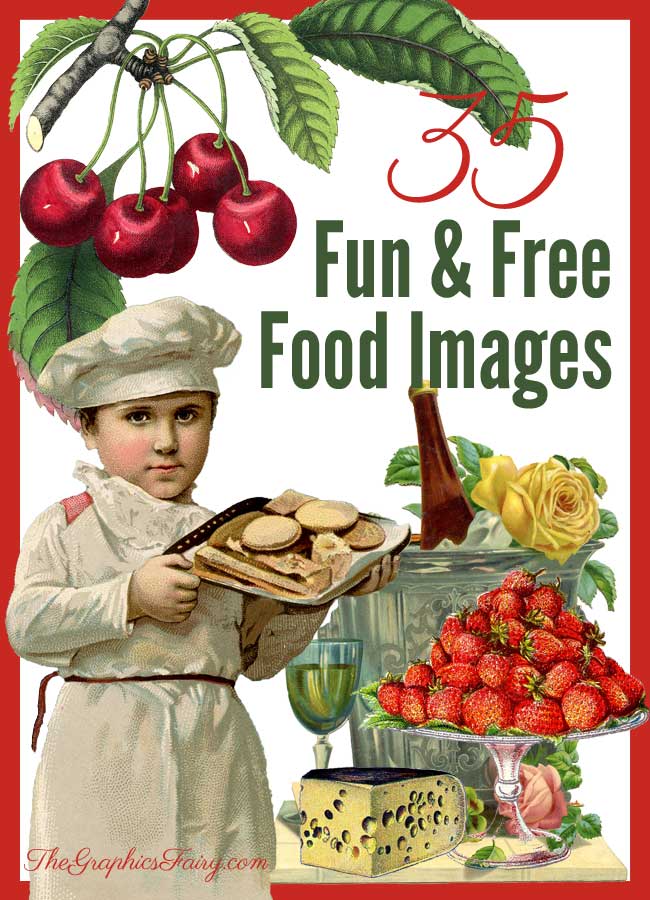 BLACK & WHITE ETCHINGS AND LINE DRAWINGS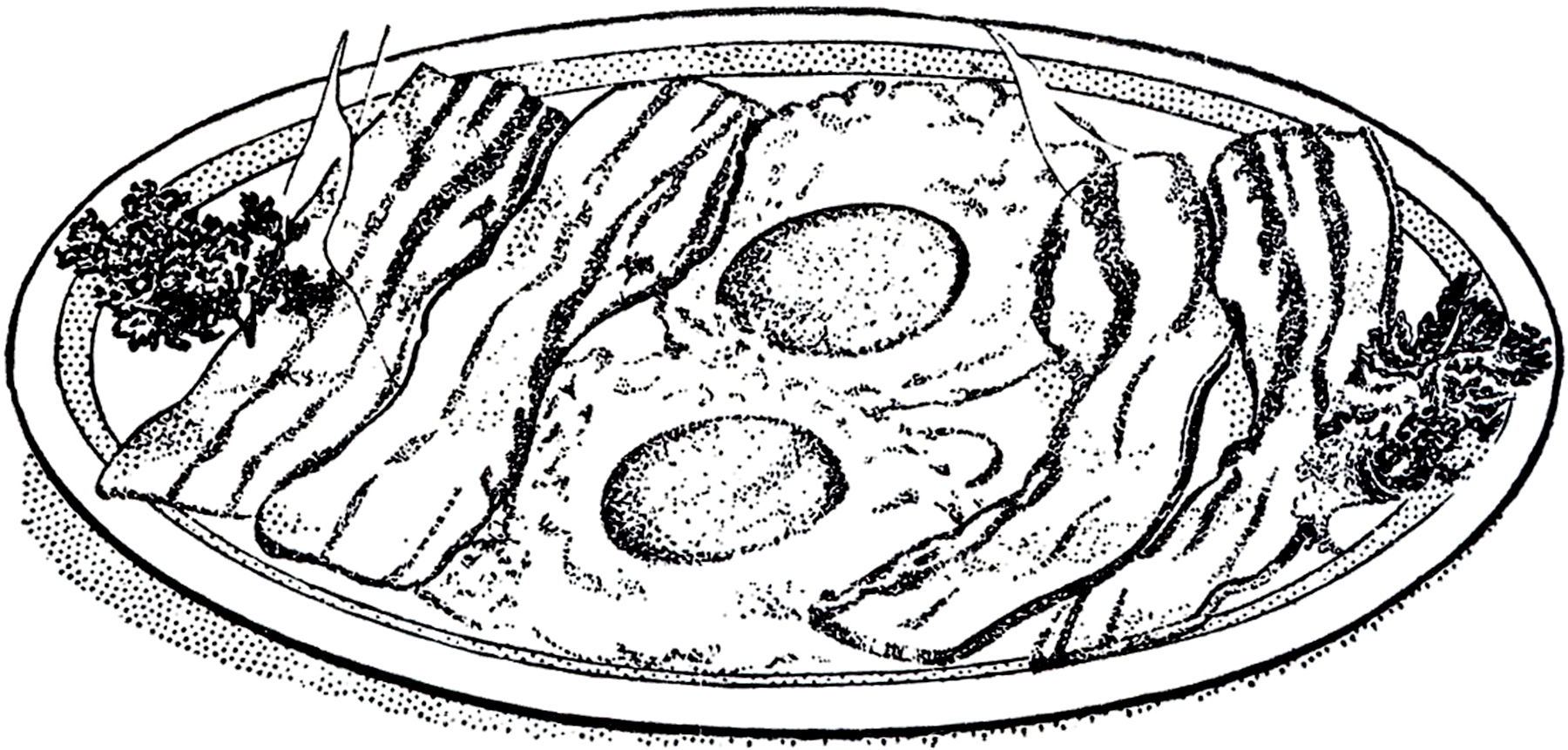 1) Bacon & Eggs. Here's a hardy looking Meal! This is Bacon and Eggs Breakfast Image with 2 Eggs and 4 slices of crispy Bacon. Yum! This one was scanned from a recent addition to my collection, a rare printer's catalog.
2) Vintage Grocery Basket.  This is a fun Vintage Grocery Store Basket Image! This is a cute Old Fashioned Basket, used in the old days to shop for Food at the local Grocer! This one was scanned from a recent addition to my collection, a rare Circa 1941/1942 Printer's Catalog.
3) Picnic Basket Line Art.  This darling Vintage Line Art Drawing is from a 1940′s Children's Tracing and Coloring Book! The cute Picnic Basket is complete with food inside (a sandwich, some cookies and Apple and a tablecloth to sit on). Everything that you need for the perfect Summer picnic!
4) Seafood Dinner Line Art.  This Retro picture was scanned from a 1940′s Printer's book. Shown is a large Crab, holding onto a Fish in one of his Claws! He's sitting next to a bottle of Wine.
5) Woman with Apron.   This is an adorable Silhouette of a Woman wearing a checkered Apron! She looks like she's about to Cook or Bake, with her Cookbook and Fork in hand! This would be cute to use on Recipe Cards, in a Family Recipe Book or to illustrate a Cooking post on your blog.
6) Baking Retro Mom.  This cute image comes from a 1940's Printers Book! This one shows a young Wife or Mom, who appears to be Baking or Cooking. She's got her recipe book in hand, her mixing bowl and a hand mixer.
FRUITS & VEGETABLES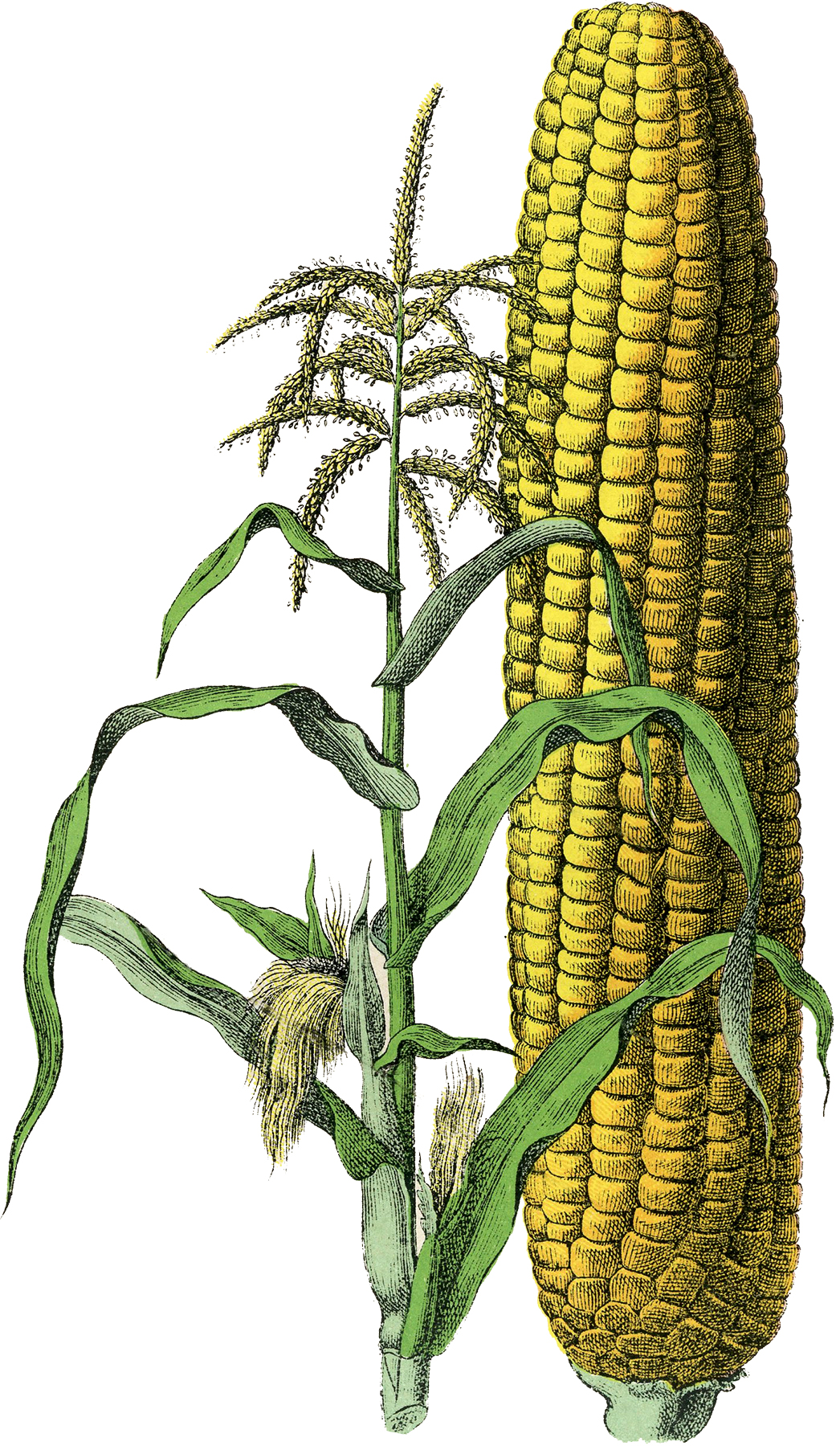 7) Detailed Ear of Corn.   This is a fantastic Engraving of some Corn on the Cob, along with a Corn Stock. This Botanical Illustration was scanned from an amazing Antique Botanical book from Germany. It appears to be hand colored in bright yellow and lovely green tones.
8) Bright Vintage Cherries.   Featured here is a gorgeous picture of a bright red Cherry Branch (circa 1890's), with the most perfect looking Fruit on it! These Cherries are almost glistening! This Botanical Illustration was scanned from an amazing Antique Botanical book from Germany.
9) Botanical Lemon Image.   This a Fantastic Botanical Lemon Image! The beautiful Antique Botanical Illustration of a Lemon has lovely green leaves and pretty white flowers. This graphic is one that I have searched for, for several years! I don't know why Vintage Lemon images are so hard to find, but they seem to be quite rare.
10) Green Veggies Trio.   This post has three Vegetable dishes from an antique cookbook. Shown are some Artichokes, Cabbages and Brussel Sprouts. I think the bright green looks so pretty next the lovely blue and white China serving pieces!
11) Strawberries on a Cake Plate.   This image shows a beautiful Strawberries piled high on a Cake Plate or Pedestal with some leaves and greenery underneath. This image comes from an early 1900's Mrs Beeton's cookbook.
12) Branch with Oranges.   This one is a nice Vintage Scrap Die Cut Fruit Image. This one shows a Branch with some Oranges growing on it! One of them looks nice and ripe and ready to pick, the others are still green. There are a few green leaves on the branch too.
13) Olive Botanical.   This is a Gorgeous Botanical Olives Clip Art Image! Featured here is a marvelous looking Olive Branch, just loaded with wonderful Olives! The image is circa 1890's and would be nice for Italy-themed DIY Projects!
14) Plum and Peach Fruits.  This marvelous Old Fruit Print shows some beautiful Plums and a Peach! This one was scanned from a Circa 1860's Antique British Botanical Book! The paper has aged to perfection with its brown aged edges.
DESSERTS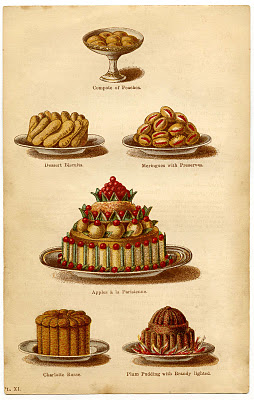 15) Fancy Desserts Printable.  This one comes from an 1860's Cookbook! It's a page illustrating six Fancy Desserts in color! There is a fancy French one with the Cherries on it and also a great one of Plum Pudding so they're included separately as well.
16) Retro Line Art Birthday Cake.   These images were scanned from a 1940′s Printer's book. The classic looking Birthday Cake Image has 7 Candles on it, lots of frosting and some star decorations too! So festive looking! There is the original black and white version, a Blue version and a Pink version.
17) Plate of Cherries.  This lovely image came from England, and shows gorgeous Cherries on a pedestal for dessert. The image comes from an early 1900's cookbook.
18) Tea Party with Bundt Cake Photo.  This is an awesome hand colored photo of four women having Tea!! It looks like they have a nice Chocolate Bundt Cake to go with it. I think this would be fantastic for a Mother's Day Card or Birthday card!
19) Bakery Typography Transfer.  This lovely example of French Typography was found in an old Paris Archive. The image is an old ad for a French Patisserie – Confiserie, or pastry – confectionery shop. There's a darling little cake on a cake plate in the center, with the French Text all around it.
20) Fancy Cakes.  These are some beautiful cakes from the early 1900's cookbook. The black and white illustration on a sepia background shows six different cakes including wedding cakes and a jelly roll.
FOOD PREP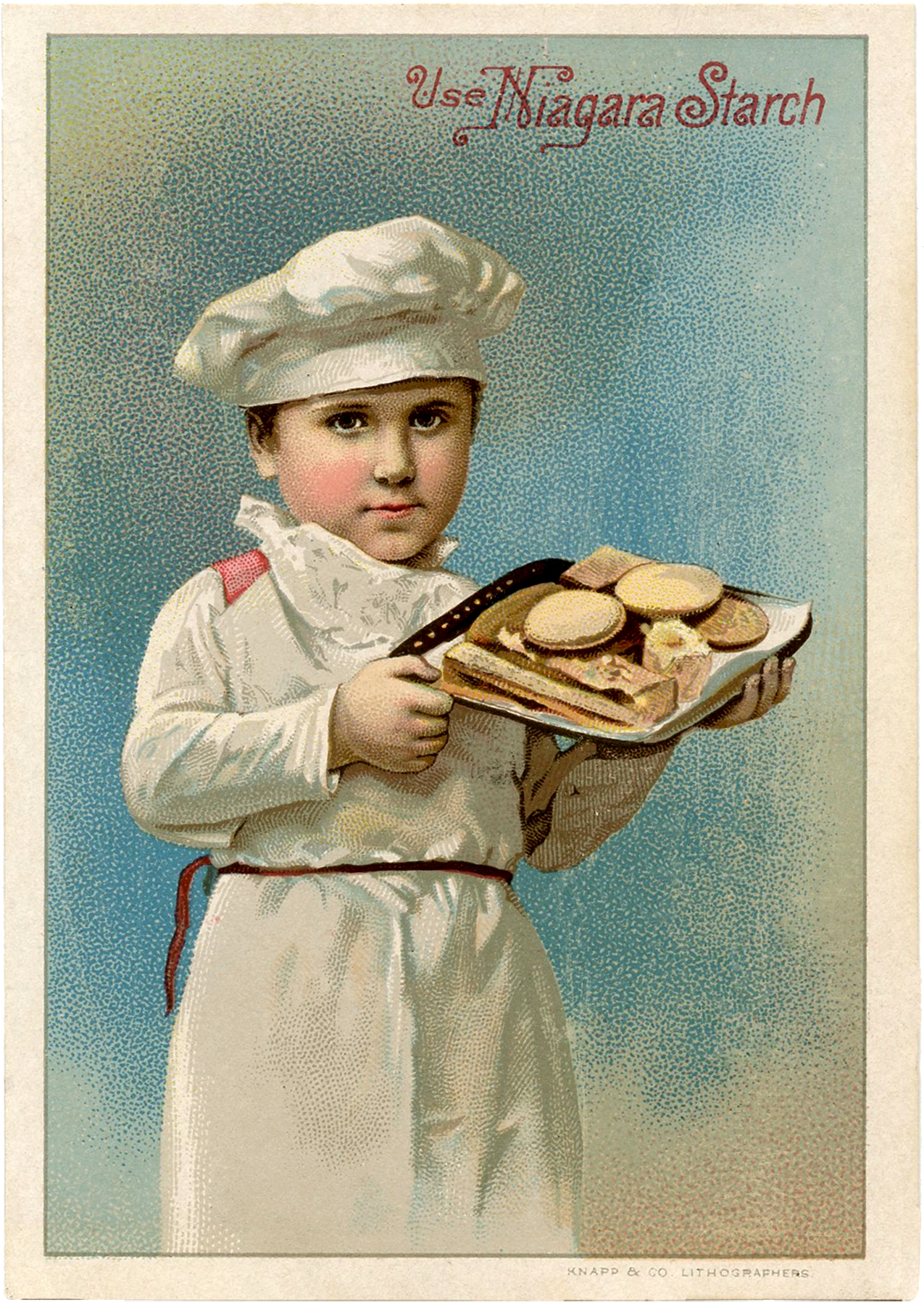 21) Bakery Boy.   This one is a cute Antique Advertising Card with a Vintage Baker Boy! This little Boy is wearing a Chef's hat and holding a tray full of freshly baked goods. The card was an advertisement for Niagara Starch. A nice one to use in your food themed projects!
22) Retro Mom with Stove.   This cute lady is cooking on a Vintage Stove. She's wearing a Darling Apron and a cute Polka Dot Dress! This one was scanned from an old Circa 1941 Printer's Catalog.
23) Pie Making Girl.   This was a color Thanksgiving Postcard, but would be perfect with the words removed. Illustrated by Ellen Clapsaddle, it shows a sweet little Pilgrim Girl in the Kitchen, trimming the crust on her pie.
24) Young Girl Mixing.   This adorable image was found in a 1913 Sewing Book. It shows a young Girl wearing a Pinafore & holding a Mixing Bowl. Perhaps she's going to make a batch of Cookies!
25) Chefs Cooking.   This images shows two cooks in a railroad dining car with aprons, chef's coats, and hats. They are both cooking ad one appears to be carving meat.
DRINKS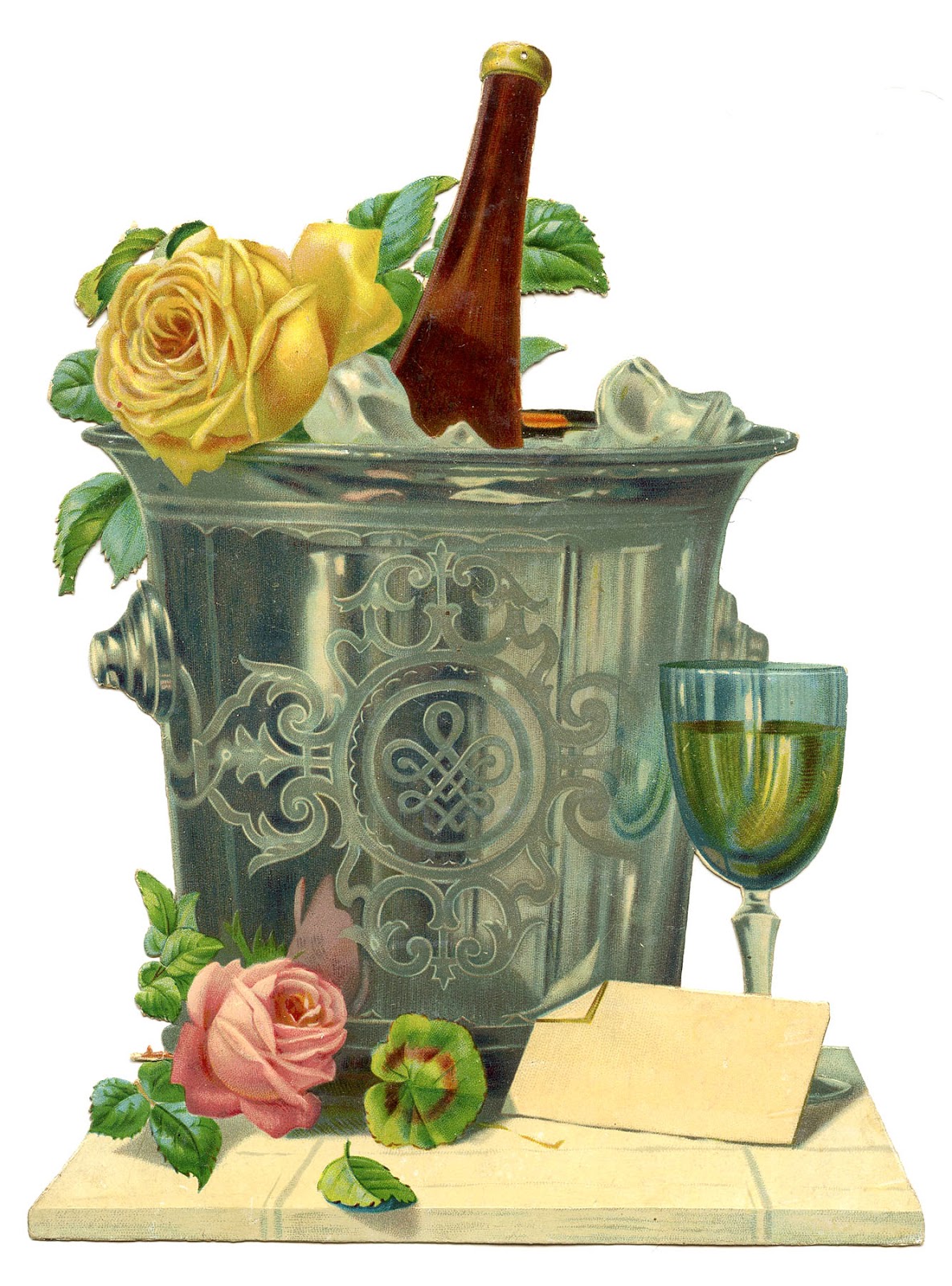 26) Champagne Bucket.   This one is great as a New Year's Eve Graphic, or I guess it could be for any special occasion really! Shown above is a Champagne Bucket with Wine Glass, a Rose and a Note (love letter perhaps?).
27) Beer Stein.   This one is a fun Public Domain Beer Stein Image! This one was scanned from a Circa 1880 German Print that showed various kitchen tools and accessories on it. Shown above is a wonderful looking White Porcelain, perhaps even Ironstone, German Beer Stein with a metal top!
28) Blue & White Teacup. This image comes from an old Postcard, but the background was removed to offer you just the Teacup on its own. There is a pretty blue swirly border on the saucer, edge of the cup, and the handle, but other then that it's plain white. I think it would be perfect to use as a Gift Tag or Invitation.
29) Coffee & Tea Advertising Pieces.  This Coffee trade card was found on an antiquing trip & shows a die cut Coffee ad, shaped like a Coffee can. The tea box is printed in red and yellow tones and has a woman in a period dress on the front.
30) Pretty Teacup Scraps.   These Teacups have a lovely tiny rose pattern on them. The post has three versions; the original is the Sage Green one, a Turquoise option and a Lavender one.
MISCELLANEOUS FOOD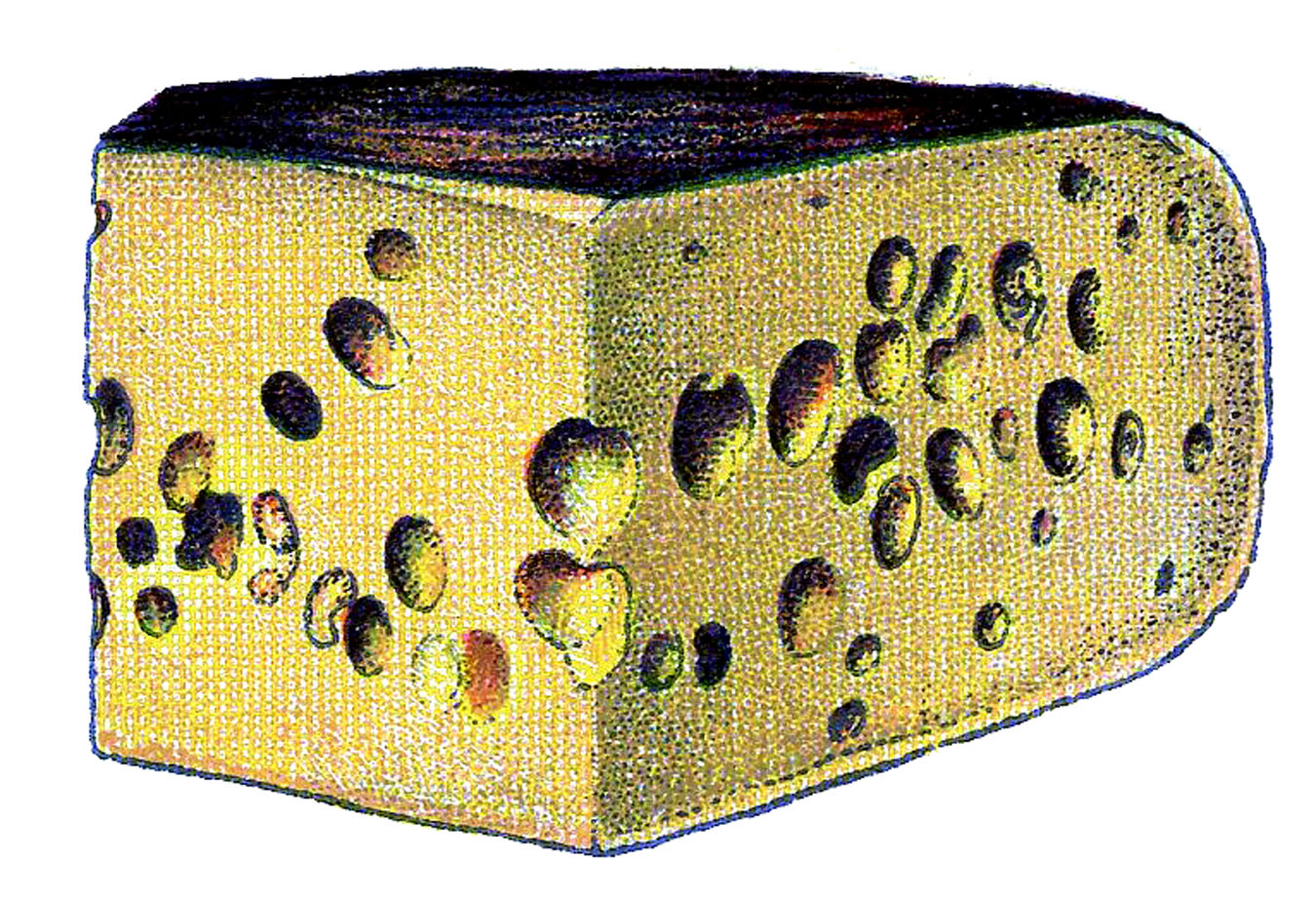 31) Vintage Cheese Graphics.  This post has 3 different kinds of Cheese from an early 1900's Cookbook! The one at the top is a Gruyere, the second one is a Gorgonzola and the last one is a Double Gloucester. These would be cute to use for an invitation to a Fondue Party!!
32) Pancake Breakfast.   This is a really tasty looking image! The Vintage Pancake Breakfast Image has a stack of Pancakes, a dish of Butter and some Syrup. Yum! This one was scanned from an old Printer's Catalog.
33) Vintage Mushroom.  This is a cute mushroom from an antique print. I've included two versions, one in color with a yellowish cap and the other in black and white, so that you can add your own color if you prefer.
34) Salt & Freshwater Fish.   This cute little clip art piece has a multitude of wonderfully illustrated Fish, including Salmon, Trout, Herring, Flounder etc. This is a black and white graphic on a sepia toned background.
35) Shrimp Cocktail.  This one is a fun Retro Shrimp Cocktail Image! It shows a glass filled with Shrimp and a Giant Shrimp on top of it! There are a few cute Lemon Wedges, on the plate too!
 **************************************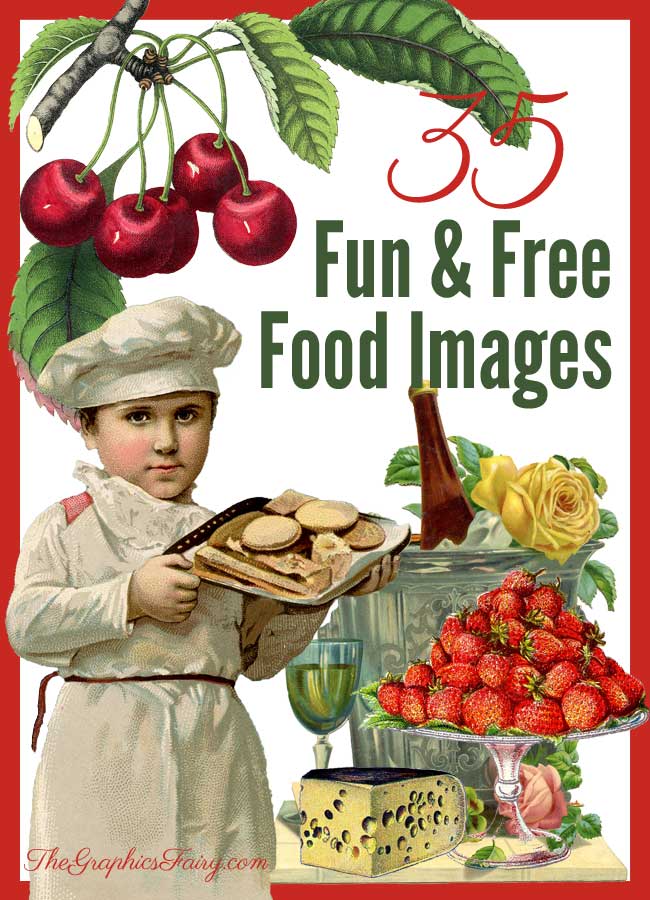 We hope you enjoy these
35 Fun Food Images
! These are only a "taste" of what's on the site, so be sure to visit the
Food Category page
. I also have a huge selection in my
fruits & vegetable
archives, and you'll find many food-related images in the holiday category searches too!
Hello! Are you new to The Graphics Fairy?
Welcome, I'm so glad you're here! Browse around to find
thousands of Stock Images
that you can use in your projects or designs! Need more info about my site? Try my
FAQ
page.