We have 50 favorite wedding graphics and DIYs for you today! With wedding season fast approaching, we thought we'd group together some favorite graphics that readers have used to design their own wedding invitations, save-the-dates, and monograms. So many of you have shared how you used the graphics on this site to make cards, gift tags, menus,  table numbers, place cards, wishing trees, and signs for weddings.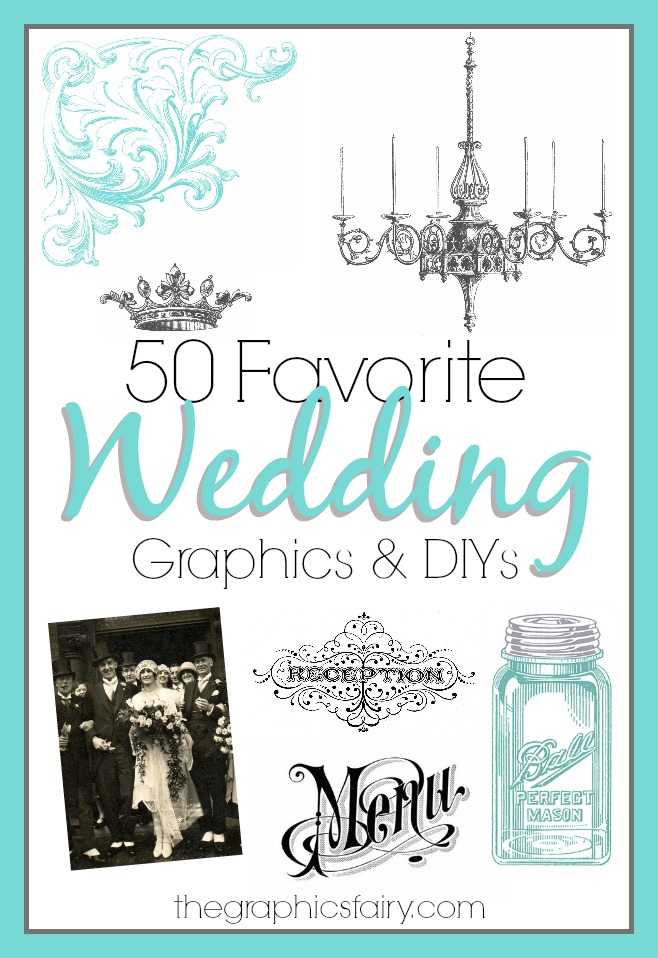 Here are some of my most popular wedding-related graphics, along with some resources for creating some fantastic invitations and wedding projects!
BANNERS – These graphics have banners or scroll features with space for writing. These are perfect for adding a specific sentiment to your project.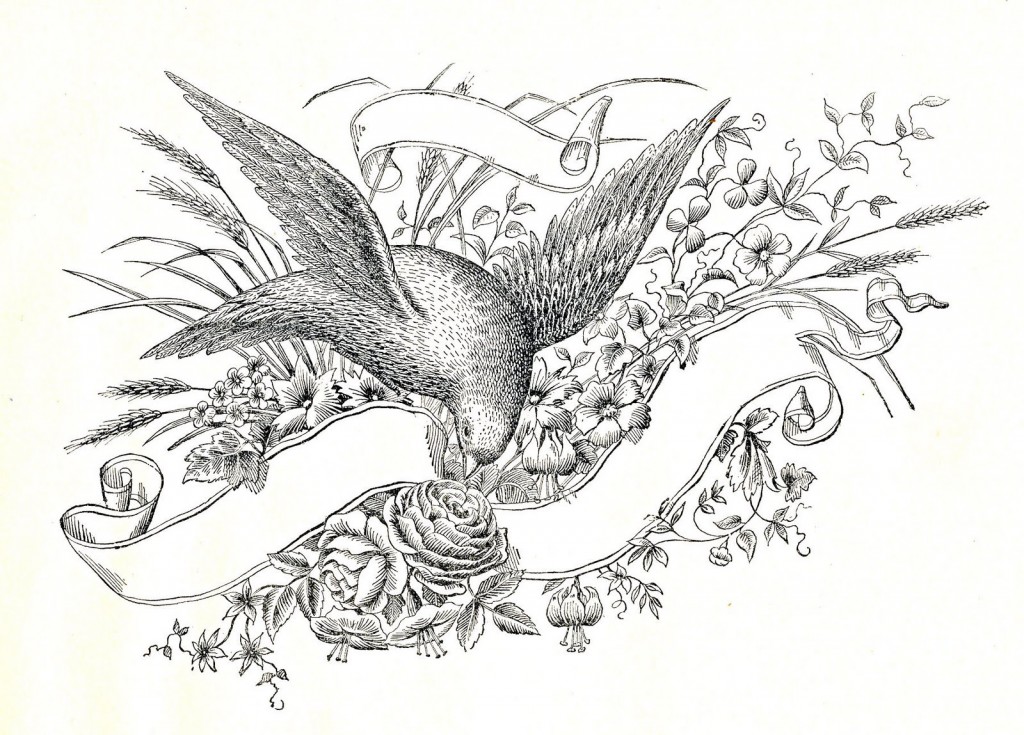 1) Amazing Spencerian Bird with Ribbon Banner.
This pretty image of a bird with spread wings over a banner is from an early calligraphy book. This early engraving also includes pretty flowers and grasses as well. There is the original document in sepia, a black and white version and a blue and white version.
2) French Ribbon Banner.
This ribbon banner comes from an early French book. It wraps back and forth three times, perfect for adding a few lines of text. I have a green, purple, orange, and black and white versions in the post as well.
3) Curtain Frame.
This particular frame from the 1880's is made to look like a curtain or drapery, complete with pleated edge and tassels. The curtain banner is rolled up on an ornate rod and has lots of blank space for text. This would be great for a program or invitations.
4) French Angled Banner Label.
This vintage banner label is a single line with angled edges. This one is perfect to add a single word, and looks great at the top of an invite, or for place cards. The post includes a black, purple, mint, and blue version.
5) Blank Curved Ribbon Banner.
This pretty image comes from an antique invoice. This ribbon has enough space for a title or single line of text. Unlike the banner above, this one is curved, for a pretty feminine look. The post has a black, light blue, orange, and light green versions.
6) Pen Flourished Bird on Branch.
This pretty calligraphy image is of a bird with a long tail standing on a branch. There is a flowing banner below the bird that would be great to add text to. There is both a black and white and blue and white version.
FRAMES – This group of lovely frame graphics come in a variety of shapes and sizes and are great for creating invitations, menus and monograms.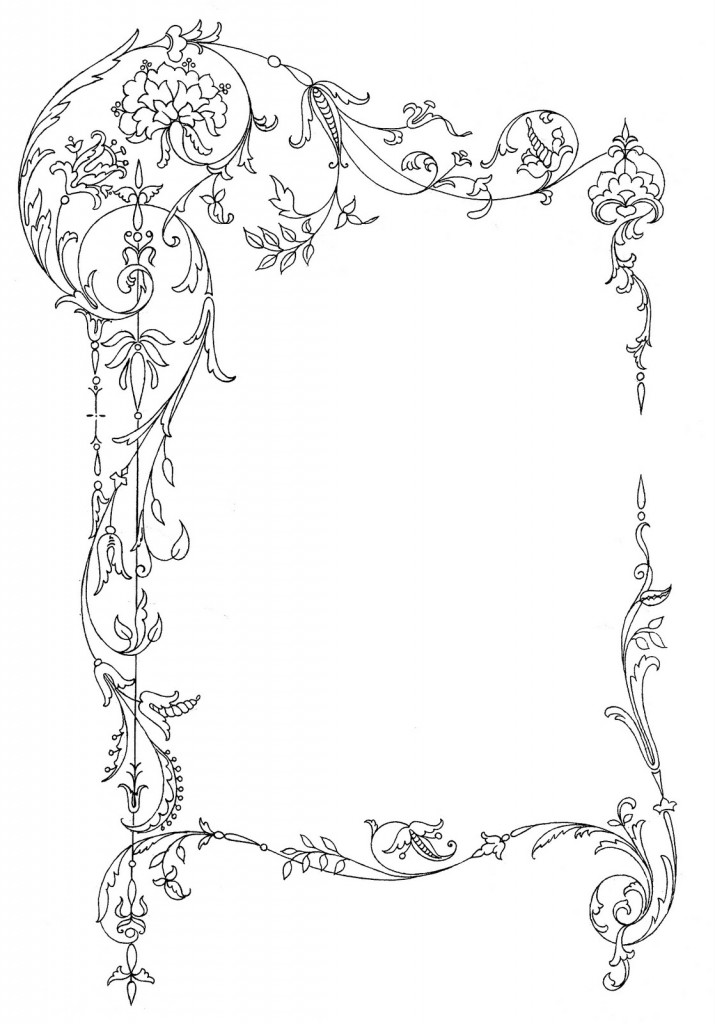 7) Scrolly Pretty Frame.
This super-sweet graphic comes from 1908. It has simple, pretty floral scrolls with extra embellishment in the upper left corner. This one would be lovely for invitations.
8) Pair of Doves Line Drawn Frame.
This frame came out of an old Wedding Book, and features two kissing doves on some flowers. The square frame has a hand drawn look with two lines and a bow at the bottom. I've created a red, blue, purple and black version for you to choose from.
9) French Ribbon Frame.
This lovely rectangular ribbon frame would make a great label or tag. Each corner has been gathered, giving the frame a very pretty feminine look. This post has light blue, navy, black, and red versions.
10) Scroll French Label.
This pretty label is from an 1890's French invoice. The vertical rectangle image reminds me of a royal scroll, curled at the edges. There is lots of white space to add text, and the image would work equally well rotated on its side.
11) Ornate European Frame.
A pretty German frame with lots of scroll and floral details. The post includes a black, tan, navy, and pink versions of a vertical rectangular shaped frame. This frame would work well for labels, gift tags, or invitations.
12) Circular Laurel Wreath.
This pretty wreath is made up of overlapping laurel wreath leaves with tiny berries in a circular shape. The post has four versions – black, green, blue and brown. This old French label would be pretty for wedding stationery or with a monogram in the center.
13) Doves with Wedding Ring Frame.
This pretty image is of two doves perched on top of a wedding ring with a bow underneath. This one comes from an 1880's typography book. This would be pretty with a monogram or wedding date in the center. The post has a red, blue and black version for you to play with.
14) Fancy Circular Frame.
This lovely frame is a circle surrounded with tons of scrollwork and comes to a point at the top and bottom. All of the scrollwork almost gives it a wintry feel. This would be lovely with a monogram,or to highlight an important date. A vector version has also been included in the post, so it can be resized easily with the right software.
15) Diamond Shaped Scroll Frame.
This one was scanned from a rare Circa 1876 Ornamental Design book. The fabulous ornament is in a diamond shape with layer upon layer of leaf-like images all intertwining and weaving through each other. In the center there is a blank space that would be great to add a monogram to!
16) French Wreath with Bow Engraving.
This image has been a favorite of my blog readers. This one is a lovely u-shaped wreath of leaves, joined by a bow at the center. There are a few color options in the post, including a French Blue, Silvery Sage and a Rosy Pink!
17) Heart Frame.
This vintage heart frame is surrounded by flowers (they appear to be dogwoods?) with a fun arrow at the top. The original is black and white but I also made a Red, Light Pink and Dark Pink versions.
CORNER ORNAMENTS & LINE SEPARATORS – This group of images are the perfect graphic embellishments for invitations or paper projects. Group these in the corners of invitations or carry these decorative elements through your wedding stationery.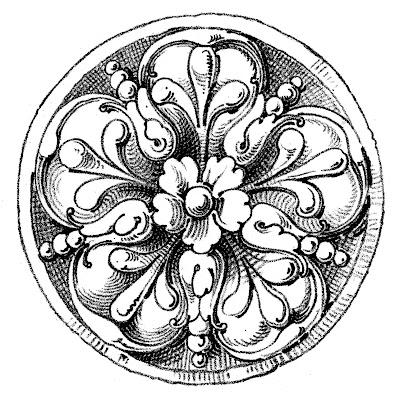 18) Old World Rosettes.
This post has three Old World-looking Rosettes or Medallion Ornaments from an Antique Ornamental Design Book. The first image has five ornate petals, the second has four layered petals, and the last image looks like Acanthus Leaves spilling out over the edges.
19) Shell with Scrolls.
This antique ornament is shell or fan-shaped with loads of decorative scrolls. These would be so nice for Stationery, Wedding Invitations, or for any projects where you want to add a little more pizzazz. There are four color options to choose from – black, blue, green and light yellow.
20) Line Separators.
This post has three different fabulous graphic separators from an antique French typography book. These are great as nice little dividers between different elements on a page or invitation. All three are different versions of long tear drop-shapes on their sides, extending outward with a circle in the center.
21) Scroll Corner Ornament.
These scroll ornaments have incredible detail. These came from a rare 1876 Ornamental Design book. The left and right facing corner scrolls in the post are made up of loads of scrolls, swirls and flourishes.
22) Ornamental Printers Ornaments.
This post has three different ornamental doodads that are in a general rectangular shape, but each has its own series of scrolls, diamond shapes, and leaf shapes inside. These work really well on invitations to separate text areas or on the top or bottom of a formal design project.
PRETTY INVITATION GRAPHICS – These vintage images and printer's ornaments would work really well added in to your paper wedding projects or incorporated in your wedding theme.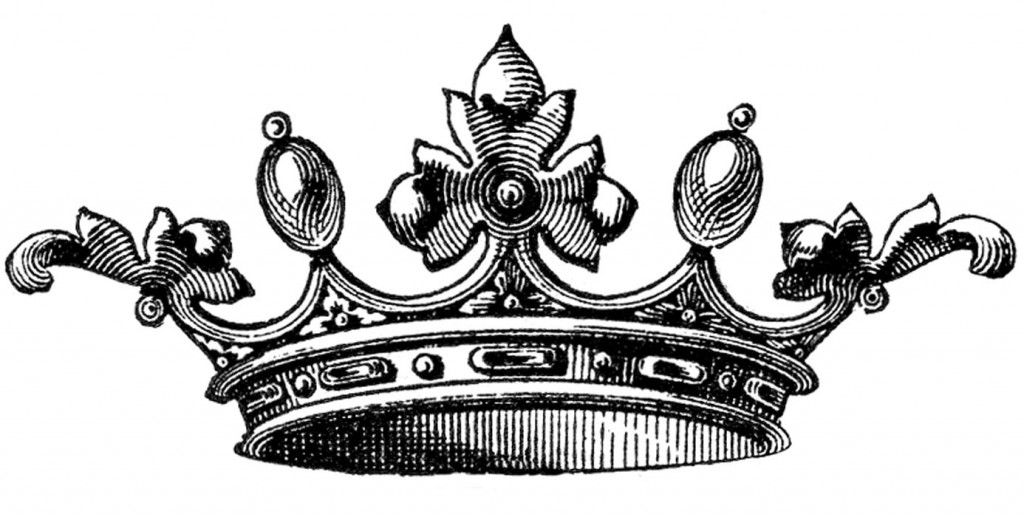 23) Wonderful Crown.
This lovely crown vector image comes from an 1870's Antique Jewelry Catalog. The crown is quite ornate, with two sort of egg shaped jewels on the top. So fancy and fun.
24) Doves with Flowers and Scrolls.
This a really special little piece of antique ephemera! Although this was originally used as a Valentine, I think it's lovely for any romantic occasion! It features two doves, sitting on a series of pretty scrolls and flowers. One dove has his wings spread out like he just landed. There is a red version and a black version.
25) Lovely Ribbon Bow.
This lovely ribbon bow has three loops with two trailing ends. This was scanned from an Antique French Catalog that contains all kinds of Drapery Hardware. I love how these have a hand sketched appearance to them. The original is the black and white version, but I'm also offering several color options, including lavender, sage green and orange in the post.
26) Ornate Candelabras.
This post has two vintage clip art images of candelabras. Both images have room for three candles with two arms on the sides with a taller arm at the top.
27) Gothic Chandelier.
This black and white chandelier image looks quite Gothic. This would be a wonderful graphic to add to stationery, stickers, or other wedding projects.
GRAPHICS FOR WEDDING CRAFTS – This is a collection of graphics that my readers often use for wedding signs, tags, napkins, and menus.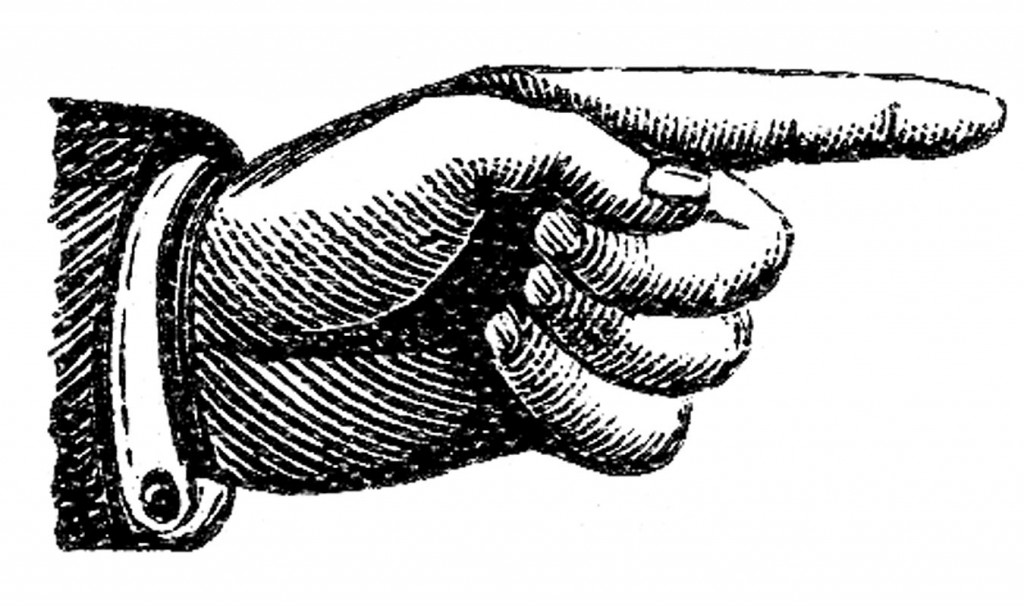 28) Pointing Hands.
These great Victorian black and white images show a man's hand (with a cuff link peeking through) pointing to the right. A mirror image is also in the post, pointing to the left. These are great for signs to help direct guests at the reception.
29) Arranged Fork, Knife and Spoon Graphic.
Shown here is a set of utensils, including a Fork, Knife and Spoon, with very ornate handles! This one comes from an Antique Silverware Catalog. The catalog is not dated, but my best guess would be that it dates to the late 1800's to early 1900's. This image would be perfect to transfer on to napkins or place mats.
30) Winter Trees.
These two images of winter trees without leaves come from an old agricultural book. Many readers use these types of images for wedding guest books or for wishing trees for the bride and groom. You may want each guest to write a message or their name on a leaf and include it on the graphic at the reception.
31) Rectangular Elegant Menu Frame.
This lovely rectangular frame is just perfect to use as a wedding menu. The thin zig-zag sides are joined in the corner by some extra floral embellishments. Two scrolls join at the top, with what looks like a small urn at the center.
32) Mason Jar Images – Zinc Lid Jar.
This post includes a lovely mason jar image in black and white and in blue and white. This version has a zinc lid with more of a flat top. If you are planning a wedding and need a country or vintage touch, this image is perfect for tags on favors, table numbers, or place cards.
33) Mason Jar Images – Glass Lid Jar.
This post has a great mason jar image in black and white and in blue and white. This version has a more rounded glass top lid. If you are planning a wedding and need a country or vintage touch, this image is perfect for tags on favors, table numbers, or place cards.
PHOTOGRAPHS – This is a lovely collection of antique wedding photos, perfect for making gift tags or cards.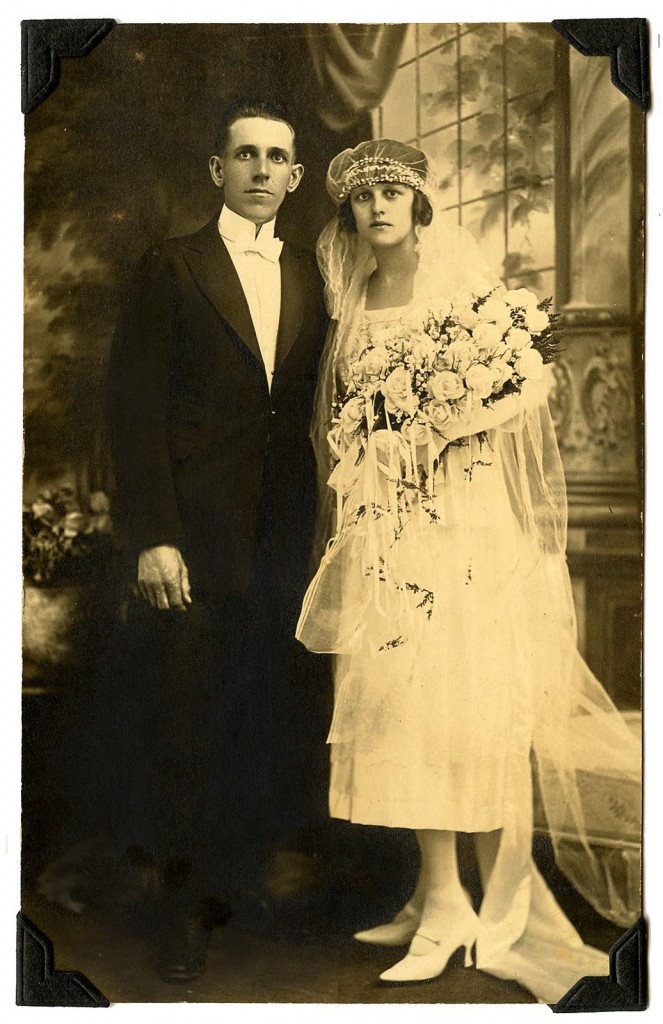 34) Wedding Couple Portraits.
Here we have photographs of three different couples, all dressed in their wedding day finery. All three photos are in black and white or sepia tones. The first one is my favorite, it was attached with some old black photo corners, I liked the look of them, so I scanned them with the photo. So much fun for your vintage collage or mixed media projects!
35) Bride and Groom with Top Hat Photo.
This one is a lovely old wedding photo of a beautiful bride and her groom, with their wedding party surrounding them. I love the the men wearing top hats. Such a posh looking group!
36) Beautiful Bride Photo.
This is a very nice old photo postcard featuring a beautiful bride posing on a staircase. She has a long gorgeous train flowing down the steps. I think this would make a fun card for a bridal shower gift!
37) Jolly Wedding Party Photo.
This is an old photo of a bride and groom. The men are wearing top hats and spats on their shoes. The bride is wearing a lovely hat and a has a large bouquet of trailing roses.
WEDDING TYPOGRAPHY – These ornate letters, and premade wedding graphics from old wedding printer's books are great to use for modern day signs, labels, and stationery.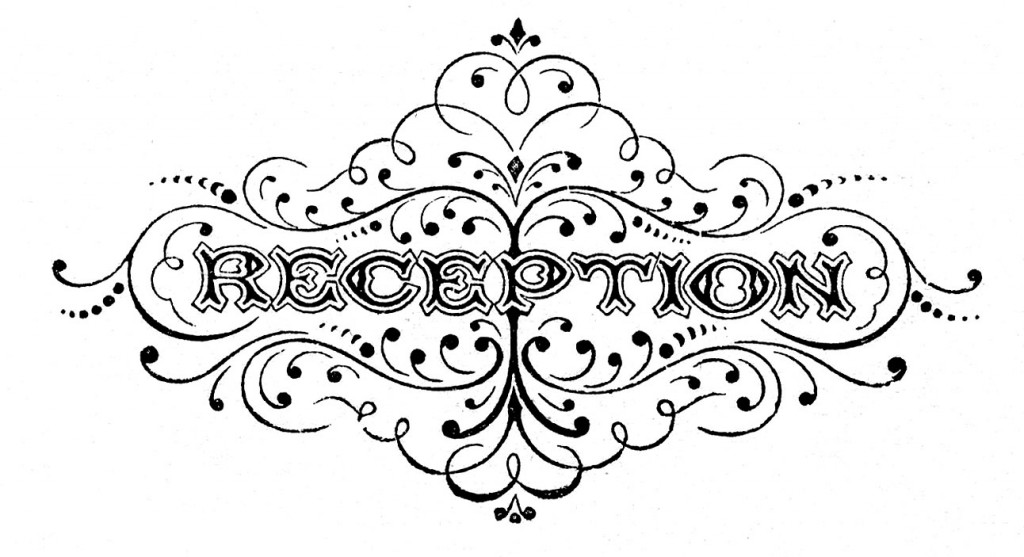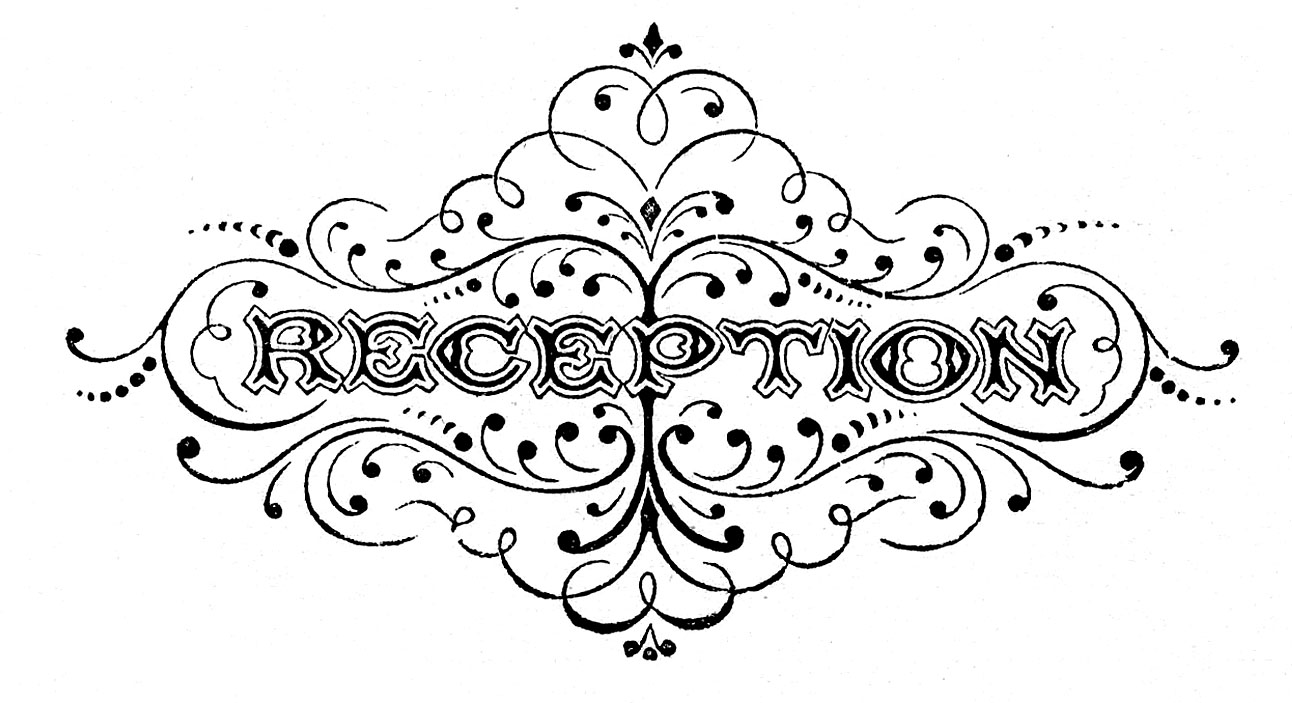 38) Ceremony and Reception Typography.
This great post has four variations from a 1870's printer's book. All in black and white, the first says Ceremony with a man putting a ring on a woman's finger. The second is the word "Ceremony" with some pretty circular scrolls. An ornate version of the word "Reception" with some pretty scrolls surrounding. The fourth image is the words "At Home" with some pretty pen work embellishments.
39) Menu Graphic Typography.
This post has the word "Menu" in three variations. The first has a curvy M with swirls and a nice shadow; the second has an ornate M with what looks like a sign or name plate. The third version has the word Menu in all black shown in front of the sun breaking through the clouds. My readers often use these images on wedding menus or signs.
40) Antique Marriage Certificate.
This beautiful antique marriage certificate comes from a circa 1880s book. The blank certificate can be customized. You can also select the graphics from the certificate and use them in your projects. The word marriage in a vintage font, and a lovely oval frame with roses and ferns have been pulled out in the post too, but there is also the words Holy Matrimony, In Presence Of, and Signed that could be pulled out. The certificate has some great corner graphics and a frame that could be used as well.
41) Reception and Ceremony Wedding Typography.
Included in this post are two antique Ceremony graphics, a Reception and an At Home Image are included as well. I love how ornate these are with all their fancy curly cues and such! These would be wonderful to use for Wedding Stationery, or perhaps you could make some fun Vintage Signs with them.
42) Ornate Alphabet Letters.
This post has four different alphabets from an 1860's French card. The alphabets look like fancy calligraphy, and include two versions in uppercase and two versions in lowercase. These would be lovely to isolate and create a unique monogram for a wedding project.
43) Fancy Script Monograms.
These swirly script fonts came from an old lettering book. The uppercase letters are perfect to use on monograms, or combine them with the lowercase letters or numbers to create table numbers or other wedding projects.
HELPFUL WEDDING POSTS – These are a series of posts from the site that can help you complete your DIY wedding projects. Here you'll find a few popular wedding projects, as well as links to floral graphics and fonts that will make your wedding projects extra special.
44) Wooden Wedding Sign Tutorial.
This post has quick and simple instructions from Andrea to help you make wooden wedding signs for your reception. All you need are a few materials to have a great DIY wedding.
45) Flower Images Roundup.
This post has a nice collection of favorite floral images organized around several themes – botanicals, frames, roses, engravings, spring flowers, and summer flowers. This post is great to browse if you want to incorporate flowers in your wedding designs and projects.
46) Free Wedding Script Fonts.
This lovely post has 10 beautiful (free) script fonts that are perfect for invitations and wedding stationery.
47) Free Invitation Fonts.
This older post has five great invitation fonts we really like. These are a little more modern looking and really beautiful alternatives to traditional script fonts.
48) Free Monograms Fonts.
This post has several free fonts that work really well as monograms. Pair these fonts with the frames and images on this site to create individual wedding stationery.
49) Monogram Rules & Layout Ideas.
This post is helpful if you're designing your own monogram and gives you several layout ideas for monograms to help you create your own.
50) Mason Jar Place Cards and Table Number DIY.
This post from has some great printables in it to help you create your own mason jar table cards and gift tags for your wedding.
I hope you enjoyed these 
50 wedding images and DIYs
! I always love to see the projects you create with the graphics from the site. Please share links to your wedding projects in the comments below or on our 
Reader Submissions page
!
Hello! Are you new to The Graphics Fairy?
Welcome, I'm so glad you're here! Browse around to find 
thousands of Stock Images
 that you can use in your projects or designs! Need more info about my site? Try my 
FAQ
 page.