672 Vintage Flower Images
We have 672 favorite free vintage flower images for you today! I've done a major overhaul on this post as we have so many more pictures of flowers on this blog now, than when this post was first written years ago. You are sure to find some of your favorite flower images, and floral designs, here as I have categorized them by variety, as well as by Season… and there is even a category for color to make it easier to find things. I've included some original antique botanical printable flower pictures that can be used as instant art for your walls, some favorite floral frames, flower etchings, and lovely spring and summer blooms. Just click on the links to be taken to the page on the site with your chosen favorite.
I hope you'll enjoy browsing through some of my favorite floral clipart that I've shared to date on the site. These are perfect for decoupage, paper crafts, card making, transfers, Junk Journals, and just about any other craft you can think of. Enjoy!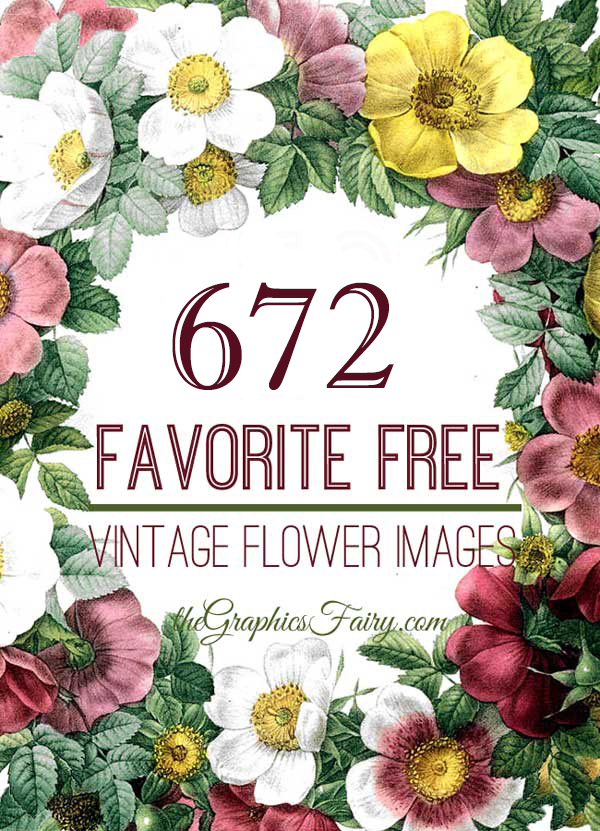 Free Flower Images by Type and Season
These beautiful free flower images are organized by variety and season there is so much to choose from here!
Summer Pictures of Flowers 
These flower Pictures include flowers that traditionally bloom in the Summer months.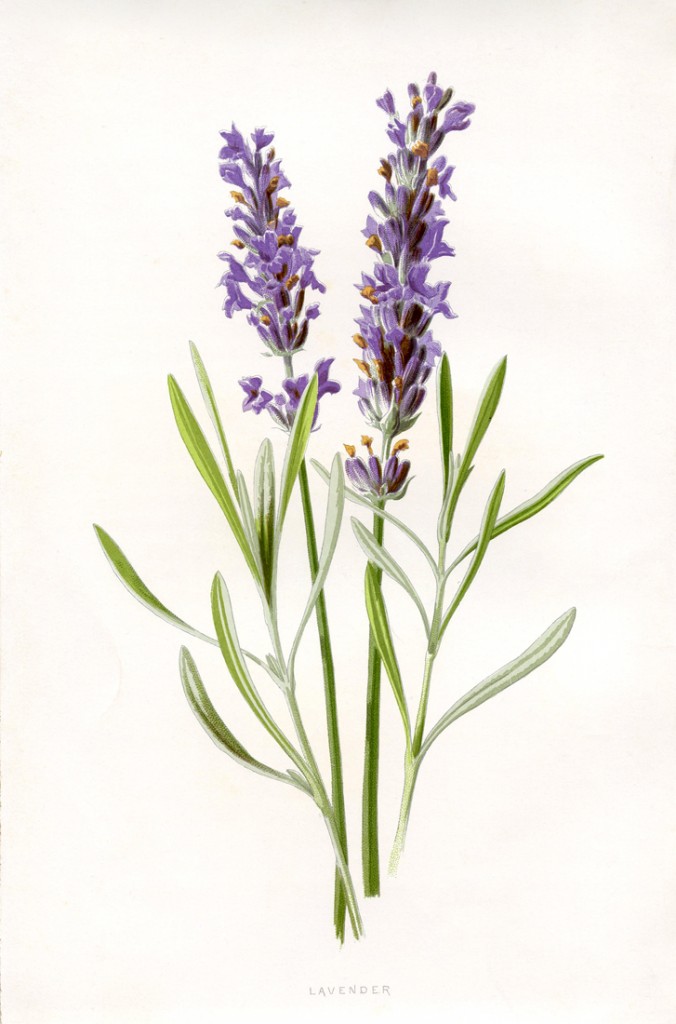 11 Lavender Images   This is a gorgeous collection of Lavender Flowers, included are several Botanical Printable Flower Pictures as well as smaller graphics. So delicate and lovely, the only thing missing is the fragrance!
15  Daisy Flowers A charming collection of one of the most cheerful and happy flowers in the world. These are sure to bring a smile to your face and some joy to your projects!
10 Morning Glories These vining pretties are always happy to greet us in the early hours! Included are a lovely Print, some cute Victorian cards and a line art illustration.
13 Water Lily Pictures  This is a marvelous collection of Water Lilies, or Lotus flowers. This is a mostly full color collection offering cards and a Botanical Print, as well as a few black and white pictures included in the mix.
7 Peony Graphics I think these are just the most romantic flower! I only wish they hung around longer. We have a nice variety of offerings in this species, for you to use in your crafts and artwork.
10 Pink Clover Flowers These vintage flower images may be considered just a weed by some, but on close inspection they do have a special delicate beauty. And of course the Bees love them. They are perfect for Summer themed projects!
10 Poppy Images Another Summertime beauty! They make me think of one of my favorite scenes from the Wizard of Oz movie. We have a nice variety of colors including, Red, White, Yellow and even a Pink one.
10 Thistles Thorny looking and wild, but they are also quite lovely. This is a mix of full color flower illustrations as well as black and white ones.
10 Sunflower A Summer, and Autumn, favorite, these showy blossoms also make a tasty snack (or at least the seeds do anyway). These vintage flower images work well as the focal point in any project and they lend themselves well to French themed creations too.
10 Geranium These gorgeous flowers often add a splash of color to porches and pots. You could use these to make a welcome card for a new neighbor!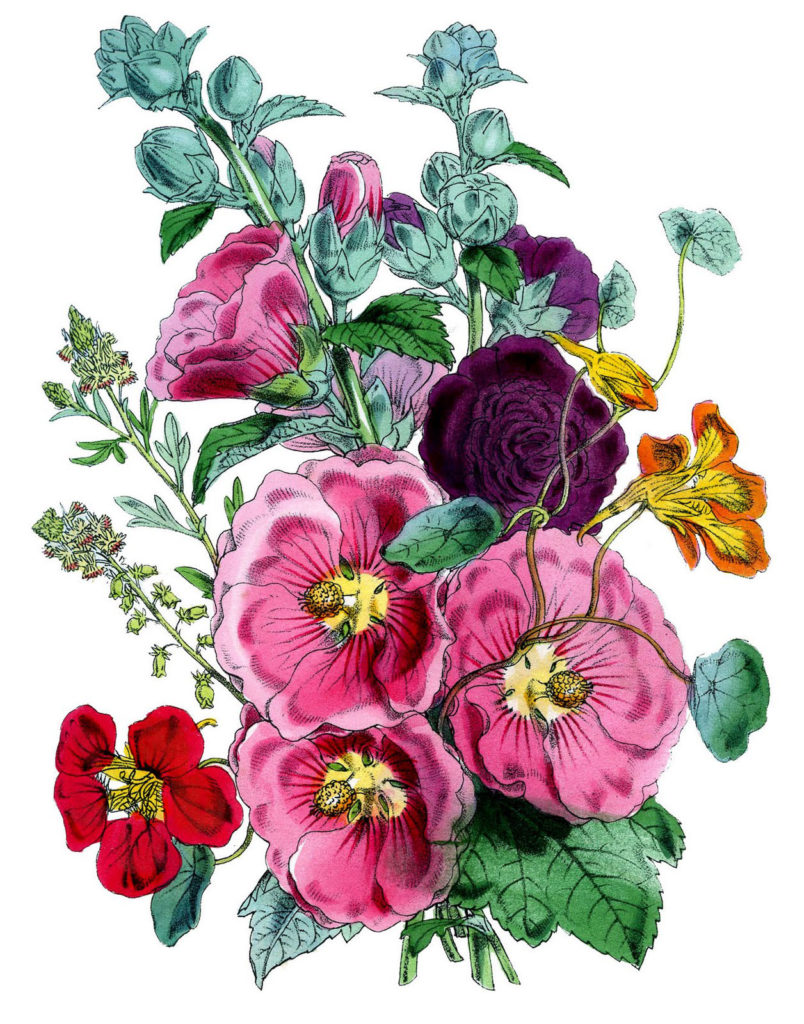 8 Hollyhock This collection makes wish I was living in the country still, as these lovelies were often a welcome site while driving on rural roads. I would often see them growing next to fences in front of old farmhouses. I even grew a few myself next to the picket fence at our home. Charming!
10 Chrysanthemum A favorite flower in the Fall and perfect for your Autumn themed crafts. Lots of bright and colorful Floral images in this set!
10 Rhododendron These floral bushes, have such delicate blossoms! There are some really dreamy colors in this group.
6 Magnolia A southern favorite. In this collection you will find both white and pink varieties to use in your projects. And some high resolution Printable Flower Pictures as well.
11 Hydrangea This is my personal favorite flower, so I am always on the hunt for great Hydrangeas. I must say this is a stunning collection, I think you will be quite pleased with it!
7 Marigold This is a small, but pretty collection of this old fashioned garden staple!
6 Hyacinth One of Spring's sweetest scented flowers! This is another small collection, but I think you will be pleased with what you find,. I especially love the free printable flowers pdf!
19 Wild Roses This is a large collection of really love images and Ephemera! If you are looking for more Roses, be sure and keep scrolling as you will find the rest sorted by color further down below.
9 Herbs This set is mixed, about half have flower graphics and the rest have just leaves. But it's a lovely set of free printable flowers!
15 Wildflowers We mustn't forget these rustic pretties! Lots of different colors here to choose from, many were scanned from an Antique English book.
Free Printable Flowers Spring Themed
These Free Printable Flowers are of Botanical flowers that mainly bloom in the spring.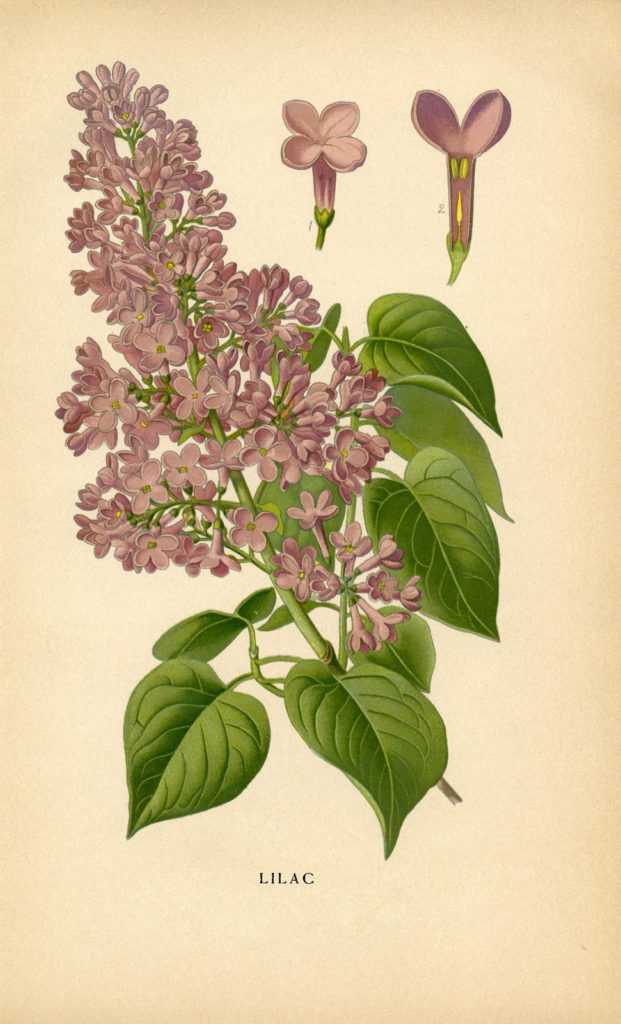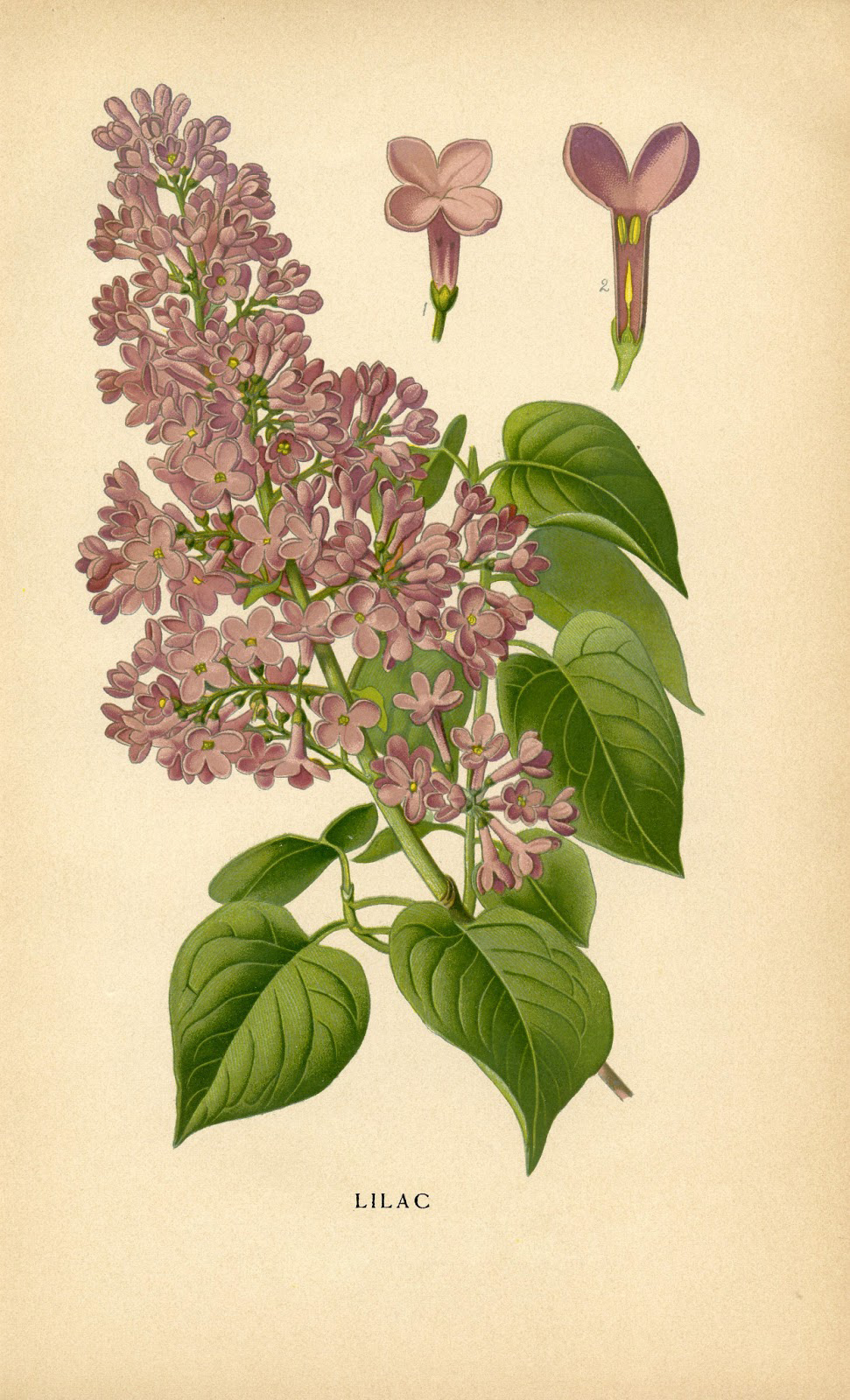 10 Lilacs These Romantic bushes have the most delightful scent. Their blooms are so delicate and pretty, and the purple color can't be beat! Included are the botanical illustration that you see above, plus many more.
9 Daffodil These flowers are always a welcome sign that Spring is finally here! I hope you enjoy these bright yellow flower graphics.
7 Crocus These adorable blooms are often the first to arrive for the year, depending on where you live. I love the pretty colors in this collection.
10 Lily of the Valley This was my grandmother's favorite flower, and perfume, and they always remind me of her! There are some really beautiful vintage flower images in this set!
15 Spring Tulip Images This is a nice sized collection of beautiful free printable Tulips flowers pictures. You will find many different colors here as well as quite a few black and white engravings.
6 Iris There are several color options here for this elegant bloom, so soft and lovely!
12 Pansy Illustrations Such a nice collection showing many flower illustrations of these sweet plants. Some are in baskets, some in bouquets and there are single flowers as well.
19 Violets This is a huge collection of this old fashioned favorite! These purple hued lovelies will add a charming touch to your crafts.
6 Easter Lilies A lovely selection of Blooms that are perfect for your Easter Crafts. These would be wonderful to use in Sunday school projects.
Christmas Printable Flower Pictures
These wonderful Red Printable Flower Pictures will make your holiday projects shine and they all have a great vintage look!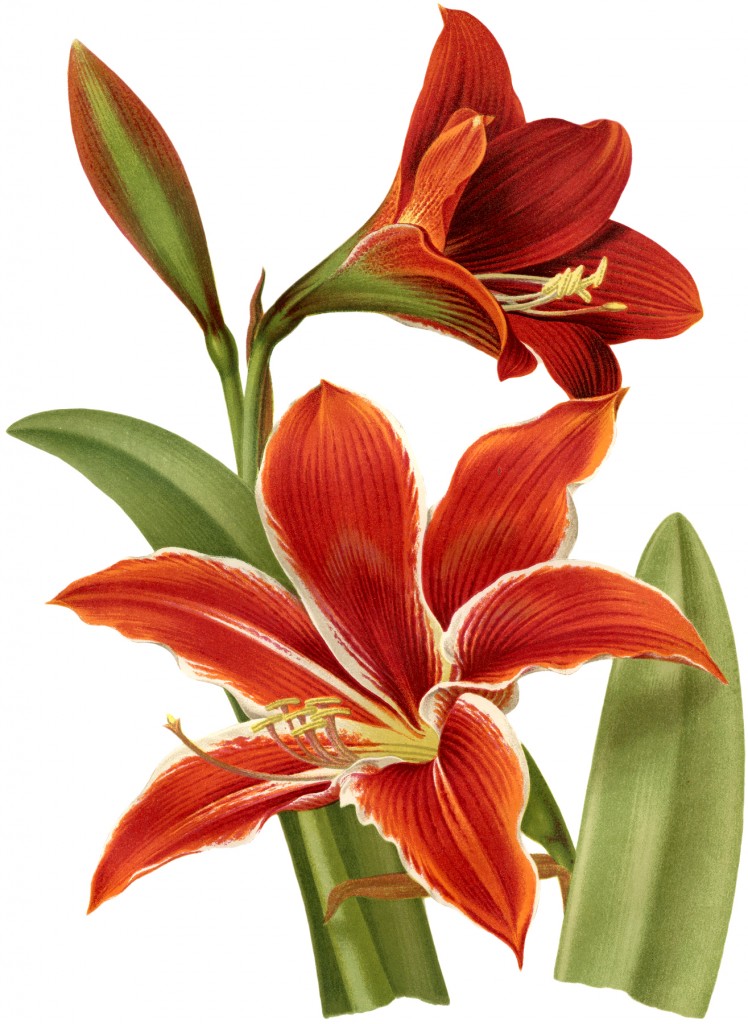 3 Amaryllis  An extraordinarily beautiful collection of Red Amaryllis Botanical vintage floral prints from my stash. These are real showstoppers and perfect for your Christmas art projects!
12 Poinsettias More bright red beauties to use in your Holiday projects and cards.
10 Christmas themed Flowers This is a miscellaneous, but lovely collection of various floral Ephemera, and flower illustrations, with a Christmas theme.
Black and White Floral Clipart
These black and white Floral clipart drawings and etchings are detailed sketches of flowers.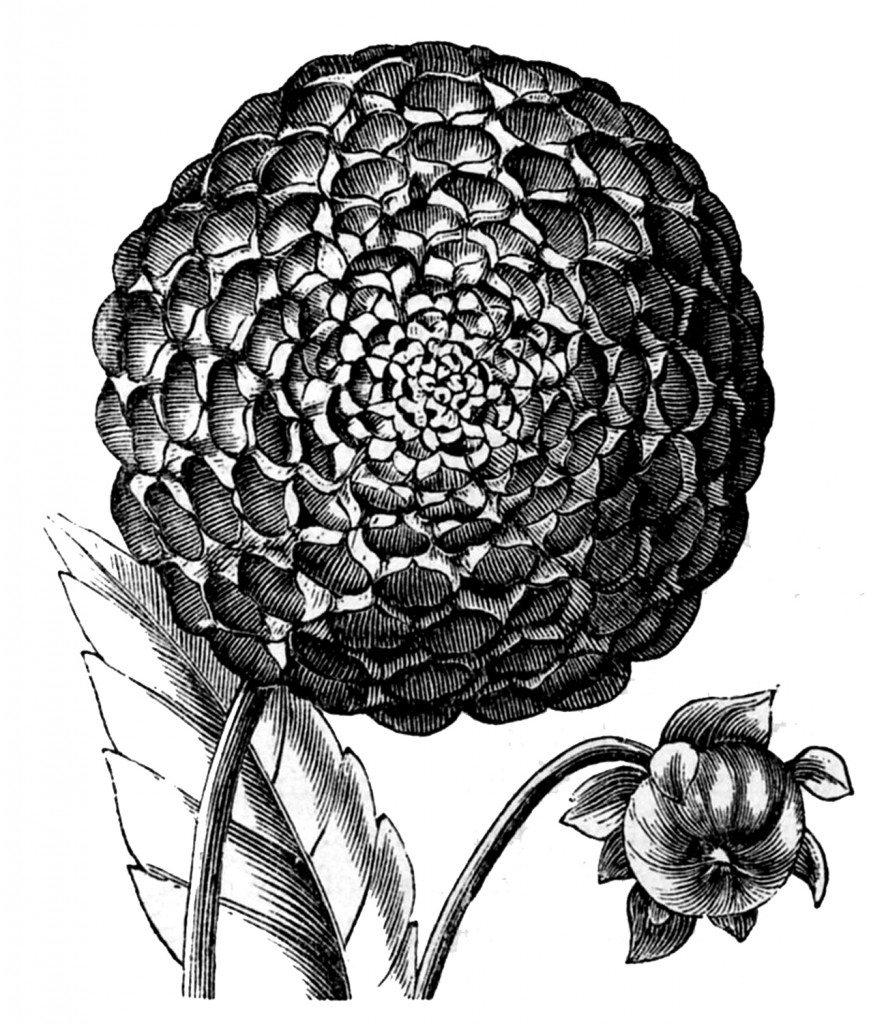 21 Black and White Floral Clipart If you are looking for black and white pictures, there are many lovely varieties here.
7 Floral Embroidery Patterns These are some really charming pictures, even if you don't want to embroider. They would be fun to color in too!
15 Floral Coloring Pages You'll have a ton of fun with these gorgeous vintage coloring pages from a retro coloring book!
Flower Illustrations by Color
We have quite a few posts where we have grouped Flower Illustrations by different colors, to make it easy for you to find just the right hue for your creations.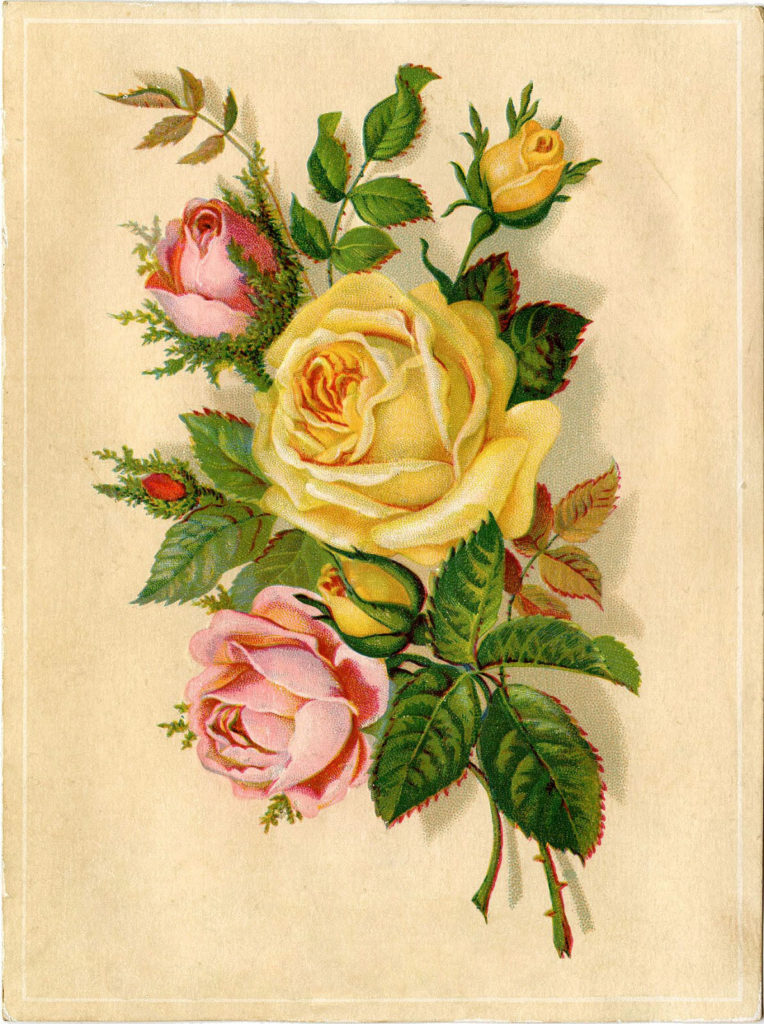 14 Yellow Roses A really sweet set of bright and lovely yellow cabbage blossoms! These are my Mother's favorite flower.
44 Pink Roses  This is a huge collection, with so many gorgeous flower graphics! If you are a fan of the color Pink, you will love these free images and vintage floral prints.
10 Red Roses What could be more romantic? So many beauties to choose from!
14 White Roses Not to be outdone by the other colors, these are just as showy as their more colorful cousins. Included are Trade Cards, Victorian Scraps and even a Print.
10 Blue Flowers I always think the blue florals are extra special, you don't see a lot of them in nature, but when you do they are so lovely!
14 Purple Blooms So many beautiful shades here, including pale versions and bright ones. They are positively regal.
25 White Blossoms This is such an elegant collection, with so much variety here!
17 Yellow Vintage Flower Images Sunny, bright and happy this set will make you smile! So many Botanicals on this post and some lovely Victorian cards too.
30 Pink Flowers Another large and lovely collection! Lots of botanicals in all different varieties (the Apple Blossom is my favorite!), some on a white background, others on old Trade cards.
9 Red Posies A small but vibrant collection of blooms for you to play with in your art!
Vintage Flowers Labels and Frames
Full color Vintage Flowers and frames, and calling cards that are perfect for adding your special messages or embellishments.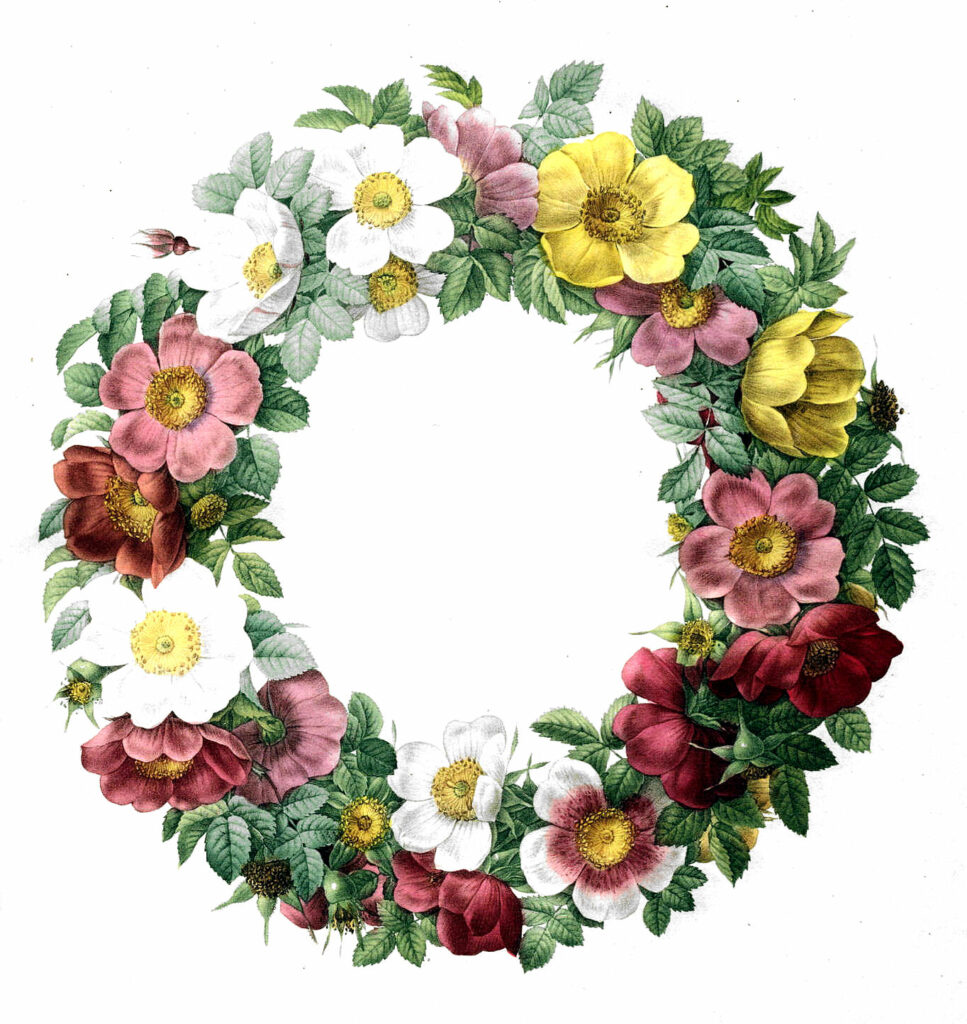 17 Floral Wreaths A marvelous array of lovely Vintage Wreaths, that will add a festive touch to your projects. Both full color and black and white graphics are mixed together in this set.
17 Floral Graphics Set-1950s  This is a super sweet set from the 1950s, with bright pink Roses and a Chartreuse Green frame and so much more. Fun stuff!
15 French Frames These are the most romantic frames! Not all of them have florals on them, but many do.
18 Floral Journaling Cards Each one of these cards has a blank white space where you can write your own text, making them perfect to use as labels!
Vintage Floral Prints
Our favorite collections of Botanical Vintage Floral Prints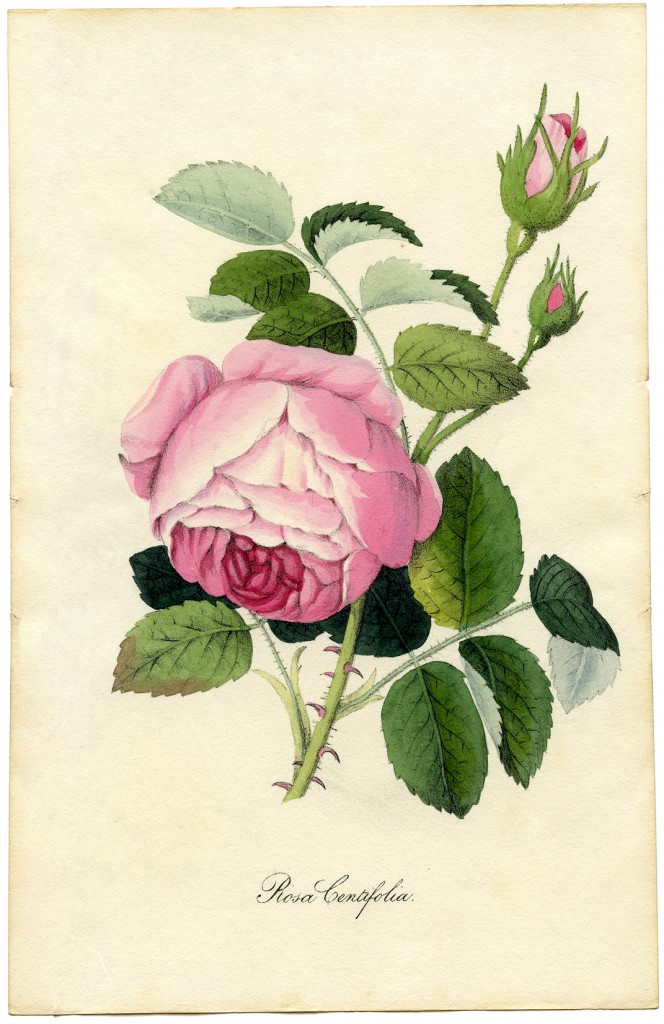 12 Vintage Roses There are a number of gorgeous Botanical vintage floral prints in this collection, including the one that you see above and it's companions.
9 Botanical Prints A Stunning selection of Free Printable Flowers book pages, many of them that coordinate, scanned from Antique books.
7 Vintage Floral Printables This is a lovely coordinated set of floral Prints in subtle tones. They would look really nice framed on a wall together!
12 1855 Botanicals A gorgeous set of Botanicals showing mixed bouquets of different varieties, scanned from an 1855 book. The colors are just wonderful.
9 1905  Vintage Floral Prints A nice collection of bright and happy blooms scanned from a Circa 1905 Garden book. These vintage floral prints would look great in a collection on a wall.
Premium Membership Floral Themed Bundles
These are a few samples of some Flower themed bundles on our Premium Membership site.
Forget Me Not Bundle This digital collection is based around Blue Forget Me Not flowers, with birds, eggs and patterns that coordinate together.
Sage Meadows Bundle  Like a walk in a Spring Meadow, this charming bundle has loads of flowers, including some gorgeous floral wreaths!
Cottage Wallpaper Bundle A bright and beautiful collection of vintage Floral Wallpapers, perfect for your Junk Journals and other creative projects.
You can learn more about our Premium Membership Site HERE. We have 100's of bundles just like the ones above included, all for one low monthly price.
We hope you enjoy these Favorite Free Flower Images! Enjoy!
Hello! Are you new to The Graphics Fairy?
Welcome, I'm so glad you're here! Browse around to find
thousands of Stock Images
that you can use in your projects or designs! I post new Vintage images every day, as well as projects and DIY's too! Need more info about my site? Try my
FAQ
page.