Today, I've rounded up my 50 Best free Gardening Images for you! This post includes images of fruits, vegetables, birds, bees, flowers, urns, butterflies, gardening tools, garden furniture, and garden-related typography.
I'm so ready for the warmer weather and was so excited to finally get outside in the garden this past weekend! I hope you all enjoy this collection of some of my favorites!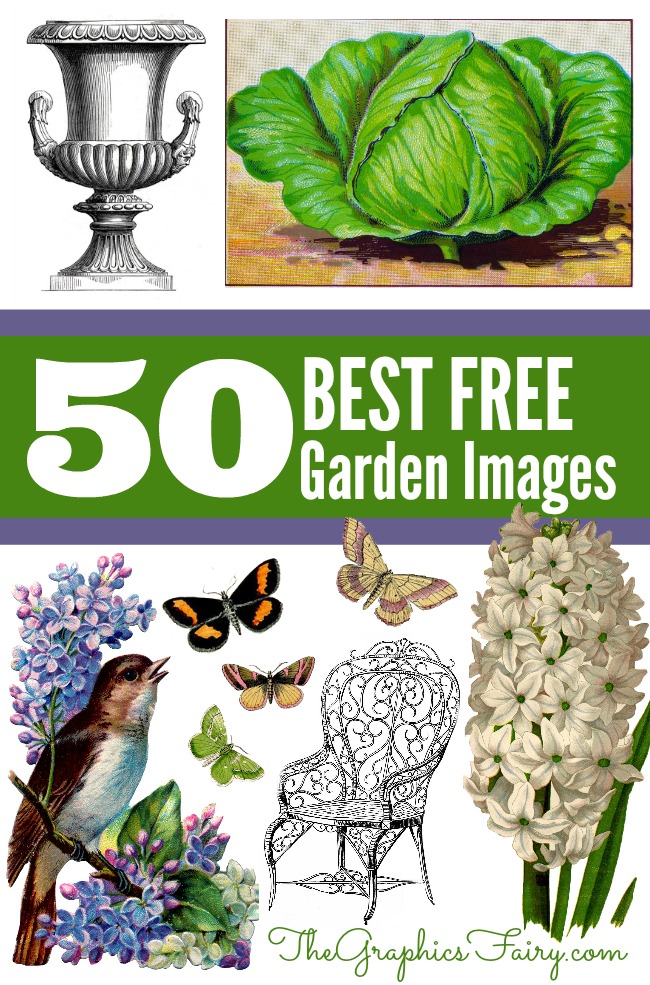 FRUITS & VEGGIES – A few favorite images of vegetables and fruits, including printable botanical prints, images from seed catalogs, and images used in plant advertisements.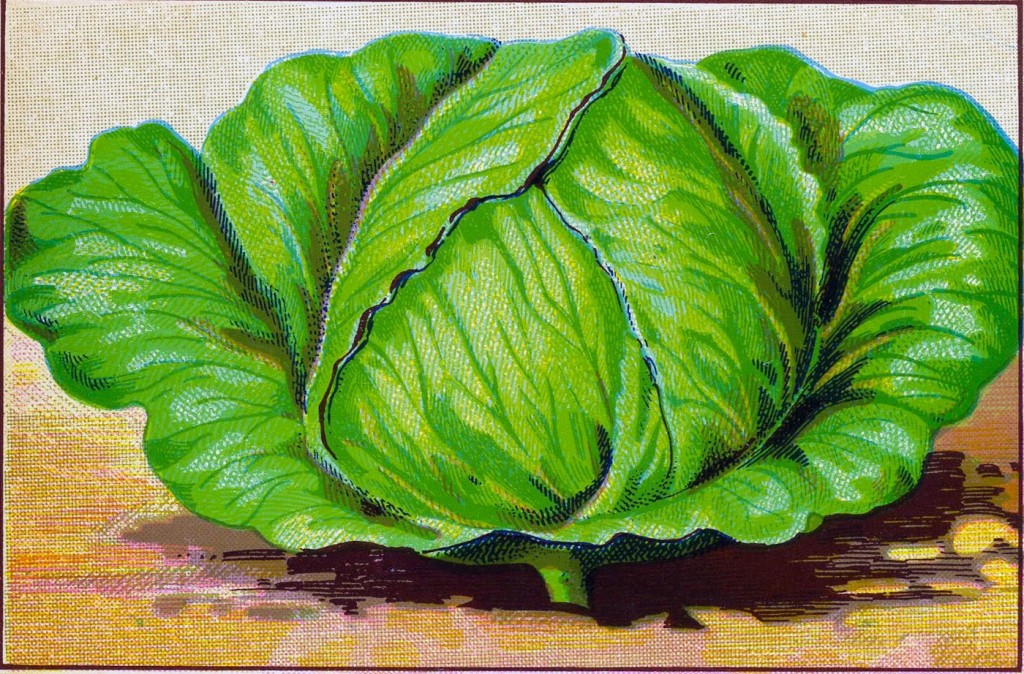 1. Cabbage and Carrot Images. This post has two brightly colored 1920′s vegetable images, a light green cabbage head, and some orange carrots. These originally were used on a seed advertisement.
2. Beautiful Cherry Printable. This pretty images of a branch full of cherries is from a 1913 educational text on fruit. The first version is of the typical bright red cherries, and there is also another variety that is more apricot colored.
3. Etching of Carrot Trio. This old black and white etching comes from an old agricultural magazine. Three short and squat little carrots, done in black and white.
4. Artichoke and Rhubarb Printable. This marvelous antique print, circa 1860, shows a lovely green Artichoke and a stalk of Rhubarb! The title of the print has the words "Kitchen Vegetables" on it.
5. Pear Botanical Print. This is a beautiful 1890′s Botanical Print of a pear. There is both a full size golden pear, and a version cut in half. The high resolution scan is perfect as an instant art print.
6. Antique Cucumber Print. This is an antique cucumber print, which shows a cucumber on the vine in garden. I'm also offering a version with a blank label in this post, so you can use it as a label for your canning projects!
7. Strawberries on a Cake Plate. These beautiful strawberries are shown on a cake plate or pedestal. The heaping pile of bright red strawberries looks so delicious. This image comes from an early 1900′s cookbook.
BIRDS AND BEES – A few favorite images of Victorian scraps and old etchings featuring bees and pretty birds.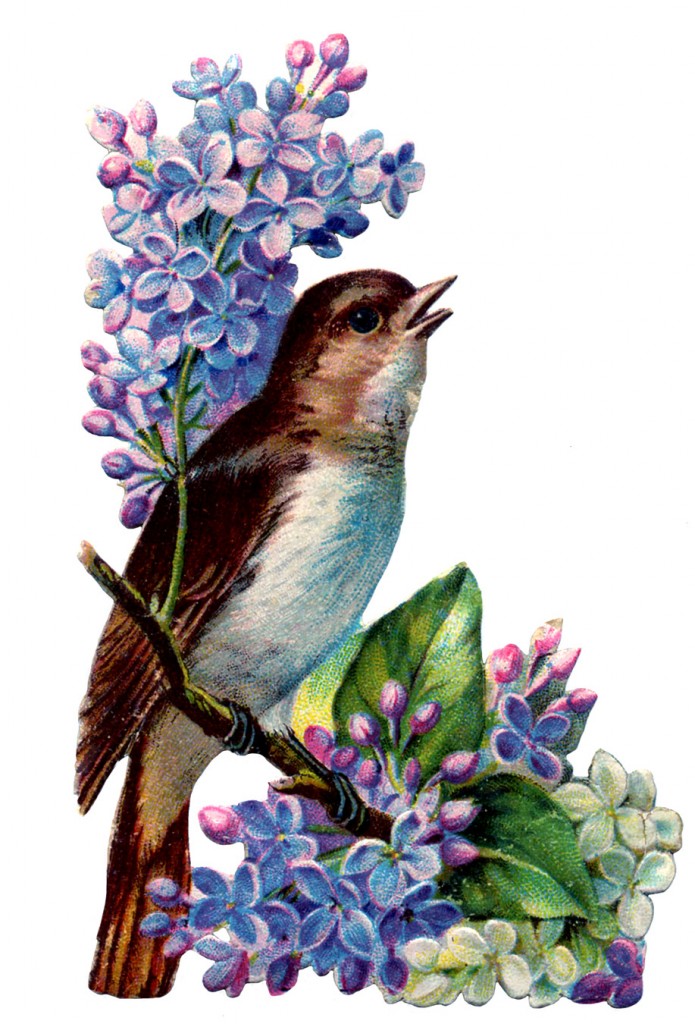 8. Bird with Lilacs. This Victorian scrap piece shows a little brown bird, mid song, sitting on purple lilacs. The flowers are so delicate and come in so many shades of light and dark purple.
9. Vintage Beehives. This lovely print is from a Circa 1840 Natural History Book. Three different types of hives are perched on stumps with bees swarming outside them. The first is the original full size art printable in sepia tones. There is a black and white version of the print, and a closeup version of one of the three hives.
10. Nest with Robin's Eggs. This gorgeous vintage clip art image dates back to a 2007 post. The vintage image is of a perfect nest with three light blue eggs sitting in a branch. The branch has just started to bloom with pretty pink flowers.
11. Fabulous Bumble Bees. This is an amazing early print of three large Bumble Bees! This one is from a very old book, circa 1860. The background leaves are a black and white etching and the three bees are colored in by hand with black, white and yellow tones. I've also included a closeup image of a single bee too!
12. Pretty Pink and Blue Bird. This is another sweet bird print, from  an 1870′s British Book that I picked up not too long ago. I think the colors are so fun in this one, love the pink and blue combination. The bird is leaning over, about to have a snack (a little caterpillar is crawling on a leaf). The image has a pale blue background, and there are several leaves on the branch and some berries.
13. Bumble Bee Label. This old advertising piece was intended for a china and glass shop. The image on the label is a charming Bumble Bee, buzzing around a branch with pink blossoms. The background is a wonderful blue sky with just a few white clouds. Such a dreamy image! I'm including both the original version, and a second version with the ad removed, so that you can write your own text in the blank space.
PLANTING TOOLS – Images, mainly antique etchings, that show tools used to tend and maintain a garden.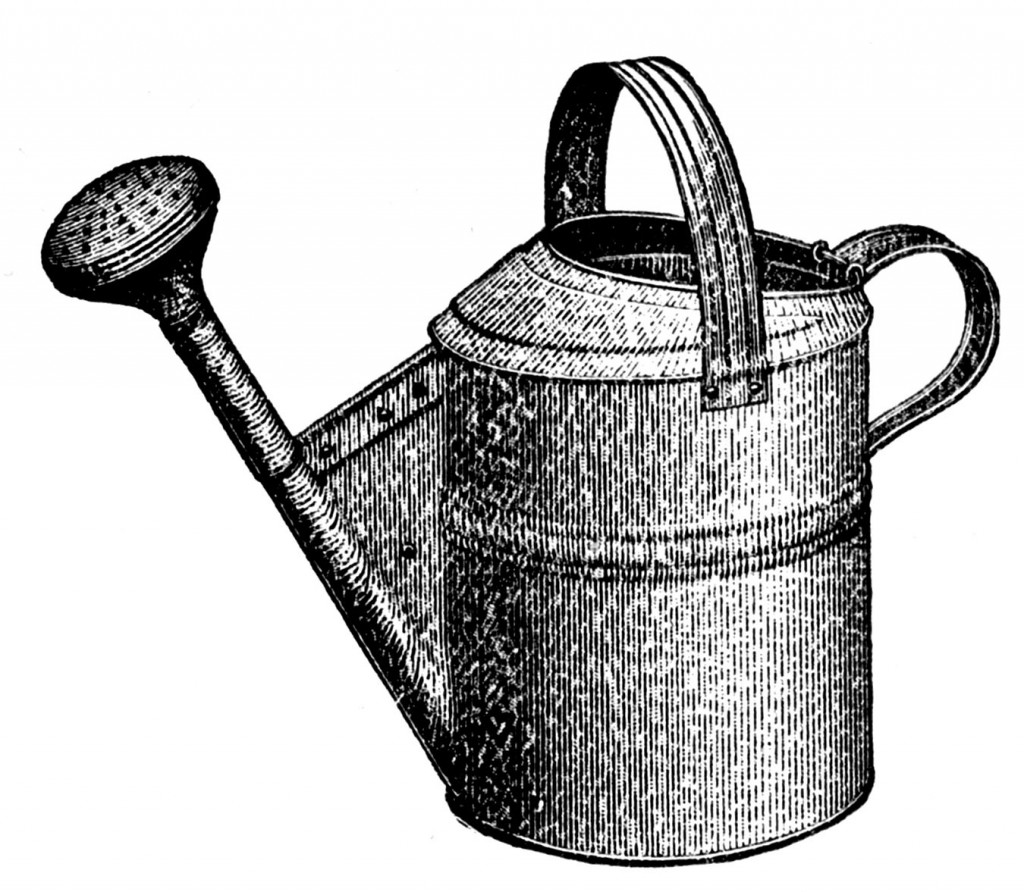 14. Classic Watering Can. This is a classic looking watering can that dates back tot eh 1890's. I've included the original black and white etching, as well as a green and white version and blue and white version.
15. Wheel Barrow. These are some great looking vintage wheelbarrow graphics from an Antique Hardware Store Catalog! There is an original black and white etching and a green version.
16. Garden Trowels and Tools. This black and white image comes from an antique dictionary. The image shows a fun mixture of ten trowels, some for the garden.
17. French Garden Frame with Tools. Here is an enchanting little French garden frame engraving! The frame is from from an 1850's Paris print and is adorned with flowers, a rake, a scythe, and garden carrier. There is a black, a forest green and an earthy brown version.
18. Gardner at Potting Bench. This engraving from an 1870′s gardening book shows a gardener with a hat tending to his potted flowers. The flowers on the potting bench look like hollyhocks, and there are empty pots and a watering can below the bench.
GARDEN INSECTS AND CREATURES – Bugs, butterflies, and other small creatures found in the garden.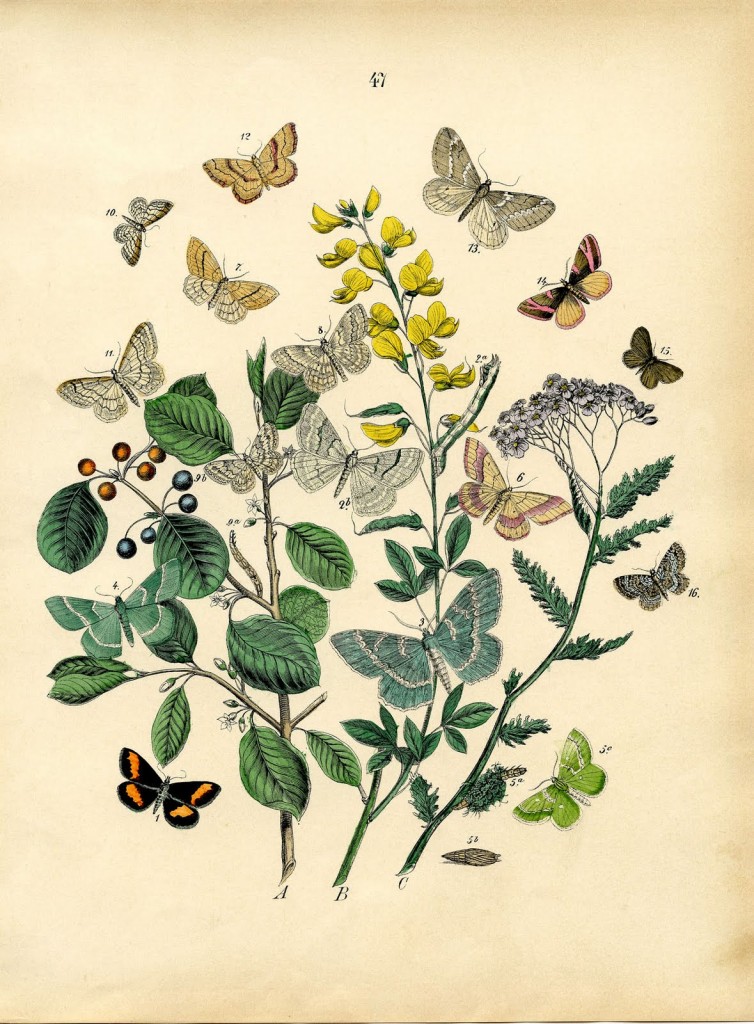 19. Bohemian Butterflies. This full size art printable is an old French butterfly print from the 1870's. There are a few flowers surrounded by several different types of butterflies, with touches of yellow, white, chartreuse, lavender and aqua tones in their wings.
20. Garden Toad. This warty black and white toad image comes from a rare Antique Natural History book that's quite old! He has some quirky looking toes and fingers and he's got lots of warts!
21. Two Snail Engravings. This post features two cute black and white snail engravings from the 1860's. The first image is a large Garden Snail on a branch. The second is called Lamarck's Carocolla and he is extended forward on the move.
22. Colorful Dragonfly. This image is a lovely colored dragonfly image. It is difficult to find colored dragonflies, and I was so excited when I found this one. This insect has a blue body, with red and white wings.
23. Garden Spider and Web. This post has two spider graphics from an early natural history book. The first is a spider creating a web, which she's almost finished with. The second image shows a garden spider hanging from a thorny branch.
24. Antique Butterfly and Moths Print. This full color natural history plate shows nine varieties of butterflies and moths. I just love the patterns and shapes on their wings! Varieties include touches of orange, yellow, blue, and aqua with browns and grey bodies.
25. Insect Natural History Print. This fabulous natural history print shows various types of insects and garden pests with drawings of their life stages etched in black and white. The insects themselves have been hand colored, and include ants, wasps, bees, caterpillars, and flies.
ORNATE GARDEN STRUCTURES & FURNITURE – Lovely images of ornate and scrolly garden structures, ironwork, and garden furniture.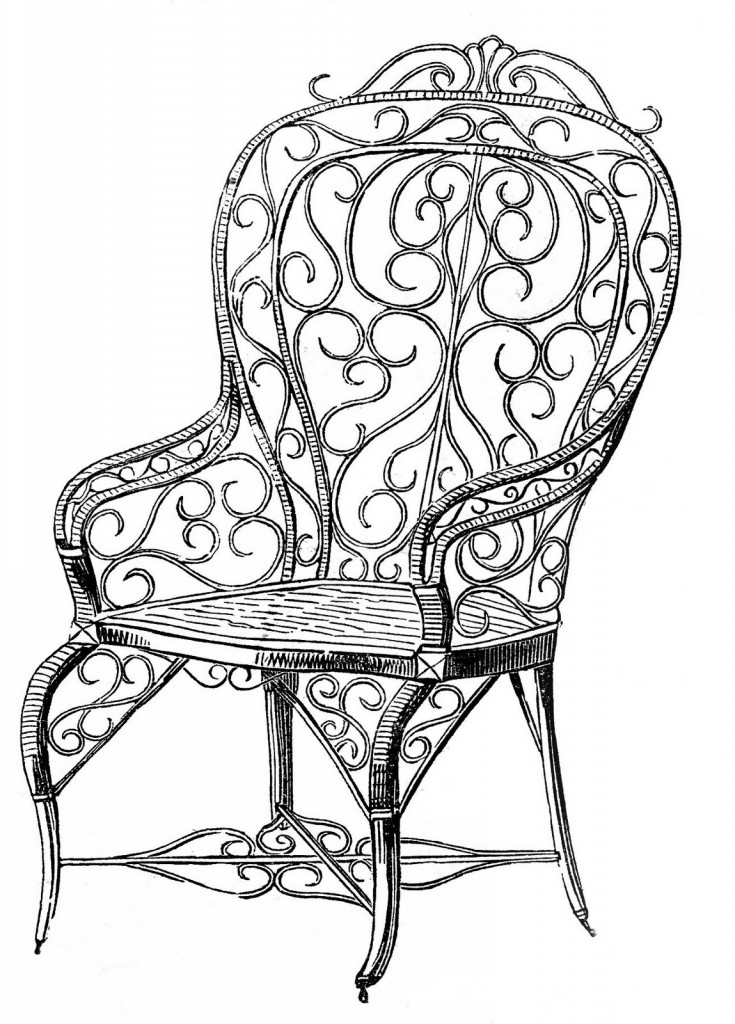 26. Ornate Wicker Garden Chair. This is a gorgeous antique Victorian Wicker Garden Chair image from an old 1850′s catalog. I think the scrolly designs of the wicker are just so pretty. I've included two versions, the original creamy sepia toned image and a black and white version as well.
27. Victorian Garden House. This image comes from an 1879 gardening book. The small structure has an arched door, a round window above the doorway, windows with a diamond pattern, and wire accents on top of the roof. Flowers are growing up the sides of the structure. This is an adorable potting shed, or looks like it could be a small cottage in the woods.
28. Whimsical Pagoda Etching. This fabulous garden structure came from a French Garden book, circa 1859. This one is a wonderful whimsical Pagoda with a two-tiered roof.  You can see the park like setting in the background too. The original is black and white, but I also added a colored version.
29. Fancy Wire Settee. This one comes from an 1890′s Hardware Store Catalog, it's a wonderful fancy Victorian Wire Bench with two large curves along the back and lots of scroll work in the design.
30. Faux Bois Frame. Here's a wonderful frame from an old Shakespeare book. This is such a great Garden style look with it's Faux Bois frame and flowering vines.  There is the original sepia tones print and the black and white version.
31. Antique Iron Garden Gazebo. This is a black and white antique gazebo image with lots of iron scrolly shapes and arches. The image is from the side of the gazebo, almost like a panel of the gazebo, with two ornately decorated arched openings.
PLANTS AND FLOWERS – This is a lovely collection of botanical images and etchings of flowers, trees, and small plants in pots and planters.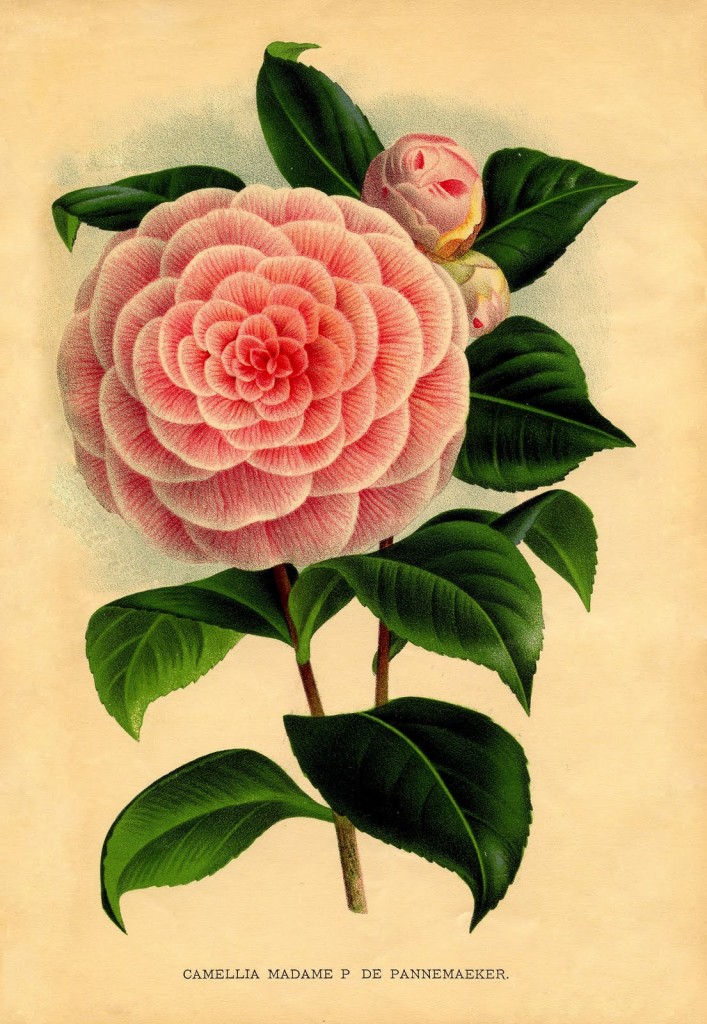 32. Pink Camellia Botanical. This is a gorgeous botanical featuring a lovely pink Camellia. This one dates to around the mid to late 1800′s. The beautiful pink flower is in full bloom, there is a bud, and several dark green leaves. This high resolution print is perfect as instant art!
33. Lovely Green Tree. This is a beautiful tree one from an 1875 German Encyclopedia. It's so lush and green, and is set in a beautiful scene with the pretty little brook or stream next to it too.
34. Cloche with Plant. This fantastic vintage image is of a plant started under a garden cloche. This 1870's image has the original black and white version, as well as a colored version.
35. Gorgeous Hyacinths. This one is a gorgeous Antique Hyacinth Print from an 1870′s Gardening Book. There is a beautiful white flower and a pretty pink on in this full size printable.
36. Glass Cloches with Starter Plants. A lovely graphic of a cloche with three potted plants just starting to come up. This etching also includes a makeshift cloche made from a wine glass too. A really fun image from an old 1870's garden book.
37. White Rose Botanical. This vintage botanical printable shows some beautiful white roses, tinged with pink,  from an 1890's gardening book. The image has been scanned at high resolution and is perfect for framing.
38. Hanging Victorian Planter with Geranium. This post includes three Victorian planters with foliage from an 1870's garden book. The first engraving is a low urn full of a leafy plant, the second image is an ornate urn with a tall tropical plant, and the third image in the post is of a geranium plant in a hanging planter.
TYPOGRAPHY & ADVERTISING – Antique images of labels, trade cards, and calling cards with gardening images or typography on them.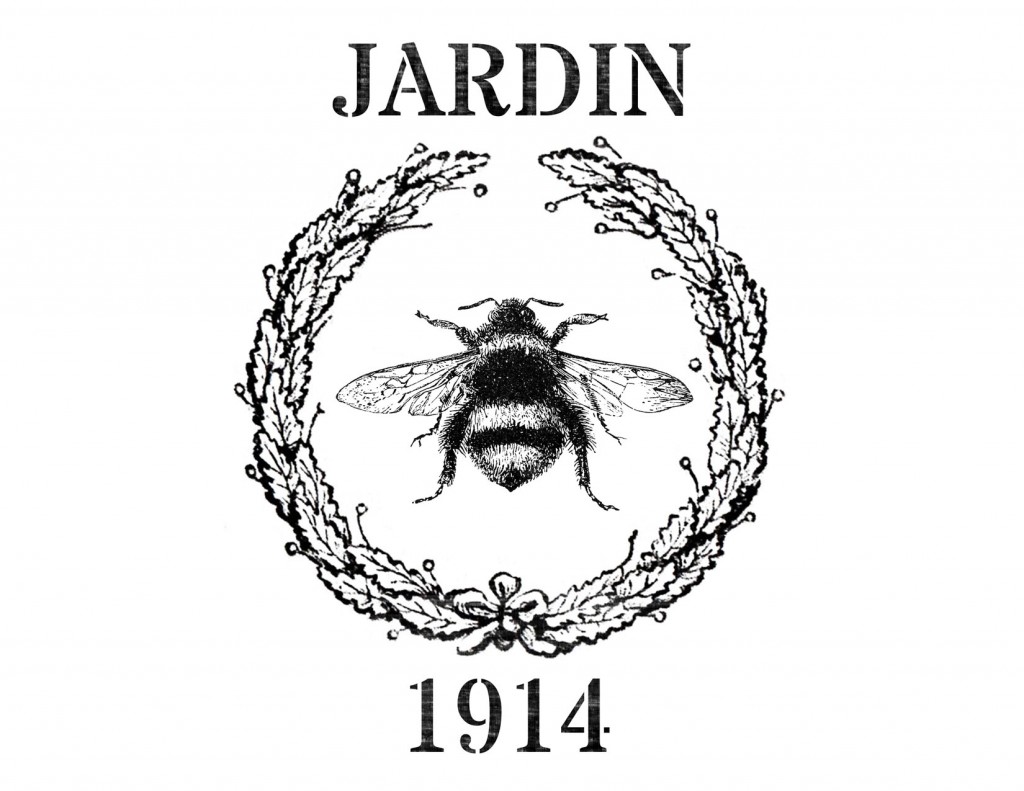 39. Printable Bee Grain Sack. This black and white French typography printable has the French word for garden (Jardin) on it, along with the date 1914, a beautiful bumble bee, and an early antique wreath. I've included the reversal of the same image in the post too, depending on the method you'll be using to transfer the image.
40. French Millinery Cards. These are some beautiful antique millinery calling cards with floral and garden imagery. The one at the top has some gorgeous pink Moss Roses, and the second has Morning Glories and the cute pair of bees. The word Millinery is in the most ornate and beautiful font too!
41. French Apothecary Label with Bee Skep. This darling round apothecary label includes a bee skep and a bee hive. There are some circular accents and flowers in the design too. The brown label includes the French words "Miel Garanti pur d'Abeilles et du Pays", which means the honey is guaranteed to be pure.
42. Pink Flower Label with Banner. Today I'm sharing a Gorgeous Pink Flower Label Image. This was likely an advertising card in the past. It has a pretty pink flower, it looks like a peony to me, there's also a bud and some lovely green leaves. The flower has a banner ribbon going across the front of it, so that you an add a bit of text.
43. Bee Hive Clothing House. This old piece of ephemera is an old advertising card for  Bee Hive Clothing House. I just love the layout and all the great typography on this piece! I've also included a graphic of the hive on its own, as well.
44. Insects with Fairy Trade Card. I'm so smitten with this whimsical little advertising card. This amazing card features a darling little Fairy boy, and some wonderful insects, including a Dragonfly, a Ladybug and a Butterfly. I've included a second version with out the wording, so that you can use it as a label or a gift card.
45. Bird with Nest and Envelope Trade Card. This is an old advertising piece for paper products, showing a sweet yellow and grey bird, nesting inside of a pale blue envelope! The elegant writing has been removed in the second version too.
GARDEN URNS – A great collection of my favorite black and white urn etchings. Most of these posts have a few different graphics in them!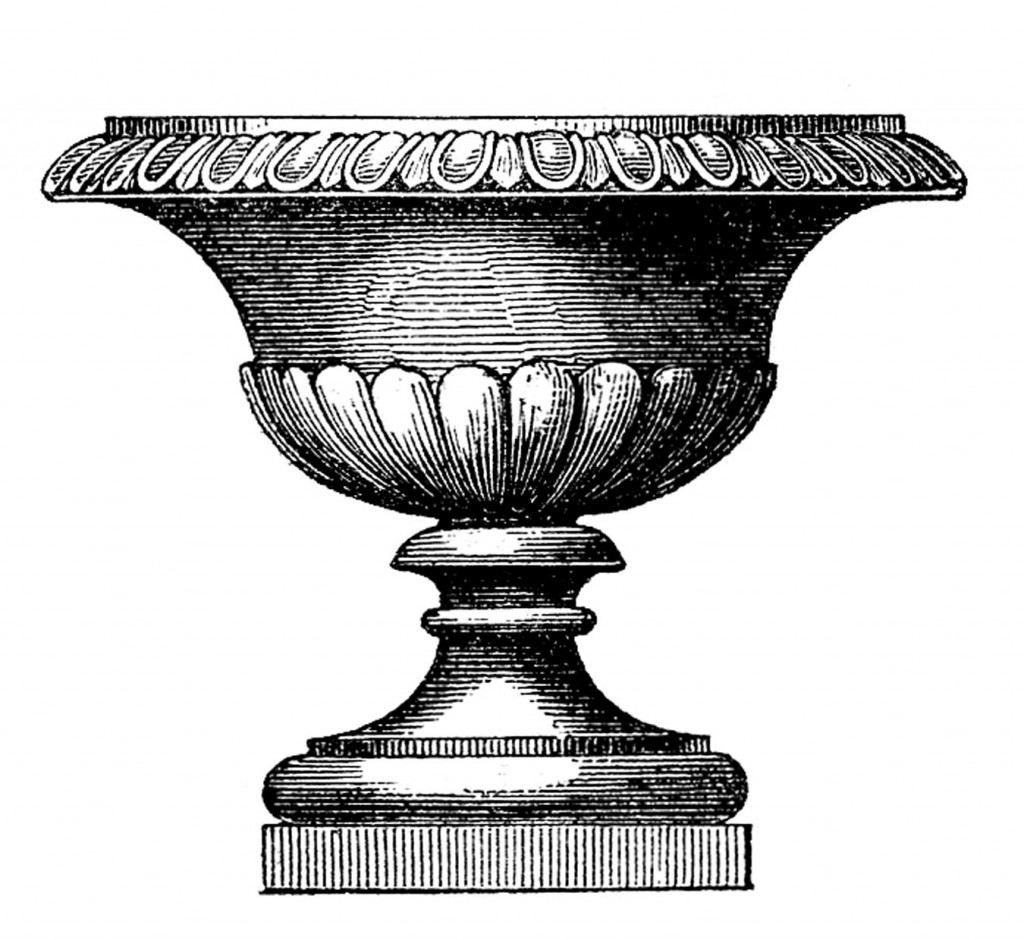 46. Classic Garden Urns. This post has three urn etchings from an 1850's catalog. The first urn is a low, classically shaped urn. The second urn reminds me of a tulip bulb, and the last urn has large handles and is decorated with leaves and vine ornamentation.
47. Wonderful Urn with Plantings. This Victorian clip art image is a black etching on a sepia toned background. A classic urn on a pedestal with two handles is full of leaves and flowers, creating a beautiful arrangement.
48. Urns with Potted Plants. This post has three urns with potted plants. The first image is a square shaped urn with a swag ornamentation and plants with tall spikey leaves. The second urn is a classic shaped urn on a tall pedestal who is filled with a house plant. The last delicate looking urn has what looks to be a small tree with delicate, lacey leaves in it. This one came from an 1870's Victorian book on indoor gardening.
49. Garden Urns. Here are three more engravings from the old 1850s catalog. These are three wonderful classic shaped urns. Perfect for a lovely garden collage, these would be so pretty with bright colored flowers popping out of them.
50. Garden Urn with Handles. The classic shaped urn etching has a nice longer shape with a footed base and a set of curvy handles. This fun urn has some unique decoration that is hard to see at first glance. This one has snake handles!
 **************************************
Hello! Are you new to The Graphics Fairy?
Welcome, I'm so glad you're here! Browse around to find
thousands of Stock Images
that you can use in your projects or designs! I post new Vintage images every day, as well as projects and DIY's too! Need more info about my site? Try my
FAQ
page.